Strike King KVD Perfect Plastic Ocho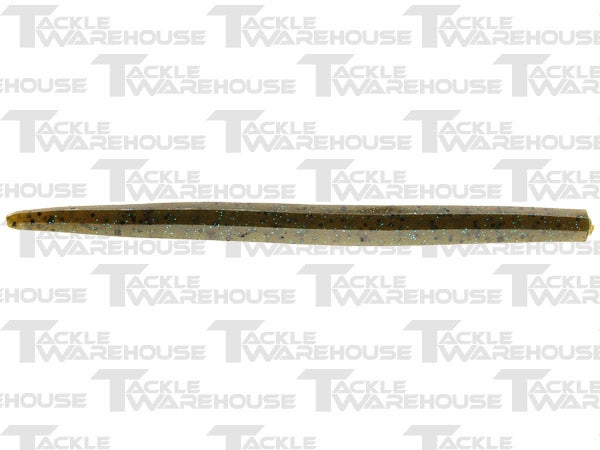 The new Strike King Ocho soft plastic stickbaits are the real deal. The Ocho's unique 8 sided design allows the bait to undulate, especially on the fall. Rigged weightless and pitched around cover or rigged on a Carolina rig and pulled through the depths of the strike zone, the Ocho is sure to bring incredible action. The Ocho is made from the world's best blend of soft plastic ingredients! This allows the use of large amounts of salt yet keeps the bait soft and pliable. The Coffee scent masks human scents and oils and increases longer bites increasing your hook-up chances.
Click here to see some video on Strike King baits with Phil Marks at ICAST '08.
| | |
| --- | --- |
| Length | Quantity |
| 7" | 6 |
| 6" | 6 |
| 5" | 8 |
| 4" | 10 |
21 Colors
More From Strike King Worms
Customer Reviews
Comments: These things flat out catch LMB! They are very soft & don't usually survive but 1 or 2 fish but I fish to catch bass not to save money.
From: Paul: TX 9/13/16

Comments: I fish the Ocho 5" Amistad Special & Baby Bass on shakey head, Texas & Carolina Rig and it is the best soft plastic I have ever used. I also fish what we call Shake and Bake, a shakey head on bottom and a small hook about 12-15" up the line with a Ocho double header fished wacky style. The bass in Texas lakes just love them. They are soft & they don't last but one or two bites before tearing, but they are worth it when I get bites and no one else is catching fish around me. I fish grass, road beds, rocks, and in the trees with them, slower the better. It is a finesse bait. Sometimes the bite is soft and you have to be paying attention. If I get bit and don't set the hook, I let the Ocho sit for another few seconds & I get bit a second time. Don't know if it is the same bass going back, or another bass, but it convinces me that the fish like them. It is an expensive habit to get into, as they are $5-6 for 8 Ocho baits. I often bite the heads off of used Ocho worms and continue using them if not ripped in the body. If they are ripped in the body I tear them in half and use the 2- 2.5" sections of Ocho worm as the top bait for the Shake and Bake rig. Bass hit the small sections hooked through one end, as well as the wackey rigged 5" Ocho worm.
From: CouldBfishin: Houston, TX 5/8/16

Comments: Most stick baits are solid choices. I recently used the Ocho from the back of the boat in a tournament and was catching fish behind my boaters. Size mattered, I was throwing the 6" in green pumpkin on a 3/4oz tungsten weight, dragging it slowly. The smallies and largies would only eat this worm. Don't argue with results, just buy it.
From: Dan: Spokane, WA 10/8/15

Comments: These baits are light and are ALOT more limp than a Senko. I wacky rig mine and within 10 mins of putting a new bait on, both ends are hanging almost completely down. Also, they don't have the shimmy that a wacky rigged Senko does on the retrieve. I bought 4 packs of these when they first came out about 6-7yrs ago. They have been packed away about the same amount of time.
From: Stone: Charlotte, NC 5/22/15

Comments: These things are killer if you use a wacky tool these things will last for a long time! A must buy if you love throwing a wacky rig.
From: Hunter: North Dinwiddie, VA 5/8/15

Comments: Best Senko style bait in the market hands down! IT does tear after 2 fish or so but you also tear up the number of fish you catch. Great action on the fall weightless or Texas rigged. I caught my pb 11.2 lb largemouth on the blue craw color.
From: M: TN 3/1/15

Comments: I don't know about all of this "better than a Senko" mumbo jumbo, but this gets bit. I wouldn't throw this instead of a Senko, but I bust these out when the bite is wide open or I am around really stupid fish, like down in Mexico.
From: Jay6: USA 6/22/14

Comments: Great bait wacky style in 7inch with a 4/0 hook. Tear super easy. Only getting 2-3 fish per worm. They catch way more and bigger fish then standard 5 or 6 inch senko though. Worth the money. Will be buying 5 packs at a time from here on out.
From: Gov: CA 3/19/14
Comments: Today I caught a 8.0 pounder bass on the hard candy weightless with a falcon bucoo 7"mh it was my biggest bass I ever caught all I fish is strike king this bait is the best hands down try them

From: Tav: Columbia, sc

Comments: great senko mainly because its more beefy then others so you can cast it with a baitcaster very easily and it also skips like a dream. Big bait slow fall, fish love em. I buy the 7 inch version and rig it with an owner 7 or 11 oversized hook and bit pieces off as it gets torn up.

From: Matt: MN

Comments: The Senko is not very durable but catches lots of fish and love the colors.

From: Jens Lund: Chanhassen, MN

Comments: The only advantage I see to these over a Senko is the coffee sent. These are too light; they don't have the shimmy on the fall that Senkos do. I'm not a fan of paying more for a popular named bait, but the Senko does have more to offer when the bite is tuff IMO.

From: Ed: Champaign, IL.

Comments: These baits are just as good as Yamamoto's in my opinion. I got turned on to these because of the Blue Craw color. If you want these or senkos to last longer on the hook, try using an Owner Twistlock light hook when Texas rigging them.

From: Brian: Burke, VA

Comments: Who Cares that these things are not durable if your hammering fish all day I promise you will not mind putting a new one on every fish rather than using the same worm all day and never getting a bite. The other fact that they sell for 5 dollars a bag if you cannot afford that then you just need to stay home these are great baits and most hook sets are money due to the worm being very soft. Grab some Watermelon Red and hang on.

From: Wes: TX

Comments: These are awesome little worms. Some have said things about durability but they are just as durable as the Senkos and half the price all of strike kings plastics are awesome if you like these stick baits you can also try the SK Zeros and the Shim E Sticks.

From: Lance: Livingston, TX

Comments: This bait is amazing You WILL Catch Alot of Bass with this worm, but the durability of this worm is very bad, if they could fix that problem it would def be the best worm on the market for the price

From: Travis: NC

Comments: best worm for me throw it with a 1/8 bullet weight and throw it near structure and hop it on the bottom i use a 3/0 hook on the 5"

From: Brock: FL

Comments: Pros: It catches fish. Good action and supple feel. Cons: The durability of this bait is awful. arguably the most fragile soft plastic I have ever put on a hook. Conclusion: In my experience, they can't survive more than a single strike or two without ripping apart. Fishing them on a regular basis could be an very expensive enterprise.

From: Dean: British Columbia, Canada

Comments: I will put this up against a Senko any day. Plus a lot cheaper. The best stick bait out there

From: Brett: IL

Comments: Good bait but not very durable. Tears easy, even if you just cast it and hit an object. Forget about it if a Bass gets it. It does catch fish, but I won't be going back for more--they don't last long. Went through a pack in a day and only caught three fish.

From: Kenny: Fort Walton Beach, FL

Comments: perfectly weighted,easycasting,sinks slowly with no weghts needed.i give it 4 stars-only because they tear up easy.go with the GREEN PUMPKIN,BASS CANNOT RESIST THIS BAIT.

From: Kevin: Miami

Comments: Like the bait it is durable and cast and feels great. The coffee scent has me a little confused though as sometimes it seems a fish will refuse to hit the bait a second time after a missed strike could just be in my head though as well.

From: Brian: Quincy, MA
Comments: Great bait, switched over from yum dingers and haven't looked back. Excellent action and flexibility only problem i see is it tears quicker than most soft rubber but that's always a good thing when your catchin lots of bass.

From: Sully: Mass, USA
Comments: The 5" size is nothing special, but the 7" size is phenomenal. Just dead-stick it and let it fall on mostly slack line, unweighted with a 5/0 hook. Try it with a lead nail weight in the tail of the worm to get under docks. This is a great bait to fish behind someone else. The bass that have seen jigs and beavers all day will still hit this.

From: Rick: Iowa, USA
Comments: Excellent bait, I've caught a number of fish up to 10 pounds on the 7" model. Falls quickly with lots of action, really effective for scattered vegetation and brush to at least 10 feet. I buy these four packs at a time!

From: Al: Florida, USA
Comments:I caught 4 bass my first time throwing this bait. It is probably the highest quality worm of its kind. I usually only fish these types of worms: senkos, zeros, flash. Although this bait seems to be the best in action, fall rate, scent, and casting ability, the one problem is that they are not durable. I used 3 worms to catch 4 bass. It was at night and I couldn't find the worms so maybe if I was able to I could have reused them.
From:Sean: Ocala, FL