Strike King KVD Perfect Plastic Rodent 4" - $4.49
MSRP: $4.99
The Strike King Rodent is a heavy cover fishing dream. Designed to make a major disturbance under the water, the Rodent searches out the big ones. The Rodents bubble tipped appendages and soft plastic tails have incredible action in the water. The Rodent is a great choice for heavy cover and works excellent on a Texas rig, Carolina Rig or as a Jig trailer. The new Rodent contains the world's best blend of soft plastic ingredients! This allows the use of large amounts of salt yet keeps the bait soft and pliable. The Coffee scent adds to the appeal as it masks human scents and oils contributing to added bites and longer hold times increasing hook-up percentages.
Click here to see some video on Strike King baits with Phil Marks at ICAST '08.
Comments: Great tournament bait, The fish really key in on the salt/coffee scent and hold on to it for a long while. Although the durability of these baits are not their strong point as they rip out the nose pretty easy. They consistently catch fish. In a pinch if the tear is not too bad a Bic lighter or arrow fletching glue will usually repair them for the next day till I can get some more. Would really like to see Strike King toughen up on the material though.

From: John: Louisville, KY

Comments: This bait is by far the best bait for flipping and pitching heavy cover. It smells so good make me want to eat.

From: Michael: GA

Comments: great bait I've flipped a lot of creature baits but this one is the bomb yes they tear easy but defiantly worth it I've flipped nothing but this bait this year and I've caught more bass on it than any other bait and bigger fish on it then any other bait this bait has great action tht really Apeals to bass I would recommend this bait to anyone who likes to flip because It will hep u CATCH MORE BASS!!! My favorite colors this sumer was junebug, okeechobee craw,and candy craw

From: Sam: LA

Comments: i love these creature baits. very soft plastic that gives them great action, but, it also impeads their durability. even though they may not withstand alot, fish absolutly love them trust me. i live pegging a bullet weight on the nose of a owner flippin hook and rigging these things for some nasty trees. love this bait and fish do too!

From: Mat: OH

Comments: the coffee sent was a great idea, and really actually works, but the plastic used in these perfect plastic baits is so soft, and the put so much salt in them it impossible to get more than 1 fish per bait. This bait got my one 10 inch bass and the bait was done had to switch it out, the fluke type bait doesn't even last more than 3 or 4 cast because twitching it causes the hook to wear through the nose of the bait on soft twitches, and teh senko style bait good lord, can;t even put that one on a hook before it falls apart. The rage line are good and they hold up, but these im very disappointed in

Comments: GREAT bait!!! Love these things and have caught a ton of fish on them. Just wish they were a little more durable

From: Dustin: Eva, AL

Comments: This bait is ok. I caught a couple fish with them. But the least durable soft plastic ive used just hooking this thing once or twice would destroy it.

From: Jack: CA

Comments: great bait caught fish all depts good jig trailer

Comments: Great bait!!!!!!! helped me catch a 3.26 kg bass in the junior nationals and come second... would recommend it to anyone just buy a lot of them cause they tear easily..... but definitely worth it!!!!

From: Ben: Cape Town, Western Cape South Africa
Comments: Great bait but you'd be lucky to catch 10 bass a pack. Legs tear off after one jump but this is the bait to go to in a tournament.

From: Garrett, Canton, MI
Comments: Excellent lure, after seeing greg hackney use it first hand, i bought some to try. the rodent has been one of my go to baits sense then. it's hard to throw any other bait. like it's name, perfect plastic. awesome, can't wait for the smaller ones.

From: Kip: Harrisonburg, VA
Comments:Seems to be a softer body than a Sweet Beaver, size wise it's a little smaller profile as well. Plus with the coffee in it, it gives the fish a smell and taste that's different than anything else on the market. All in all this is quickly becoming a go to bait for me.
From:Travis: Rio Rancho, NM
***Note: If you have questions about this product or need assistance with an order please email your questions to info@tacklewarehouse.com
Color:
Amistad Special
View Large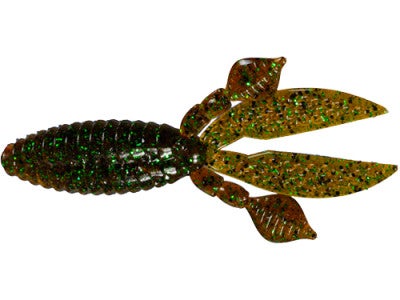 24 Available Colors
More Strike King Softbaits