Strike King KVD Perfect Plastic Swim'n Caffeine Shad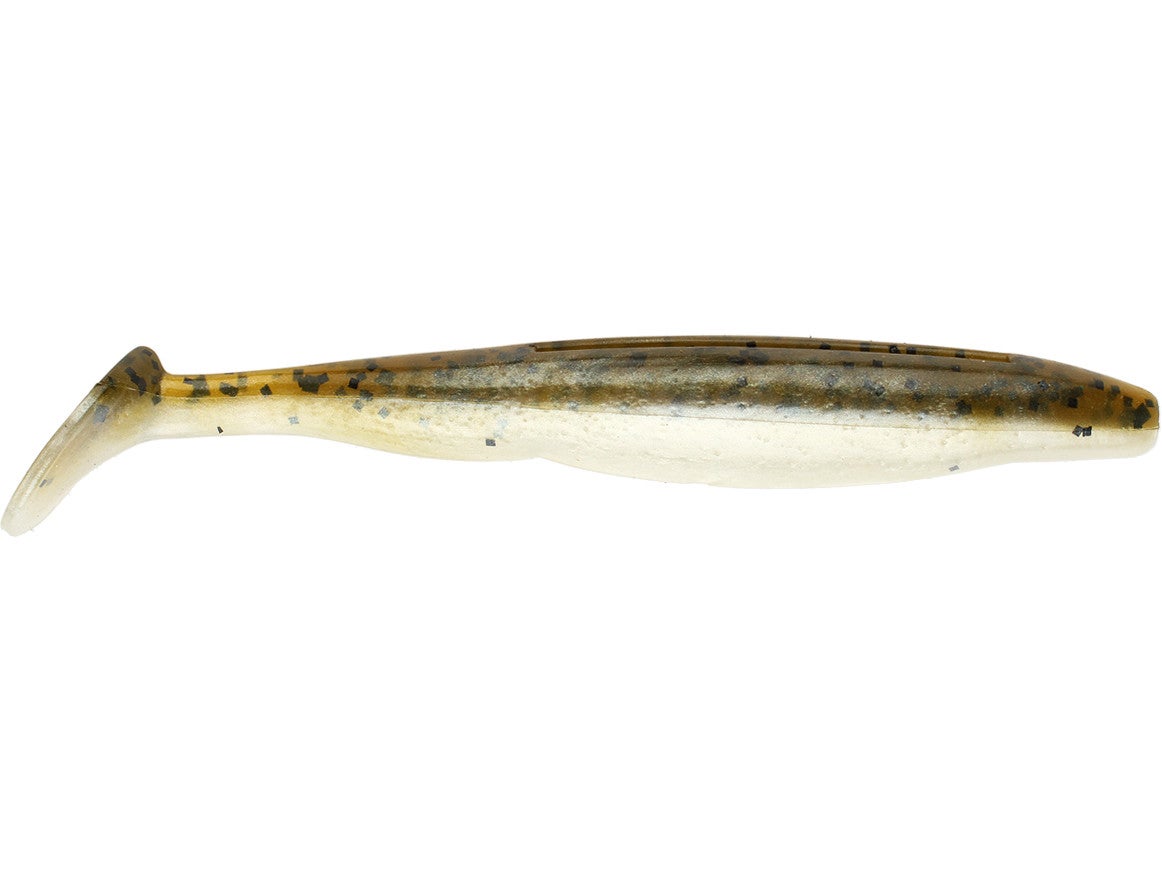 The Strike King KVD Swim'n Caffeine Shad features the body style and profile of the original Caffeine Shad - now with a paddle tail for an incredible kicking action. Made with Strike King's Perfect Plastic formulation, the KVD Swim'n Caffeine Shad features some of the softest, saltiest plastic ever produced, and is also loaded with Strike King's exclusive coffee scent (patent pending). Coffee adds to the appeal as it masks human scents and oils and causes bass to hold on longer to increase your hook-up chances. Available in a variety of Strike King's proven colors, the Strike King KVD Swim'n Caffeine Shad is an excellent bait for a variety of bass fishing applications, including fishing through the grass with a belly weighted hook or on an umbrella rig.
| | |
| --- | --- |
| Length | Quantity |
| 4" | 7 |
| 5" | 7 |
11 Colors
More From Strike King Swimbaits
Customer Reviews
Comments: I caught an 8lbs bass casting open water with the watermelon red flk, this bait gets the job done, has become my go to if nothing else is working.
From: Kyle: Gvill SC 12/8/16
Comments: Have used them for a couple of years in Saltwater Mission Bay. Pearl Blue, Baby Bass, etc. Landed Halibut with Blue pearl Saturday. Consistently induces strikes from Spotted Bay Bass. They are my "confidence bait".
From: Jesse: San Diego, CA 6/13/16

Comments: Caught a 5-pound smallmouth two weeks ago & then a 6-pound smallmouth this weekend. Ended up catching a 22-pound bag of smallmouth & this bait accounts for much of that. Just buy it. It catches fish other swimbaits won't.
From: Dan: Spokane, WI 11/2/15
Comments: I bought these in a green pumpkin chart. belly didn't use swimbaits at all now this is my confidence lure with a 3ot VMC twist lock swimbait hook with a built in sinker 1/8 ounce let it sink to the bottom and slowroll it looks like a dying bluegill and its amazing 10/10
From: Austin: Baxley, GA 9/15/15

Comments: This swimbait is awesome in the 4 inch size on a 3/0 hook with a 1/4 ounce black tungsten sinker, fish it over the top of submerged grass and hold on!
From: Nathan: Canada 12/22/14

Comments: Just awesome. Rigged either weedless and weightless with a 5/0 wide gap hook or on a swim jig. The only thing that I found is to cut the tip to make it flat for the swim jog. When rigged weedless and weightless, it falls naturally and slowly. I am not too sure if the caffine scent makes a difference but Strike King rocks!
From: Jeff: Canada 8/28/14

Comments: Great product! Might seem like a zoom copy but it's far from the traditional thrown in bent & indented zoom product. These are consistent along with better quaility plastic makes this the better choice. Thanks again strike king for another quaility product!
From: Mitch: Flowery Branch, GA 4/25/14
Comments: In my opinion, super fluke when i first saw it. the smokey shad looks almost exactly like the zoom version, but i dont discriminate. Strike king still makes some awesome baits

From: Rhett: Swaimsboro,Ga

Comments: So what if they did copy someones baits? Strike King made it a ton better. they last longer, and have better action.

Comments: Great bait at a reasonable price. Caffeine shad was definite winner and so is this. P.S. Josh- get a clue

From: Ken: IL

Comments: Haters can hate. Strike King makes the best baits on the planet. Folks from Pinson, AL can keep buying other brands... just leaves more for the rest of us.

From: Alan: Adairsville, GA

Comments: I've been a die hard skinny dipper fanatic...not no more. Great product!! Great colors!!

Comments: Love these in any color cuz they flat-out catch fish and so many ways to fish them, a very versatile bait....Strike King products ROCK!!!

From: JB: Tulsa, OK

Comments: Every color they have came straight off the reaction color chart but three of them and those are zooms fluke colors so say available in strike kings proven colors is a joke. Every soft plastic they make besides the rage line is a knock off and if you choose to support that cool but don't act like I'm wrong for saying something about it.

From: Josh: Pinson, AL

Comments: Josh, I guess reaction innovations also came up with that sexy shad color they have in their lineup. Strike King copied no one. This is just a caffeine shad with a paddle tail.

Comments: I guess all 89 other plastics componies copyed reaction inivations colors too ,Josh.
Comments: Look Strike King knocked off another bait. At least they came up with some new colors, no wait they copied those to. If you would like to see the future colors to be made just check Reaction Innovations color list. What a joke but I bet one of their pro staff designed this one.

From: Josh: Pinson, AL

Comments: Maybe a "swimmin' super skinny dipper fluke" ??? No interest !

Comments: Finally I can buy all of my plastics in one place. Thank you SK. This thing is a beauty. Swimming action is great and it is very durable. Colors are sick. Another great product from sk