Strike King KVD Perfect Plastics Caffeine Shad Jr. 8pk - $4.59
Now in a smaller 4" size, the Strike King Caffeine Shad Jr. features a unique bubble tail that gives this topwater shad bait an action never seen before in a soft jerk bait. Use it weightless and twitch it for topwater and subsurface action or tie it on to a Carolina rig or a jighead for that deeper bite. Featuring Strike King's famous Perfect Plastic formulation, the Caffeine Shad Jr. contains the world's best blend of soft plastic ingredients. This allows the use of large amounts of salt yet it also keeps the bait soft and pliable. Coffee scent masks human scents and oils as well, providing longer hold times and increasing your hook-up chances.
Comments: Bluegills eats the tail and its done for. Not durable at all. I admit the coffee scent is very attractive and you know what I do to the empty bag when I run out of these? Grab a bag of paddle tail zoom fluke, transfer the flukes to the KVD for a day or two to soak up the coffee scent. Put one on, weightless, 3/0 offset hook, let it slowly drop down, all the way down, jig up, be ready for those little suction and twitches in your line! Set the hook and set it HARD!

Comments: This is the best bass and pike lure I have ever used, period. I could go out with only this bait and nothing else and have an amazing day. The only drawback is that they aren't durable - a reinforced nose would help. After one or two good fights through the weeds, you will rip the hook throuigh the nose of the bait. Otherwise, it's simply the best soft bait I have ever used, and I have used many...

From: Brendan: ME

Comments: not a big fan of these, get you a zoom fluke !!!

From: Nathan: GA

Comments: before trying this bait I fished custom hand pour small co baits. now that i fished this caffeine jr i don't need the others

From: Jeff: Jersey

Comments: In the summer this is my go to bait. Even though it is hot, this bait rocks

From: Matthew: Port Barre, LA

Comments: This fluke is the best on the market by far. This thing will catch you so many more fish then a zoom fluke or any other, what makes this one so special is that when you let the bait sink weightless , the tail in the back will float up and wag like a dog and the body of the bait will wobble back and forth. zoom flukes just cant do that. yesterday i was fishing in a kayak and i caught 2 pigs in under an hour by casting it out in 7 feet of water and let it sink to the bottom and then just twitch it up and let it sink. every time the fish would nail it on the fall.

From: Bassmaster
Comments: Strike king Kevin vandam perfect plastic Caffeine Shad Jr.(KVD magic ) with a 5/0 Owner TwistLock Open Gap Centering Pin Hook also weightless , rod and reel spinning combo ( daiwa regal xia reel , berkley lightning shock rod 7 ft with 10 lb Spiderwire fluorobraid ( moss green ) caught 6 bass on this bait

From: Erik: IL

Comments: If you want a good soft jerk bait this is the one for you. Its awesome, i usually catch at least 2-3 fish on one bait. The best thing is the about this is the action in the tail, its the best out there. when you cast it on a weight less tail the tail will float up as the bait sinks. If you work it fast it has the walk the dog action. Both the 5in and 4 in are great rig the 5in on a 3/0 to 4/0 wide gap hook and the 4in on a 3/0 to 2/0 hook.

***Note: If you have questions about this product or need assistance with an order please email your questions to info@tacklewarehouse.com
View Large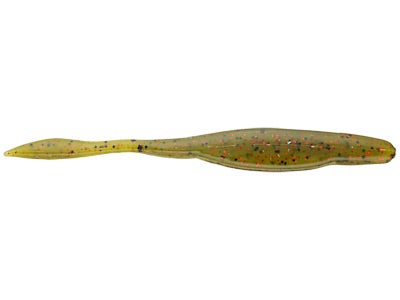 7 Available Colors
More Strike King Softbaits