Strike King KVD Sexy Dawg - $7.59
Strike King Lures is proud to introduce the KVD Sexy Dawg. BASS Elite Series Angler, Kevin VanDam, designed the KVD Sexy Dawg to be an easy to walk, far casting, and premium "walk the dog" topwater lure. Available in two sizes, the KVD Sexy Dawg Features a unique design and incredible walking action that drives fish crazy. The KVD Sexy Dawg comes to life by rhythmically twitching your rod tip, allowing the nose to glide side to side. Available in several proven colors, take The Strike King KVD Sexy Dawg for a walk and hold on for some explosive strikes!
| | | | |
| --- | --- | --- | --- |
| Strike King | Length | Weight | Class |
| KVD Sexy Dawg | 4.5" | 7/8oz | Topwater |
| KVD Sexy Dawg Jr. | 3.75" | 1/2oz | Topwater |
Comments: Extremely easy to walk. Performs just as good as the spook. Actually easier to walk than the spook. Strike king PLEASE come out with a one knocker version of this bait.

From: Jeff: Rensselaer IN

Comments: This is one of the best topwater lures I have ever used. Every time I go fishing with it I always catch fish. It is my favorite way to fish. It walks very easily. My favorite color is clear sexy shad.

Comments: jackharius if you can't walk this bait then there isn't a walking topwater that you can walk. so easy a monkey could do it

From: Joe: Mcveytown, PA

Comments: I can walk a corn cob better than i can this bait. Not impressed at all. ill stick to my gunfish. love your baits SK but this one aint cuttin it.

From: Jackharius
Comments: Great GREAT Lure! caught two 4 lbers back to back on my first two cast. amazing lure! got the sexy ghost minnow jr. my new go to topwater bait! worth the money!

From: Cali, GA

Comments: Fished a Ghost Minnow Dawg Jr this weekend. I liked the casting distance, walking the dog with it was quite easy. Some walking baits you have to work with a little to get them to walk. This one works just like the spook. Caught several fish on it! Another great SK bait.

From: Tyler: East Coast

Comments: This is a very good bait, at least right now the Smallies are smashing the Jr. on the Rivers around here, the Largemouths are reallly hitting it on the Lakes, great bait, Bluegill seems to work the best around here, Its is Easy to walk the dawg and i personally like it more than the sammy

From: Shawn: MI

Comments: Dont let this bait fool you. Its decent for the price but its no sammy. If you want the best top water lure look at the sammy. The Jr dawg is worse at walking then the dawg

From: Kevin: MD

Comments: I just got a dawg jr and it looks it will be an awesome topwater lure in the summer. This lure has a super loud rattle and awesome paint jobs. Can't wait to use it this summer for big smallies!!!

From: Kyle: MI

Comments: just got mines today, it has 3 clear ball rattles in the head and two round rattles in the back. the jr isnt 3.5 its basicly 4inches. but over all, GREAT lure

From: Bassin: Midwest MN

Comments: This baits looks decent. I am glad SK offers a Bluegill pattern along with the typical number (way too many) of Sexy Shad variations. Strike King needs to expand its color offerings IMHO. A bit of an aside, what happened to the Spro Dawg 100? Bring it back TW please!!!!

From: Dean: British Columbia, Canada

***Note: If you have questions about this product or need assistance with an order please email your questions to info@tacklewarehouse.com
View Large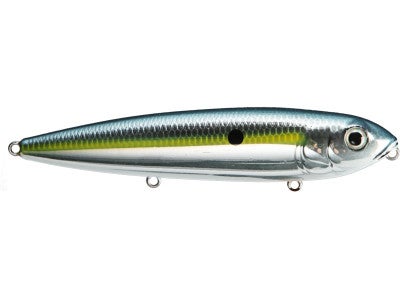 12 Available Colors
More Strike King Hardbaits