Strike King Premier Plus Spinnerbaits Colorado Willow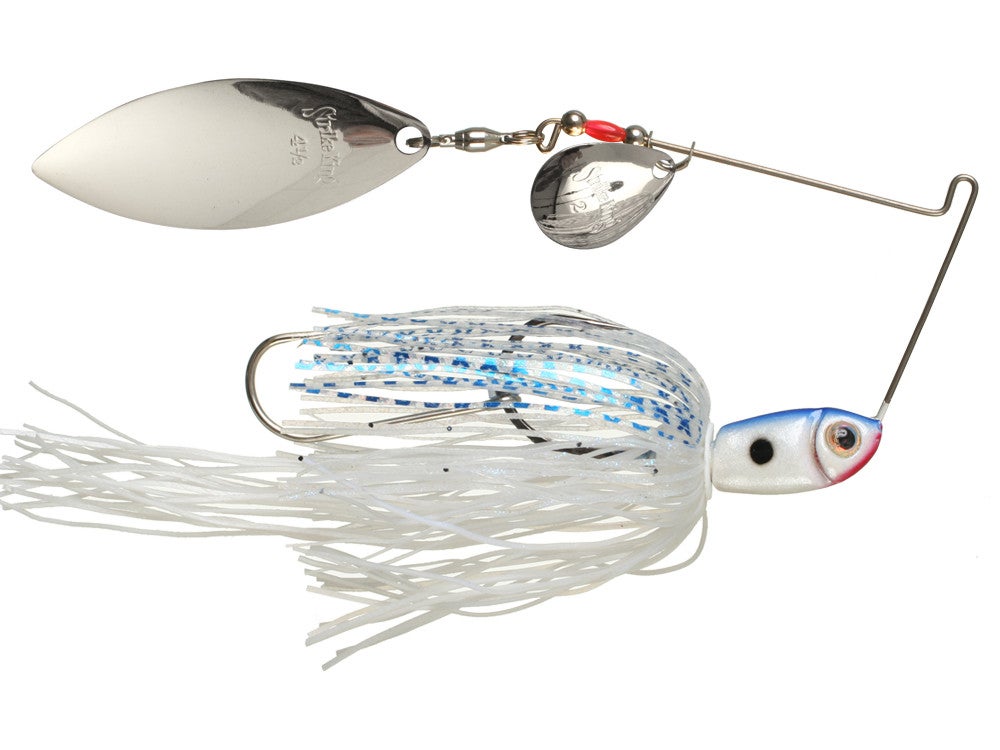 The Strike KIng Premier plus features the exclusive Z-Man perfect skirt. The perfect skirt blooms wide and even, and the exclusive Magic Tail also serves as a trailer and provides extra action to the skirt. Each skirt is matched perfectly to the head of the bait for an appealing natural look. The premier plus also features Spin EzeŽ ball bearing swivels with 24k gold and or nickel plated blades. Attached with a flex bend spring tempered stainless steel wire to the beautifully painted head with Holographic 3D eyes. All Premier Plus blades also come with a pre-rigged Sabre point trailer hook, making this bait ready to fish right out of the package.
12 Colors
More From Strike King Spinnerbaits
Customer Reviews
Comments: Skirt tangles up with the blades and makes it a mess. Keep having to rip it out. When it doesn't catch it does catch fish but wish they fix this problem.
From: Randy: FL 2/8/15

Comments: Since I catch most of my fish in MD on various baits with green watermelon and/or green pumpkin combinations, I had been looking for a quality spinnerbait which had those colors for quite some time. I purchased the bluegill pattern toward the end of last summer and had a lot of success with it. I caught about a half dozen bass in my first outing with it including a 5 1/2lb and 3lb bass. I would definitely recommend this spinnerbait.

From: Tim: Rockville, MD

Comments: i fish in mexico and they won big money for me love this spinnerbaits

From: Erick: Houston, TX

Comments: I took this spinnerbait (3/8 oz bluegill) out for the first time on a clear water lake mid march in mass and was fishing it on a flat with stumps. I was slow rolling it over the stumps, bumping it off of them and largemouth were hammering it. It has a good pattern that held up pretty well and caught me some fish. I like this spinnerbait a lot and would recommend it, however it does have some problems. The longer skirt would get tangled up in the swivel of the colorado blade and foul about every 5 casts. So I cut down the longer skirt to just the end of the trailer hook, which seemed to fix that, but pretty frequently the colorado blade would get caught up in the main hook or the trailer hook. Some times I could give it a good rip and unfoul it, but a lot of times this wouldn't work. I've fished a bunch of other spinnerbaits and haven't had this problem, which is frustrating when you're wasting casts and spooking fish. But like I said before, it does catch fish and looks good

From: MA
Comments:First impression of these spinnerbaits in person is that they are very well made, good paint job on the head, great free flowing skirt, sharp black nickel hook. However, after you get into some decent fish on them they do bend and lose their eyes. Very first fish I got on the bluegill color bent the crap out of it, the good thing being that the thick wire bends back into place beautifully, but it is a little annoying doing it after every fish. That being said they do catch fish very well and are a solid spinnerbait. If the fine folks here at TW get the Bluegill color back in stock I highly recommend it, one of the best bluegill replicas i've seen.
From:Zach: Port Huron, MI