Strike King Pro Model 6XD Crankbaits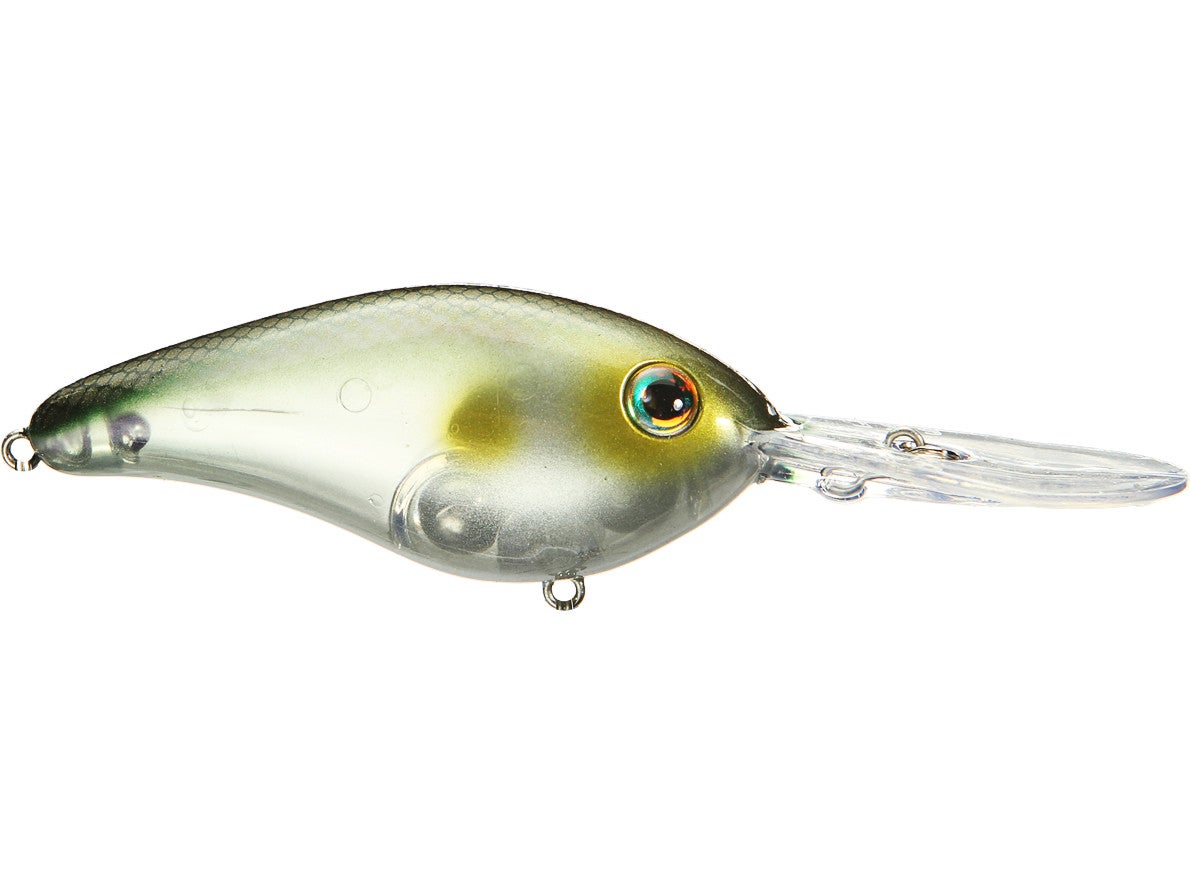 Please Note: Actual colors may vary slightly from images shown.
The Strike King Series 6 XD Crankbait was designed and tested for over a year with 5-time BASS Angler-of-the-Year, Kevin VanDam before he unveiled a prototype and used it to produce some substantial weights in route to his 2nd place finish in the 2009 BASS Elite Series event at Kentucky Lake. In order to attack those big ledge fish, KVD wanted to make sure this new bait would not only reach 18-20-foot depths, but that it had the right wobble and shimmy once it got there to attract the bass and entice them to bite. Well balanced, it casts like a bullet and has a super-steep dive angle to reach the strike zone quickly. VanDam said he easily got this bait down to 18 to 19-feet on every cast, and it was the erratic action once it hit the bottom and then began to wander off that triggered the bass to bite.
" ... during the tournament days, I caught about 90-percent of the bass I weighed-in on the Series 6 XD." - Kevin VanDam on his 2nd place finish at the 2009 BASS Elite Series event at Kentucky Lake.
| | | | |
| --- | --- | --- | --- |
| Strike King | Length | Weight | Depth |
| 6XD | 3" | 1oz | 17ft+ |

Click the logo to view their review.
32 Colors
More From Strike King Hardbaits
Customer Reviews
Comments: Don't let the size intimidate you. It's the size of a tiny bluegill which they eat all the time. I notice a lot of bass fisherman stay away from this size, which could help you on your home water because they don't see it much, You will get bites of all sizes on this bait. I've had 20+ fish days on this bait alone. Not my favorite crank but definitely up there.
From: Jordan: Canton, IL 3/28/16

Comments: Great crank for dredging the depths and trying to get a kicker fish. It's a pretty big crank but not giant, so out west it's best in stained and murky conditions. Still catches all sizes of bass though. It'll hit 20' on a long cast with 10 pound fluoro.
From: Tyler: Grand Junction, CO 5/23/15

Comments: I bought a few of these from another retailer but I finally decided to try these at my favorite bass lake. I've never caught so many fish in one day over 4lbs, the biggest was 6.3lbs for the day. I wanted to fish jigs, but it was fish after fish after fish on this bait. It found where they were hiding. The bass must absolutely have a deep hatred for this bait they way they were attacking it. I feel like an idiot for not trying one sooner. I want to invest in another cranking set up after todays success.
From: Trey: FL 3/1/15

Comments: Went to pick wick lake and was killin largemouth & smallmouth on ledges. Great bait

From: Will: MS

Comments: I went on a guided trip on Lake Guntersville last year with a Gizzard Shad colored 6XD I was catching white bass on every cast and on my last cast I pulled out a 10 lb largemouth and ever since then I've been ripping out big ol bass I would recommend this lure to anyone.

From: Tyler: LA

Comments: Great plug once you replace the treble hooks that come on them.

From: Lucas: AL

Comments: These 6XD's are at the top of the food chain when it comes to the ULTIMATE crankbait! They run perfect from the time you put them in your cart to the time they first hit water. I will say that the best thing about this crankbait is the fact it catches all sizes of bass, but the 10XD is a little over kill..I have one and will not be buying another and I would suggest not buying one unless you plan on fishing, say, Falcon Lake or similar if not definitely stick to the 6XD's!!
Comments: Not my go to bait, but there is something about these baits that seem to irritate bass into biting. Good crank for the price.

From: Greg: AL

Comments: Went out one day on a small lake we have a cabin at using kvd square bill cuz they killed the day before but had a tought... no bite for 5-6 hours decided to throw on a 5xd still no luck. I sized up to 6xd and worked drop offs first 3 casts brought 2 fish to the boat; 4+ lbs and 3ish respectivley. dragged in a two pounder and another four within the next 20 minutes. Wish it had been a tournament would've been working a pretty good bag. All on the stock hooks worked GREAT not one bend. only left cuz i hooked my brother

From: Sam: NY

Comments: Honest, I have not caught any on it yet. I have run it a few times and it runs great. Dives Quick. Didnt need tune. Good hooks for price. Good split ring. This bait is big so here in the North West I think that there are limited conditions for its use (mugy/windy post spawn and summer only). I probably wont throw it much during slick conditions.

From: Nate: Pasco, WA

Comments: well i got mine in today.there the powder blue black char and sexy shad and i went to Lake Falcon i caught me 2 12 Pounders and a7 Pounder!.its a big fish machine.

From: Thomas: San Angelo, TX

Comments: I received two of these for Christmas and a few days later I was using them on Falcon Lake in Texas. I caught a 13.36 lb largemouth(turned into the Texas Share Lunker program), an 8 pounder a few casts later, and two six pounders on this crank bait in just a few hours on 12/28/11. My 5 best fish went for 38 lbs. I lost a few others that would of put me over 40 lbs easy. We tried other crank baits but only little fish would hit them, while these cranks caught everything. Thanks Dustin for the Christmas gift!

From: Jason: Murray, UT

Comments: All other Strike King crankbaits I have bought have been terrible, action sucks,not running straight,etc. SO I was scepticle about buying the XD series I am very pleased that I did t. These baits run very well out of the package and have decent hooks on them. These are by far the best lure Strike King has put out besides the red eye shad.

From: Jr: Schell City, MO

Comments: These are by far my favorite deep diving crankbaits. I always replace the stock hooks with Gamakatsu's, but I have caught lots of good fish and many big fish during the summer fishing super deep humps, drops and ledges here in Kalamazoo and all the way down to Dale Hollow Lake in Tennessee. Largemouths on Barren River Lake, KY gobble these up!! Excellent bait, also check out 5XD, 3XD and KVD 1.0 for next year.

From: Aeolian: Kalamazoo, MI

Comments: Bait swims excellently right out of the package. Hooks arent the best, but thats an easy exchange. Good color options, run deep, and are priced right. Good luck!

From: Thomas: Rockwall, TX
Comments: For the money cant beat it and it produces big time, its up there with DD 22's, XD runs a little deeper.

From: Buddy: South Carolina, USA
Comments: I threw this crankbait all day today with the stock hooks. I caught several fish including an 11 pounder. The paint stayed and the eyes were intact. One hook did bend on the 11 pounder. All I can say is wow. I will be buying some more.
From: Danny: Milan, TN
Comments: Religiously used DD22s and Hot Lips and was never a big fan of SK's crankbaits, but the 6xd's are a completely different story. These are the best deep divers (affordable ones anyway) I've used and my ownly gripe are the hooks but I replace all my crank hooks with Owner Stingers anyway.
From: Allen: Pennsylvania, USA
Comments: These crankbaits have great action, but are cheaply made. Expect the eyes to fall off and the hooks to be cheap - as it is with all other strike king crankbaits.
From: Hale: Tennessee, USA