Strike King Pro Model 6XD Silent Crankbaits - $5.69
Please Note: Actual colors may vary slightly from images shown.
A large deep diving crankbait with a unique curved bill that allows it to dive deeper and faster than most other deep diving crankbaits, the Strike King Pro Model 6XD Silent Crankbaits offer a whole new presentation for deeper fish. The same as the original - absent the rattles. It's perfect for those times when bass are spooky, and a subtle presentation can make all the difference.
One of Kevin Van Dam's go-to lures for catching bass in deep water, KVD used the Strike King 6XD Silent Stalker Crankbait en route to his 2010 victory at the Bassmaster Elite Series event on Kentucky Lake. Back at previous Elite Series event at Lake Guntersville, he noticed when bass started getting spooky or reluctant to bite the standard Series 6XD that he could get them fired up and start catching them again using the Strike King Silent Stalker 6XD. KVD used the Silent 6XD from the beginning until the end and caught most of his biggest bass on it - to take home the win.
More recently, en route to his 3rd consecutive (7th overall) Angler of Year title, KVD caught all of the fish he weighed in - on the Silent Stalker 6XD, as well as, the standard Series 6XD at Lake Jordan - during the first leg of the Bassmaster Elite Series Postseason.
| | | | |
| --- | --- | --- | --- |
| Strike King | Length | Weight | Depth |
| 6XD Silent | 3" | 1oz | 17ft+ |
Comments: Not a huge strike king believer either but I am now... after about 15 casts I caught my biggest bass of the winter so far a nice 5.5lbr and then a 3 or so pounder later on. Didn't need to tune it either and I was pleasantly surprised how well its bounced off cover

Comments: Not the biggest Strike King fan but someone might want to learn how to tune crankbaits. Not all will run true out of the pack. I've bought a few SK cranks in the past and I'd say over half didn't swim straight out of the package; but I was able to get all of them to swim perfectly straight with a little tuning. It's really easy, and as a crankbait fisherman; it's something you need to know how to do. If the bait's swimming to the left, bend the front eye to the right until the bait swims straight. If it's swimming to the right; bend to the left. If you know how to do that, there is no reason you couldn't have got that bait to run right.

From: AC: CA

Comments: bought one as soon as they came out was really pyched about a silent crank. so went fishing and the thing swam back to the boat sideways, a few more casts and off it came, put on the LC d20 and limited in 1.5 hrs.

From: Jeff: North Jersey
Comments: This is first time I ever bought a strike king crankbait. I caught 7 fish!! All were 1-2 pounders but the lake i was at was known for the fish being a lil small. i just was passing buy and decided to get a couple of hours of fishing in. i was using sexy shad. they loved it!

From: SuperMario: San Jose, CA
***Note: If you have questions about this product or need assistance with an order please email your questions to info@tacklewarehouse.com
View Large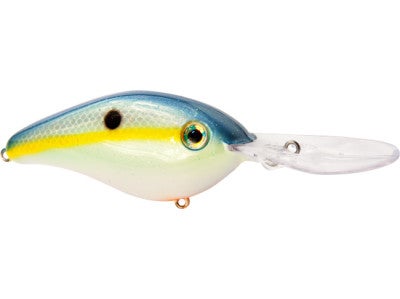 9 Available Colors
More Strike King Hardbaits