Strike King Rage DB Craw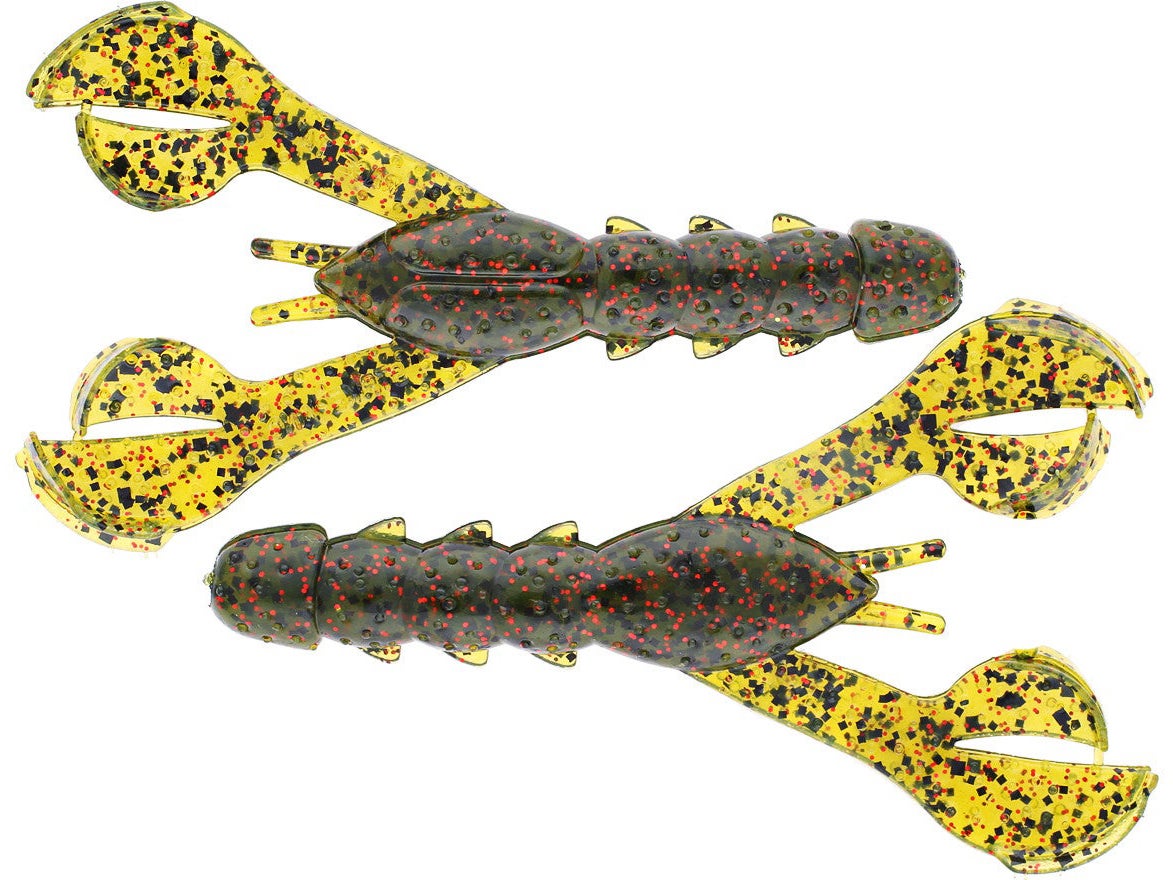 Offering a more subtle action than the original Rage Craw, the new Strike King Rage DB Craw is perfect for colder water temperatures or when bass just aren't looking for a fast paced action. An excellent flip bait, its streamlined design allows it to easily get in and out of cover, and its ribbed body and claws slow its descent to maximize time in the strike zone. Also a great choice on a Carolina-rig, rigged weightless or as a jig trailer, the Strike King Rage DB Craw delivers a lifelike crawfish presentation that bass can't resist. Available in a range of proven colors, pick up the Strike King Rage DB Craw and see what the Rage is about.
8 Colors
More From Strike King Craws And Creatures
Customer Reviews
Comments: I was in a rush to grab a pack of the Rage Tail Craws & accidentally snagged a pack of these DB Craws. It seems like the scent added has more of a oilier film than the standard Craws, so hopefully that means a longer/stronger scent, but the big thing I noticed (and this is not a good thing) is that they do not seem to hold up well, at all. I had just tied the first one out of the pack, and was already going to grab a second in no time at all, because the claws had come off. Not worth the money when the standard Craw seems to hold up, better, for the same price. Next time I'll be a bit more careful when I grab a pack. It's back to the standard Rage Tail Craws for me.
From: Jim: Pittsburgh, PA 9/8/16

Comments: Used one of these black and blue DB Rage Craws on the back of a Z-Man chatterbait & was very impressed by the action it produced as a trailer! I see a lot of reviews talking about it being a great punching bait, but try it as a trailer & you will be very happy with the outcome!
From: Jude: Fairfax, VA 6/6/16

Comments: I punch these and flip them all over the delta in cali & they have produced a lot of fish duability wise eh but other than that great subtle bait for every application! my colors are summer craw & bama craw
From: Lucien: CA 12/5/15

Comments: Got 2 packs of these to try, and have to say I am impressed with these baits. Used them for punching and produced well. Averaged 2 fish a bait, probably could have gotten 3, but decided to swap out and put the used ones away to repair with some mend-it when I got home. Nice action, seemed to produce a bigger bite then the 4" beaver style baits. Will be using these more and looking fwd to see how they perform in the winter months. But agree they do need a few more colors also.
From: William: Long Beach, CA 7/18/14

Comments: Easily my favorite soft plastic bait from Strike King. Very subtle yet still has a lot of action like all Rage products. Only 2 complaints: 1 is the durability and 2 is the color selection. Strike King please make more colors in this craw! (Green Pumpkin Purp/Gold)
From: Chris: MI 7/8/14

Comments: Great little craw. Subtle yet draws fish to it. Works best if you do not over power it with a large weight. Anything heavier than 3/8 oz will take away the allure of the bait. Buy several packs because I usually go through a pack a trip.
From: Matt: Broken Arrow, OK 6/8/14

Comments: I love the rage craw and lobster but sometimes something more subtle is needed and I opt for a more subtle craw...This thing will have just the right amount of "flap" to it. It's also a GREAT alternative to the rage craw/rage lobster when punching thru mats or behind a skirted t-rig..when u need something more 'streamlined' to "slip" thru the vegetation/wood/grass/etc. It also seems like the plastic is SOFTER and has less salt. Seems like it'll be more durable than the standard rage craws... AWESOME smallmouth bait on a picasso shakey head ballhead or football screw lock jig...or finesse/clear water largemouth. Try them if you like the Rage series of soft plastics. TRY THEM. Try them now.
From: Tanner: The Riv, MA
Comments: decent craw smallmouth around my area love it but the problem is the claws are very thin so dont be surprised after 1 or 2 fish youll have one or no claws on it yet

From: Evan: central pa

Comments: just ordered some. I watched the product video and hey looked amazing. im gonna flip some rip rap with these. bama Craw looks like a hoss color.