Strike King Rage Smokin Rooster 6pk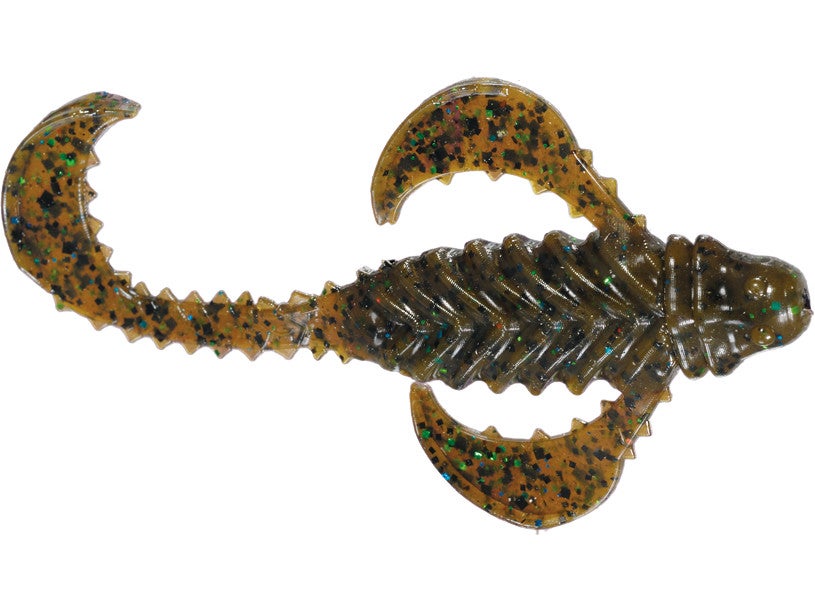 The Strike King Rage Smoking Rooster is an aggressive creature bait with oversized swimming arms and bold bass attracting action. Extremely versatile, your imagination is the limit to this bait's capabilities. Texas rig it and flip it into heavy trees, Carolina rig it or slow roll it weightless, the Smoking Rooster's large profile makes it a perfect big fish bait. The unique Strike King rage tail also creates an unbelievable level of vibration sure to attract attention. Made with Strike King's customized high-grade soft plastic and available in a multitude of colors, the Strike King Rage Smoking Rooster is one of Denny Brauer's main flip baits. Protected by US Patent # 7,774,974.

8 Colors
More From Strike King Craws And Creatures
Customer Reviews
Comments: The Strike King Rage Smokin Rooster is a deep water predator assassin. Pair this bait with 6th Sense Core X Swinging Football Jig Head and you will have a winning combination. Rooster stays in place because of jig's screw type keeper. So much action, never seen this deep before. A main stay for full livewells everywhere!
From: Miles - Anderson, Sc 2/18/17
Comments: These baits are great. They catch all sizes of largemouth. I have landed many 5 pound plus with these in the black blue flake. My personal best was 20 largemouth in about 3 hours using nothing but these baits. I texas rig with a 1/2 oz bullet weight and a 4/0 hook with a slow retrieve. You will want to invest in some mend it because they tend to tear after a good fighting fish.
From: Todd: Martinsburg, WV 1/3/15

Comments: I love this bait i like to use them for topwater and texas rigged. They have such a good action with those flipping arms. I get alot of blowups on topwater and catch awhole bunch of big bass. I will be definitely buying more.
From: Clayton: Wesley Chapel, FL 12/30/14

Comments: These baits are awesome, I fish them Texas rigged and bass slam them. I even caught a crappie off this bait! They gotta eat it, they can help it! Awesome bait, a go to bait right next to the 10" anaconda worm simply because fish hammer them when they turn their nose up at my other baits. Invest and do yourself a favor
From: Corey: Tifton, GA 11/7/14

Comments: I've used these two or three time (green pumpkin) and I have gotten bites or landed fish every time. The action it gives while dragging it on a Carolina rig is what gets them biting.
From: Big Al: San Diego, CA

Comments: I've only caught a few average largemouth on these so far, but I keep trying them because I BELIEVE I will land big fish on these eventually. You see, I've had a few "big fish bites" - you know, the kind where the fish just inhales the bait and high-tails it for deeper water. I haven't landed one of the big ones yet, but the heavy pull on the rod and obvious weight of the fish keeps me trying them. I also like the versatility of the bait; you can fish it slow, just bottom bumping, or you can retrieve it steady and slow near the bottom and fish will hit it. One slight negative - I have noticed certain colored baits are much harder than others. I think the bait might harden as it ages and perhaps the harder baits spent more time in the warehouse.
From: SAS: Orcutt, Ca

Comments: Just tried a pack today and caught six nice bass off main lake humps. I am a believer in this bait. I will be buying more.
From: Gary: Lake Murray, SC

Comments: I wanted to try these out because they really looked different. After picking up a pack of the bama bug colored ones I had c rigged one and went at it, after catching a few bass on them, I was hooked. Pick up some gamakatsu 4/0 non weighted superline hooks, they work better than the 3/0 and the roosters have a better fall rate.
From: Rich: Toms River, NJ

Comments: Had bought this bait a year ago, just stashed it, forgot about it...that was til the other day when I found it among my array of creature baits...mimics all types of forage that bass just love....that was a good day, drag it, hop it, kill it, swim it....it produces either way
From: Roger: Ontario, CA

Comments: My favorite flipping bait. Fish just slam it and get plenty swimming it back to the boat. Seems to produce big bites like a jig.
From: Wes: Ilm, NC
Comments: Great bait for flippin, pitchin or swimmin but really deadly on the stop and go, I fished it texas rigged and used a stop and go retrieve and caught 5 2lb bass in January on a warm day.

From: Jake: Oklahoma, USA
Comments: This bait consistently outproduces everything else I use at my home waters. I think they love the action, and the size of this bait. I love the whole Rage line, but the Smokin Rooster is my favorite.
From: Cameron: Crossville, IL