Strike King Rage Tail Craw 7pk - $4.99
MSRP: $4.99
The Rage Tail by Strike King brings a revolutionary new look to soft plastics. Each Rage Tail Lure has a unique and exclusive tail design and is engineered like no other soft plastic bait. The Rage Tail is designed with a specific purpose and uses customized hi-grade plastics for superior action. You won't believe the splash, noise or other action that each rage tail has! The Strike King Rage Craw can be fished Texas rigged, Carolina rigged or as a jig trailer. Protected by US Patent # 7,774,974.
Comments: These are good craws in watermelon red flake on a pumpkin/purple football jig dragging

From: Connor: AR

Comments: these baits are awesome i like using them on a spinnerbait or just flippin them there a great bait for the price! 10/10

From: Baily: WA

Comments: All I have to say is just read the comments here they all can't be telling a fish story it is the best craw on the market hands down .This bait will turn any jig you own into a great jig .Thank You Steve Parks s/k

From: Rich: Wallingford

Comments: My favorite craw ever! Flip it,Cast it or whatever! It catches fish! I have honesty had no problem with claws ripping off real easy and 1 craw=3 or 4 fish. No problem with durability here. I like to fish them on a 4/0 hook with a 3/8 ounce tungsten weight anywhere from 1ft to 15ft has worked for me.

From: Matthew: KY

Comments: Great action on these but they dont hold up to anything. If a sunfish grabs a claw, its gone. Once one claw is gone this bait is useless. Love these baits but go through packs and packs of them and at $5 it adds up fast. PLEASE strike king make these more durable.

From: Jim: New England

Comments: NOTHING works better... But EVERYTHING lasts longer. Please strike king make these things tougher!!!

Comments: I primarily use this bait as a jig trailer. Caught three largemouths using the Watermelon Red Flk when I could not catch a fish on anything else. The only problem was three fish....three Rage Tail Craws. The Havocs and or Gamblers do not tear as bad and are as good if not better.

From: Jeff: Hot Springs, AR

Comments: Try Florida rigging this in shallow grass. Bass love the action during the post spawn and into summer. Im sold on the Rage plastics for sure, these things catch fish.

From: Tim: Leo, IN

Comments: These craws are the only thing I use for swim jig trailers... you heard me right... swim jigs! The action on them is unbelievable! Try it out, you will have fish chasing your lure right to the boat.

From: Matt: RI

Comments: Great bait. I love using it with a pullet weight in the pre-spawn and catching monsters! great bait!

From: Zach: CT

Comments: This is hands down my favorite bait. You can use it for everything from sight fishing spawn to texas rigged flipping to the back of a jig. It's just a well made versatile craw bait. I probably have at least 10 packs at one time because theyre so great. Get ya some and hold on.

From: Seth: CA

Comments: this is one of the most versitile craw baits on the market. it can be used on jigs or it can be weedless riged. all of the strike king craw baits are the best thing you can bey

Comments: Best action in a craw i have ever seen. Once watched a three pound smallmouth chase it to the boat and inhale it.... Proof that fish like them

From: Austin: WI

Comments: Absolutely the best jig trailer out there, I make my own jigs and the Green Pumpkin goes with just about anything I fish, and if the water is dirty I go with the Summer Craw. Last Saturday I had a little over 11 lbs with three fish on a super tough day. Buy a bunch because they eat them up!!!

From: Jake: Greer, SC

Comments: amazing for flipping and pitching docks...use bama bug with a strike king bitsy flip jig in black in 3/4 oz. caught a 6 pounder few weeks ago

From: Shane: Mass

Comments: Best craw on the market! Amazing scent and action! They last longer than most craws too. A+

From: Kieran: Howell, MI

Comments: I love these baits. Especially as a jig trailer, but they also perform well on a jig head or tx rigged. They add crazy action to a jig.

From: Jim: Woodstock, GA

Comments: These and the Zoom Super Speed Craws are the best craw imitating bass catching soft plastics out there! Thumbs way up!

From: Brent: San Diego, CA

Comments: i like the new falcon craw color, these are my go to plastics along with the space monkeys

From: Jim: Ft. Polk, LA

Comments: great jig trailer also good fished with a shakey head jig.
Comments: A must have for every bass angler! Great action, goes through cover easy and the bass hammer 'em!

From: Dave: Fulton, NY
Comments: one of my favorite lures. the best why to rig it is texas rig with 3/8 ounce bullet weight

From: Charlie
Comments:Strike King got it right! These things are awesome!
From:Justin: Oklahoma, USA
Comments:The best craw that I have ever fished. I have fished many crawfish lures and I have never found one that is as good as the Strike King craw.
From:William: Hohenwald, TN
***Note: If you have questions about this product or need assistance with an order please email your questions to info@tacklewarehouse.com
View Large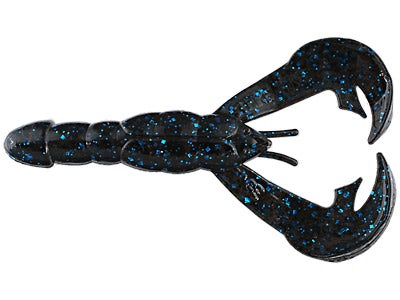 23 Available Colors
More Strike King Softbaits
More Strike King Trailers