Strike King Rage Tail DB Structure Bug - $5.49
The Strike King Rage Tail DB Structure Bug is currently available for pre-order - and expected to arrive by mid-July.*
*Arrival dates are supplied by the manufacturer and are subject to change.
Hot out of the molds and ready to pick apart structure, the Strike King Rage Tail DB Structure Bug was designed with the help of bass fishing legend, Denny Brauer. Made to be the ultimate flip bait, its streamlined body allows it to slip in and out of tiny holes in cover, and its precise composition and ribbing allow it to produce the classic crawfish glide that bass can't resist. Featuring unique Rage Tail claws and appendages, it produces a tremendous commotion any time it hits the water, and its also loaded with Strike King's exclusive Coffee Scent for added attraction. Available in a wide range of tournament-proven colors, the Strike King Rage Tail DB Structure Bug has what it takes to elevate your flipping game.
Comments: 4# trokar Flippin hook and a pegged 1/2 weight and your good to go..... or use a biffle hardhead type rig... very good bait overall. Durability is not great but I'm not complaining as long as it puts fish in the boat
From: Landon: TN 7/5/14

Comments: Fished the summer craw in clear water for a couple hours today. True to it's namesake, the bug has action. It is compact enough to slide through dead matted cattails. When sitting on bottom the tails float and flutter with the slightest rod movement. I am a dbomb fan, but the bug could change that.
From: Montanaro: Touchdown City, WV 6/15/14

***Note: If you have questions about this product or need assistance with an order please email your questions to info@tacklewarehouse.com
View Large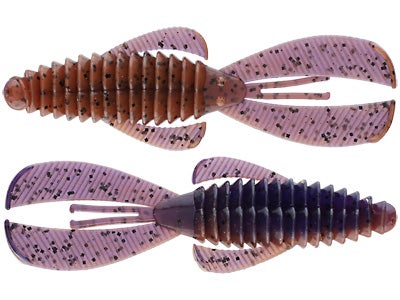 10 Available Colors
More Strike King Softbaits