Strike King Rage Bug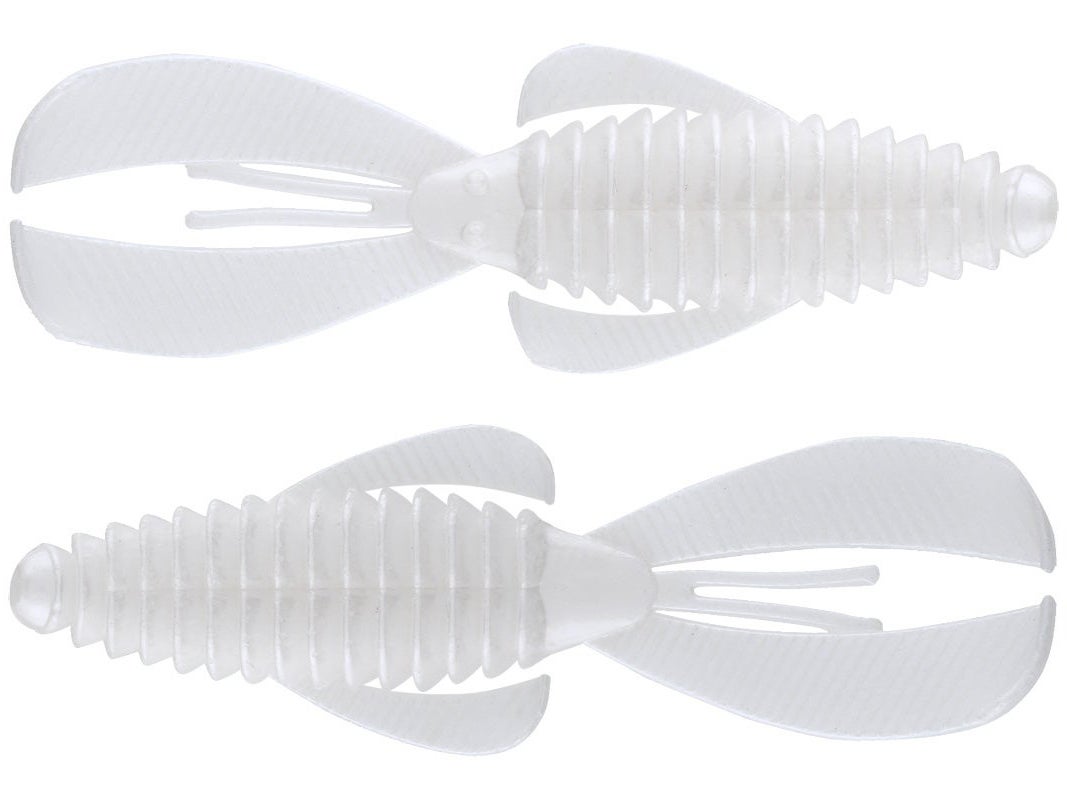 Hot out of the molds and ready to pick apart structure, the Strike King Rage Tail DB Structure Bug was designed with the help of bass fishing legend, Denny Brauer. Made to be the ultimate flip bait, its streamlined body allows it to slip in and out of tiny holes in cover, and its precise composition and ribbing allow it to produce the classic crawfish glide that bass can't resist. Featuring unique Rage Tail claws and appendages, it produces a tremendous commotion any time it hits the water, and its also loaded with Strike King's exclusive Coffee Scent for added attraction. Available in a wide range of tournament-proven colors, the Strike King Rage Tail DB Structure Bug has what it takes to elevate your flipping game.
15 Colors
More From Strike King Craws And Creatures
Customer Reviews
Comments: Amazing bait. I either pitch it on a Texas rig or my favorite way to fish it is on a wobble head jig. The legs and arms kick so well. Have caught some great bass on them. People say they don't last long which I admit they aren't the most durable, I just use them as a jig trailer after they start to split. Just an overall great bait. Will continue to buy them!
From: Nicoh: Jasper, FL 2/6/17
Comments: I always stock up on these during TW sales. They're my go to, barely use brush hogs anymore. Get some Parasite Clips (size small) and you'll save a few baits throughout the day.
From: Dave: MO 1/18/17
Comments: This bait is killer. Simple Texas rig pitched into cover is absolutely too easy to catch a bass. It's like i make the pitch.. let it sink. And as I reel in the slack I feel the fish and set the hook ! If you thought the senko was a do nothing bait you haven't tried these ! It's almost like live bait. These are the real deal.
From: J: Ohio 12/17/16
Comments: Favorite soft plastic bait by far! I use these Rage Bugs for everything from flipping and Carolina rigs to dropshotting! The possibilities are endless with these guys! They have the right amount of action to course the big girls into biting! When they get ripped up, don't throw them away! Cut them right down the middle and fish them as a great dropshot bait similar to the new Strike King KVD Perfect Plastics Halfshell, but with a bit more action! Great baits overall, good durability, awesome action! Try these out, you wont be disappointed!
From: Christian: Lake City, FL 11/13/16
Comments: Strike King Rage Bug is my go to plastic craw. I've used these in just about any type of water. clear, stained, muddy you name it. My favorite colors are the Bama Craw, Black Blue Flake and the Summer Craw. Bass crush 'em! Pair them up with your favorite jig and you should be good to go!
From: John: NJ 6/14/16

Comments: ive bought 20+ packs this year already & ya know what these things flat out catch bass. Can't beat the action from the appendages, but the durability is needless to say trash one or two decent fish tear it up. i went through 2 packs the first time i used them & now i cant stop buying them I'm sad to say this but these have replaced my brush hogs in my tackle bag & are my easy go to soft bait 24/7.
From: Lucien: CA 5/12/16

Comments: Flipped this bait today in summer craw color with a pegged 3/8 oz tungsten weight in laydowns. Fish were crushing this thing. Went through the entire pack in a few hours. Durability is pretty bad but that's to be expected with a soft lure that has good action. Definitely ordering some more packs in different colors.
4/16/16

Comments: was fishing a local pond wasn't getting any bites so I pulled these out on a Texas rig throw into some hang down trees and got bit and missed him then threw it back and got bit again set the hook and was a solid 5 pounder then he jumped off at the bank this bait is great also has awesome action
From: Devon: College Station, TX 3/27/16

Comments: greatest jig trailer ever great action and holds up really good I personally like the ochechobee craw color but they all catch fish all around great bait
From: Wyatt: FL 10/25/15
Comments: Awesome Bait! The action is great and it does catch bass! Green pumpkin is my "Go-To" color. I agree the durability isn't the best, but if you are looking to save your baits, stay home!
From: Adam: MN 9/11/15

Comments: Love the structure bug and so do the bass! Have had great success fishing them on a swinging jig head. Green pumpkin works for any water color. Agree that they don't hold up like some other baits, but Mend-It glue helps you get some extra life out of them.
From: Rob: Westfield, IN 7/30/15

Comments: Fished this bait for the first time yesterday in the blue craw color. I was fishing from shore in a small public pond here in southern Michigan. Targeting off shore weedbeds, the bait performed great. Produced 6 bass and one breakoff in about 45 minutes. The action is incredible, and texposed this thing will go anywhere. I was very impressed and can't wait to try it more this weekend pitching docks.
From: Ron: Brownstown, MI 5/21/15

Comments: Great bait! I actually got a pack of these a while back, I used one as a jig trailer and forgot about them. I've caught a pile of bass on that jig and upon observing that the trailer needed to be changed I realized I hadn't put them to the test so immediately tied on a regular Texas rig and couldn't keep them from biting this guy. Flipping this bait is pretty awesome, so is using them on jointed heads and shaky heads. I can only speak for bama craw but I speak very highly.
From: Corey: Tifton, GA 5/20/15

Comments: Great Bait! Here in North Florida you can find all the good flipping and pitching water you can stand and these baits excel in that. They have the most action of any beaver style bait out there including the Reaction Innovations Kinky Beaver. Great profile that comes through the cover great and the legs kick wildly in the water at the smallest bit of movement. Only knock I would have on it is that it's not as durable as some other baits. Only been on the water twice with them so far and have averaged about 2 bass per bait. Not bad but not great either. They do get bit though so that kind of makes up for it. I fish this bait with a high speed reel (at least 7:0 or higher), Extra Heavy Action flipping stick, 60 lb Sunline FX2 braid, 5/0 Gamakatsu flipping hook and finally a 1oz Tru Tungsten weight. Will definitely be a staple in my aresenal from now on. Now Strike King: BRING US SOME MORE COLORS PLEASE!! Junebug, Candy Craw etc....
From: Hydrilla Gorilla: Lake Seminole, FL 12/23/14

Comments: I absolutly love this bait. During tough conditions I will go to this bait with a 3 ought hook with a 1/4 or 3/8th ounce weight Texas rigged. Great dock bait along with pitching into pockets of weeds. Durable bait and produces fish!!
From: Wisconsin Angling Outdoors: WI 10/12/14

Comments: great lure my go to lure its well designed and its is a great jig trailer, just wish it came in Jung Bug, Candy Craw, Okechobee Craw, and Bama Bug.
From: JWRSFishing: Birmingham, AL 9/24/14

Comments: these are awesome on a swivel type football head and even work Texas rigged. My new favorite creature bait. Only drawback is, as others stated, the durability isn't too good. A couple fish and the bait is trash, the appendages come off easily. I love the summer craw/blue craw colors.
From: Wes: IN 9/4/14

Comments: Horrendous durability like all Rage Tail baits. Great action, and they catch fish but they just don't last long at all. Bama Craw is money.
From: Jason: Dandridge, TN 9/3/14

Comments: Good bait to throw on a wobble-head style jig. I like watermelon and green pumpkin. Not durable however, appendages are easily pulled off. A pesky bluegill can ruin one of these.
From: Quillback: AR 8/24/14

Comments: Durability is a joke. I ripped two of these just setting the hook with no fish on the line. That being said, they do catch fish. The action is better than any other beaver style bait I've fished. I caught several 3 pounders on the blue craw color. Will continue to buy these even though the durability is terrible... They put fish in the boat, what can I say
From: JG: Nashville, TN 8/13/14

Comments: bought this because i liked other strike king plastics and i was impressd on how it worked use it texas rigged with a bullet weight and cast into structure and your set pulled 6 bass in a bad spot in 30 min all decent size!
From: Lander: NJ 7/16/14

Comments: Recently got a pack of black neon and PB&J, and I have to say I'm pretty impressed. Got on a good flippin bite the other day, and this seemed to be exactly what the fish wanted. Heavy braid, a snelled 4/0 strike-king Hack Attack Flipping hook, 1/2 oz tungsten, and a black neon Rage Bug produced 15+ lbs in 2 hours. The action this thing has is pretty incredible. When separated, the split beaver tail flares out to each side produces a very nice wiggle. I did not get a chance to try this bait on a jointed football jig, but I imagine it would look pretty sweet in the water. Overall I would say this is a very versatile and useful bait for the money. Will be ordering more when they are in stock!
From: Pete: Upper Bay, MD 7/15/14

Comments: 4# trokar Flippin hook and a pegged 1/2 weight and your good to go..... or use a biffle hardhead type rig... very good bait overall. Durability is not great but I'm not complaining as long as it puts fish in the boat
From: Landon: TN 7/5/14

Comments: Fished the summer craw in clear water for a couple hours today. True to it's namesake, the bug has action. It is compact enough to slide through dead matted cattails. When sitting on bottom the tails float and flutter with the slightest rod movement. I am a dbomb fan, but the bug could change that.
From: Montanaro: Touchdown City, WV 6/15/14