Strike King Rage Tail Lizard 6" 7pk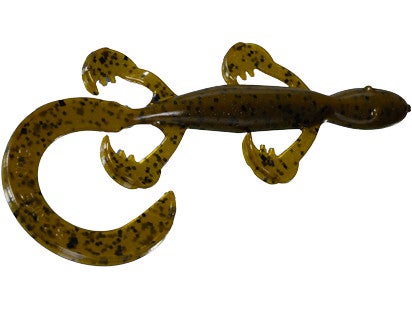 The Strike King Rage Lizard is the last soft plastic lizard you'll ever buy. The ever popular 6" lizard body has been a staple among many Texas rig and Carolina rig fisherman for years. The new 6" Rage Tail Lizard features the unique Rage Tail design on all 4 legs and the large Rage Tail has incredible movement in the water. Never has a lizard had all 5 body parts moving at the same time with small movements of the rod tip or the current in the water. On a Carolina Rig this movement does nothing but entice big bites! Tie one on and see what the Rage is all about! Protected by US Patent # 7,774,974.
Click here to see some video on Strike King baits with Steve Parks at ICAST '08.
4 Colors
More From Strike King Softbaits
Customer Reviews
Comments: I grabbed a pack and they rode around in the boat a while till I saw them and figured...what the heck. Went thru the whole little clamshell of them. Great action, yes, better than Zoom's super popular lizard, but there is a time and place for the Zoom version too.
From: Jay6: USA 6/22/14

Comments: These are deadly on T-rig or a C-rig I love my Zoom lizards but I believe these out perform them just about everytime I wish Strike King would come out with alot more colors in the Rage line.

From: Lance: Livingston, TX

Comments: i fish this lure on a B/C drop shot rod (MED.HVY) with a 4/0 hook-. tex.rig. i like it about 4" to 6"off the bottom with a 3/16 oz. cylinder drop shot wt. i use 17lb. florocarbon. this is the most effective method for lizard's i have ever used. this is a big fish lure!

From: Wes: Salinas, CA
Comments: Awesome lizard great action!! try junebug color at night.

From: Darren: Arkansas, USA