Strike King Rage Twin Tail Menace Grub 8pk - $4.99

The Strike King Rage Twin Tail Menace Grub is a new addition to Strike King's tremendous Rage Tail line of baits. Featuring a customized high-grade plastic for superior action, you can fish it on a jig head with light line like you would with a traditional grub, or you can also fish it as a swim jig or regular jig trailer. Its rage tail has a beveled edge that helps it produce its enticing action. Available in a variety of colors to help match the forage in your local waters, the Strike King Rage Twin Tail Menace Grub - see what the Rage is all about!
View Large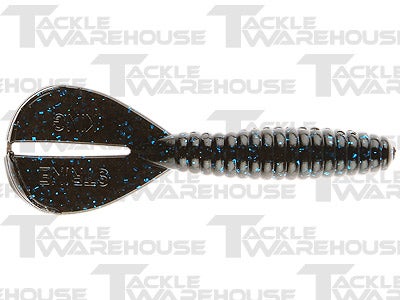 More Strike King Softbaits
Comments: These are great as a flipping jig trailer or fished Texas rigged. They have replaced the Zoom Speed Craw as my trailer of choice. Definitely worth trying. Watermelon red is my favorite so far.
From: Brandon: Fort Knox, KY 5/13/15

Comments: This thing flat out catches fish. Throw on a swinging football head and crawl it on the bottom. If you miss him throw back out and jig it back to the boat. Great winter bait with a nice subtle action. Definantly a new confidance bait.
From: Ben: Gainesville, GA 1/12/15

Comments: I fish menace one way and that's texas rigged style w/ 3/16oz Tungsten weight pegged on the 7' 6" Falcon Bucoo Micro spinning rod, reeling high speed. The bass come up on the bank to get it. The rage tail menace is the best plastic baity to come along in a long time. It has accounted for over 30 bass and 8 jack fish in 8 hours.
From: Hog Hunter: Garysburg, NC 10/22/14

Comments: Awesome bait won some of these at a charity event last fall and decided to use them last week.. long story short I caught a 5 a 4 and a half and a few others and broke off 2 more fish. ended up with almost 15 lbs. when everyone else was struggling
From: Charles: Wolcottville, IN 4/16/14
Comments: Been using these as a jig trailer on a small pond in Central Illinois with chillly weather/water and the bass are flat out eating it. Great cold water bait.

From: Hank: Central Illinois

Comments: Caught a 5lb 6oz today fishing it Texas rigged. Great action.

From: Anthony: MO

Comments: Works great as jig trailer!! Using as jig trailer on 1 1/2 oz jig for punching. Menace just has a good action and fish EAT IT!

From: Big Bass Dude

***Note: If you have questions about this product or need assistance with an order please email your questions to info@tacklewarehouse.com