Strike King Red Eye Shad - $4.99 to $5.99
The Red Eye Shad by Strike King was designed by their national pro staff, and is a complete fish catching package at a price that is hard to beat. Strike King is offering this bait in their pro team paint scheme along with 3D red eyes and premium VMC vanadium cone cut treble hooks. The Red eye shad is a half ounce bait and features free floating rattles to give you unmatched action and sound. The Strike King Pro Staff has also found great success while letting the Red Eye Shad free fall.
| | | | |
| --- | --- | --- | --- |
| Strike King | Length | Weight | Class |
| Red Eye Shad | 2.5" | 1/2oz | Sinking |
Kevin VanDam used the Strike King Red Eye Shad to help him take home his 3rd Bassmaster Classic Title at the 2010 Bassmaster Classic on Lay Lake. According to KVD's website his primary two colors during the 2010 Classic where the Gold Sexy Shad and Gold Black Back.
Comments: I have used a countless amount of lipless crankbaits in my past and none have caught me as many fish as the red eye shad by strike king. it is designed to perfection and is my go to lure! the shimmy on the fall attracts bass like none other and it never turns over, please do yourself a favor and purchase this cheap and effective bait
From: John: Pine Bush, NY 7/14/14

Comments: I really like these in the 1/4 and 1/2oz sizes. The hooks do need to be upgraded but that's the only negative I have. Best colors for me are neon bluegill, chili craw, and sexy shad. Yo-yoing seems to get more bites but have also had luck burning them too.
From: Michael: GA 3/13/14
Comments: Just upgrade the hooks, best lipless C/B.The only one you need.
From: Dachile: Yuma AZ

Comments: Such a great bait. I have a 1/2 ounce chrome sexy shad that has me tons of fish. And even with half the bait being white and bare of paint it's still catching fish

From: Justin: Ohio

Comments: Great bait when worked propely

From: Chad: usa az

Comments: I used to be a Rat-L-Trap fan, and still have some in my tackle bag, but I rarely use them. This bait will out-fish them 6 or 7 to 1. It is absolutely the best crank bait you can throw. It has a wider wobble than the Rat-L-Trap and works better at slower retrieves than the Rat-L-Trap. These things are not simply a small fish catcher, they catch big bass, too! THEY WILL CATCH FISH WHEN NOTHING ELSE WILL! My favorite colors are the plain Gizzard Shad and the Sexy Shad. Every bass fisherman should have some of these baits in their tackle arsenal!

From: Red: Wilburton, OK USA

Comments: First of all I love Strike King baits, hard and soft. I was fishing today after a cold front just moved through and figured why not and try it? SO I wiped out my bait caster and tied on a 1/2oz Strike King KVD Swim jig in Blue/black with a crawdad trailer. I located a good size bass and got her to take my bait two times in 10 minutes, neither hooksets successful. I couldn't get her to bite again so I re-tied on a Red Eye Shad in Chili Craw, and on the 2nd cast I landed her. Very nice fish. This is definetly one of my go to baits when others don't seem to be working. I have 8 of these in various colors. Don't be afraid to try them, you cant go wrong!

From: Dylan: Lima,Ohio

Comments: The SK Red Eye Shad is the my favorite lipless crankbait after the Xcalibur One Knocker. The Red Eye Shad has a wider wobble than the Xcalibur. Both catch me fish. Only thing is the Red Eye Shads have bad split rings and paint. After throwing the chrome sexy shad for about an hour, a large amount of paint had already flaked off. The split rings also seem to have issues with rust. I have replaced the split rings, and the paint issue doesn't bother me too much.

From: Alex: Cleveland, Ohio, United States

Comments: Best lipless crank on the market. I hated throwing lipless cranks until I started throwing this one. One some money on it over the weekend!

From: Ben: KS

Comments: I really want to like this bait because I like the Strike King square bills and spinnerbaits a lot. I also love the color selection of this bait. I just have an awful time finding red eyes that run true. They either spin out at speed, or have no action when fished slow. The X-Calibur is a better bait for me by far.

From: Zack: Inwood, WV

Comments: I have a whole box full of these, and I've yet to get skunked with one tied on. A great little bait for the price. I just wish the chrome versions of these had a more durable paint job. Best bait SK makes IMO.

From: Jason: Sevierville, TN

Comments: This is a great lure for the price. I love the rattle and wide wobble in contrast to other lipless crankbaits. Best times to throw this lure are in early spring immediately after ice out. Bass go crazy when they hear the rattle of this bait zip by them as you burn in through the cold water and can't help but crush it! They also work great in the fall when bass are foraging on bluegills and small bait fish to survive winter. Heck, this bait is great all year round! I highly recommend it to anyone looking for a lipless crankbait they can trust!

From: Tim: Dupage, IL

Comments: great lure but it needs a more durable finish. It starts flaking off after about 50 casts, even less with the chrome ones. Don't let that deter you from buying the lure though. I have the sexy shad, red sexy shad, and bluegill color, and they have all produced many fish. The wobbling action on the fall is crazy; the bass just can't stand it and they crush it.

From: Cullen: Asburn, VA

Comments: The Strike King Red Eye Shad has just produced the new South African record caught by August Lingnau. It is also responsible for my two largest smallmouth so far. They flat out catch fish and has an awesome flutter action.

From: Robert: Cape Town, Western Cape, South Afirica

Comments: Great bait. Caught them all day on this bait including a 6 pounder and multiple 3's and 4's

Comments: i've been fishing the red eye shads for a few years now and have owned dozens of them. they catch fish for sure and are among my favorites simply because they're effective but a third of the price of my LC LV-500s and jackall TN70s. however, the finishes aren't very durable. in fact, any of the chrome ones are just flat out terrible...the chrome starts flaking off within a few casts and, by the end of the first day, more than half of it is gone. about a year and a half ago, strike king started using oval line ties and upgraded the hooks but the poor quality chrome plating persisted. now, i'm thinking of switching over to the new storm rockin' shads to see how they work out.

From: Norm: Sacramento, CA

Comments: Brace yourself. Yer gonna get offended and I dont care. The 1/2oz size just doesnt work for me. Before you say "oh cmon, Meat, you just dont know how to fish lipless baits", just know...I fish this style bait a lot and Im better at it than you. Ive given these a chance and they just dont produce. Maybe the fish have seen em too much...I can fish this, blank, then tie on another brand and catch em. Weird but true. The 1/4oz is legit but Im turning my 1/2s into keychains.

From: Meatwad: Hatin your fav bait

Comments: These catch fish, I won't lie about that. But man the build quality is crap. I fish one of these for about 2-3 hours today and it was the first time I'd used it and it looks like some lures I've had for years. Most of the paint on the nose is gone as well as the paint near the eyes. The hooks are junk too, strong but dull and cost me many nice fish because they won't set properly.

From: Alex: O'Fallon, MO

Comments: this bait is dynomite i never leave my house without it. I have caught fish over eight pounds on it and it has been a big help winning tournaments

From: Bailey: Lakeland, FL

Comments: i think strike king did a great job on this bait, i think these are alot better than those lucky craft rattle traps that are 15.00$, i havnt caught anything over 3 1/2 pounds on this bait, but that doesnt mean i wont, i have caught tons of fish off this bait, and id rather catch quantity than quality but im sure that ill catch a whopper on this bait, by the looks of how this bait works it could be any day to. cant wait to get back out that and rip it through the shallow water grass, its a bass catchin machine

From: Jared: KY

Comments: AWESOME LURE! Took this to my uncle's pond where he's having trouble catching them and wore them out. All I caught were 4 and 5 pounders. Blue and Chrome is the only one I use but the bad to the bone, bluegill, and sexy shad are some other good ones too.

From: Matthew: Gonzales

Comments: i used the pull and stop retreive to catch my first smallmouth of the year on it ( cant wait to use it on some largemouths!)

From: Paul: WI

Comments: This lure just doesn't seem to work in southern Quebec waters, perhaps because of the lower water temps. I've casted it right into spots where bass were that would hit any other lure but they would just look at this one and then swim away.

From: Bradley: Montreal, Canada

Comments: @ Justin i agree my hooks are awesome. so many bass from 1-6 pounds..and countless branches and hydrila..great bait. i did have to turn the eye to the left a small amount to get it to run perfect..

From: Big John: Stafford, VA

Comments: I have caught so many bass, walleye, and pike on this lure. The shimmy on the fall is amazing. I swap out the hooks with KVD elite triple grips. Barely loose any fish on it. This will catch fish in any conditions.

From: Kyle: MI

Comments: This lure is ridiculous! Quickly become my go to for a quick strike. Not sure what people are talking about with the hooks being weak though. I pulled up a couple of pretty hefty branches and had to chisel the hook out of the wood without it bending or anything so they seem strong to me! Seems to have an action bass can't resist!

From: Justin: Belleville, IL

Comments: Absolutely awesome bait that will catch fish during some surprising time when others just won't do the trick. I had a rainy weekend didn't get a bite until Saturday when I tied a 1/4 oz Bleeding Gizzard Shad on and the bite just turned on. You might want to change the hooks but other than that they are awesome baits.

From: Trevor: KS

Comments: Went out for the first time this year on March 10th. The water temp was about 40 degrees here in massachusetts. I was expecting maybe a couple bass if we were lucky. We ended up throwing 1/4 oz red eye shads with a real slow stop and go retrieve around deep drop offs. We ended up catching over 40 largemouths in about 3 hours. I never dreamed of this simply because I thought the water was too cold but we were nailing them in 40 degree water with this bait. The hooks aren't that good but thats true for most stock hooks. I replace all my hard bait hooks with gama round bend trebles. Other than the hooks the action and color selections are great.

From: Erik: MA

Comments: Great bait, no doubt but has flaws- Paint chipping, weak hooks, etc. 3/4 size is my favorite......These baits are made for yo-yoing, deadly fall too. Wonder why some colors have no "Red Eyes"? Kinda funny.....

From: Rusty TX, where else?

Comments: I've used almost every lipless there is and the bottom line is that The Red Eye Shad is the best affordable trap available. The thing just catches fish.

From: Brice: Rome City, IN

Comments: great lure it is the best lipless crankbait I have ever used have caught a lot of fish on them tons of great colors to choose from

From: Trevor: lake Villa, IL

Comments: Unfortunately, the Red Eye Shad is just like the majority of SK lures, meaning they are so massed-produced that the quality is wildly inconsistent. I mean, just look at some of the pics of the various colors, especially the Sexy Shad. Its eye is already falling off, and that is BEFORE use! There are much better rattling baits out there that don't have poor, cheap hooks and sketchy paint jobs and components. Not a TERRIBLE lure, but you never know what you're gonna get with SK.

From: Ryan: Lexington, KY

Comments: awsome bait, huge color selection over any bait, cast amazing i think the 3/4 size is too big tho, good quality build strong finish love it

From: Jake: PA

Comments: After hearing a lot of succes about this bait I got one and decided to try it out on several different bass fishing trips. But for some reason the bass up here in canada do not seem to want anything to do with these things, I have tried fishing it several different ways and nothing. Also everywhere I fished the fish could easily be had with a normal crankbait or senko. If you live in Canada I would not recomend getting this bait, it just does not catch fish.

From: Bill: Ontario, Canada

Comments: I have fished the baits in nearly every color and the bass' favorite color (especially in slightly stained water) is Orange Craw #21 in both 1/2 oz and 3/4 oz. Using these baits, I have caught 15 bass this year that weighed 5 lb.s or larger. with the largest 8 lbs. Watch the KVD instructional video because it will defintely make you a better fisherman using these baits. These baits have better action than any lipless crank I have ever tried especially on the fall which is what separates them from the pack. Try fishing them like a worm in the Winter when the water is cold for the big ones feeding on shad. Try small pumps from the bottom. Run them fast in the Spring / Summer early and late. Try a sweeping motion from side to side (KVD tip) and catch a ton of them (KVD says he catches the most this way). Use a fast reel for best results. As far as other lipless cranks - don't waste your money - they catch bass but just not as well as the Red Eye Shad.

From: Steve: Cary, NC

Comments: the baits are awsome!! i had an xcaliber and an aruka shad but they just lost their eyes and didnt catch fish like the red eye shad. my two favorite colors are chrome sexy shad and gold sexy shad but some times i will throw the neon shad color. get some of these and you will start catching fish.

From: David: Cali

Comments: Best lipless bait around

From: Justin: E Town, KY

Comments: one of the best rattle traps hooks are decent but could be changed...blue and green gizzard colors will catch em summer spring and fall! Very affordable as well

From: Digity: The Ridge, TN

Comments: You only need two colors in the fall- 'Blue and chrome' and 'sexy shad'... we catch up to 50-60 bass day on these lures. Great baitfor feeding and schooling fish..

From: Roy: Columbia, TN

Comments: Awesome bait! During the spawn when the fish are on their beds throw this bait at them. The rattles are perfect, not to loud not to soft. Also really good bait for a bad day, just tie it on and throw it out into the lake. The color choice's are amazing!

From: Andrew: MA

Comments: I have to agree with the comment from the guy in Milford, Tn. that the paint job may look good but sure doesn't last long and poor quality hooks. Amazes me that strike king puts KVD's name on the baits yet he even changes the hooks out to the Mustad triple grip style. Strike should be indebted to KVD because can help any company sell a product. When "The Man" speaks...people do listen. He's a proven Champion!

From: Doug: Keithville, LA

Comments: I'm sure most of us agree...the paint WILL chip easily and the stock hooks aren't very good; however, The paint chips off because of the ton of bass you will catch with these. It will still catch bass with chipped paint! Replace the stock hooks with KVD mustad triple grip hooks #2's and you won't go wrong. These baits aren't perfect but the catch a ton of bass. I've caught over 12 bass in one day and almost 30 bass in two days with the same "chipped" up bait! You can't beat the price or selection of colors. Are the red eye shads perfect...NO, but they catch alot of bass and isn't that the point?

From: Tom: North Charleston, SC

Comments: Well if no one else is going to say anything bad about them then I will. The paint jobs look nice, but the quality of the paint is terrible. The paint will peel off so fast its not even funny. I was also not a fan of the hooks on these. They were cheap and brittle. All in all these baits flat out suck as far as quality. But they do catch fish while they are in tact.

From: Dobyns Rods Are #1: Milford, TN

Comments: i have these things in orange craw and sexy sunfish and they have worked very well for me when other lipless cranks have not put fish in my boat. great bait

From: Tyler: Cincinnati

Comments: This is a great bait for all year. Can be fished many ways with success. If I was told I could only have one bait in my boat, this is what I pick.

From: Basshunterclark: Rockwall, TX

Comments: best lipless crankbait out there! gold sexy shad and gold black are my favorite colors. i have had some luck on the sexy sunfish aswell. pulled a few 3 pounders out with that color. but the gold sexy and the gold black are my go to colors. your the best strike king!

From: Trent: Bentonville, AR

Comments: Great bait. I have it in sexy sun fish and red bone shad and they work great in the 1/2 ounce size. i catch fish all day long with these baits at the lake.

From: Tyler: Cincinnati

Comments: Nothing beats its, you wont be dissapointed

From: Brian: Fairfax, VA

Comments: Caught so many big fish on the orange belly craw it`s sick... always quality fish and I have turned some good fisherman buddies on to this bait also... a couple points to make about my success and how to catch the big fish on these Strick King Red Eye Shads...

#1 is the Kevin Van Dam KVD Silent Stalker is the better Strike King bait with no rattles... believe me I have about 20 in different colors combined of both types rattles and silent... the KVD SS will catch fish all the time when sometimes the rattle bait won`t, besides it compresses a lot of water and the fish will know it`s there, because being silent the fish think it is easier prey when the bite is tough... it falls better because there is no moving parts either... also with the KVD model you will get the best hooks not having to change them... bottom line is the KVD Silent Stalker will catch more fish than the rattle model, better quality bigger fish too...

# 2 is I fish the bait off the bottom like you would fish a worm... I make long casts in open water off points, drops and ledges, let it free fall to the bottom and as soon as it hits bottom I bring in the slack and start raising my rod tip about a foot to foot/half and then letting it fall back touching the bottom and pull it back up bouncing is of the bottom almost to the boat... when the fish hits it will feel just like a worm bite with that tick and then you set the hook... I love it when you feel that tick and then you set the hook it feels like your hung up, that`s when you know its a big one on the other end... Yes you will get hung every once in a while but I stick to hard bottoms with rock and gravel or have hard clay mixed... I have not lost one of these Red Eye Shads yet because if I do get hung I don`t set the hook that makes it worse and if can`t get over the line straight up and down jiggle it loose then you go to the plug knocker... Yes I have caught fish burning it too but the biggest fish come when you bounce it off the bottom... It is best fishing this bait with a 7 to 1 ratio reel to be able to reel back your slack when you pull and then let it fall... One of my most favorite lures... Strike King Red Eye Shad KVD Silent Stalker...

From: Ben: Old Hickory Lake, TN

Comments: Agreed with the other two guys. I got a red eyed shad and no matter how much I tried to tune it, it never ran true, and never got bit. I use traps all the time and get hit on other brands, just not strike king. Never had to tune the others to swim true as well. Afraid to try more, seems a waste of money.

From: Craig: Sunrise, FL

Comments: Sexy sunfish color is a killer on bluegill forage lakes - love these lures - stock hooks on 3/4 oz are fine out of package - beefy for the hogs !

From: Lord of the shallows: MA

Comments: really good lure for 5$ i mean sure the paint chips but who cares the fish sure dont

From: Gary: CT

Comments: Paint chipped off when I was fishing in a school of white bass. But it catches plenty of em'

From: Kyler: TX

Comments: Best lipless out there. As for Jacob saying they get hung on everything I would say it is operator error.

From: Brett: IL

Comments: when you put your boat in a new lake that you have never been too, tie this thing on in a minnow pattern and 1/2 oz, position you boat 30 yards from shore and just start crankin. this thing will never let you down

From: Kurt: NJ

Comments: i like the black gold color,great for florida,but the hooks are terrible. change the hooks.

From: Kevin: Miami, FL

Comments: This bait is awesome!!! I caught 18 bass in 4 hours on this plug (and 1 bass was 8lbs)...The only down side is that I caught so many northern pike that they stripped all the paint off of it.

From: Jason: Ingleside, IL

Comments: the red-eye shad is hands down one of the most productive lures in my tackle box and is slowly moving its way up to my number one bait. i dont know if it will beat out the Booyah HD spinnerbait, (Which tacklearehouse needs to start carrying because they are the best spinnerbait available) but these things are so productive. the work every where, i was slamming walleyes up to 4 pounds and alot of smallmouth in the delaware river at 12 oclock noon yesterday on these things when nothing else would work. i stick the the minnow patterns like gizzard shad or whateer but i have heard the the oranges work well to.

Comments: Caught a ton of LM Bass with the crawdad color. I was unstoppable fishing from the back of the boat. The other guys in the group tied on cranks but didn't do as well as I did. Don't leave the dock without one of these tied on.

From: Kirk: IL

Comments: great baits but i like the Xcalaber better. this is still a great bait and it catches fish, just not my favorite.

From: Jonathon: Nashville, TN

Comments: These baits are amazing. They are best when theres a little chop on the water in my opinion or early morning and late evening. Ive caught several crappie on this bait also including a 2.5 lb kicker. Change the hooks

From: Tyger: Conway, AR

Comments: I see no need for any other rattle bait. They all do the same thing except this one has an exceptional fall. Plus it's available in tons of colors

From: KH: NJ

Comments: I went the whole year with only this lure on my pole, every kind of fish bites this, the 3/4 ounce chrome sexy shad is awesome

From: Shawn: Michigan, USA
Comments: Killer bait, great on the free fall it doesn't flop on it's side, vertical presentation, you can yo-yo it or rip it, last year the sexy shad version was dynamite.

From: Nate: Edmond, OK
Comments: AWESOME! Used it in the fall when bass were targeting groups of gizzard shad. The gizzard shad pattern is identical. The Ayu worked well too. Caught my first double on one bait!

From: Danny: Milan, TN
Comments: i am usualy not a crankbait fisherman however, when i went out and caught 40 quality fish off one rocky drop off i really began to like this bait! now its one of my go to lures for fishing drop offs or ledges! im not sure why but i produces well in those areas for me! havent caught much elsewhere though!

From: A.J.: Florida, USA
Comments: I love these baits, I agree with changing the hooks. The only other problem I have noticed is that with the 3/4oz baits they have a tendency to crack if you bump rocks or stumps with them. I have had three of these break on me. I still love them though they are fish catching machines

From: Daniel: Knoxville, TN
Comments: Best lipless crank on the market. They have great action at SLOW retrieves which is a huge plus and adds to the versatility of the bait. Most lipless baits you have to burn to get any action out of them...not these. Also you can't beat the fluttering action on the fall. Bood colors as well.

From: Cory: Mandan, ND
Comments: Fantastic bait. I hauled in several bass over 5 pounds on this bait. Probably caught over 50 smaller bass and even crappie. If left in the heat they will swell up though. Other than that $6 well spent

From: Jim: Woodstock, GA
Comments: Great lipless crank bait, they have a natural looking flutter on the fall which bass love. Inexperienced anglers won't tune them if needed, then complain they don't run straight. Excellent bait for the money, I caught my personal best on one of these in the early spring.

From: Dan: New Jersey, USA
Comments: Has Good action but gets hung up on everything it gets even close to. buy the one knockers or pay the money and get the best in the Ima rock-n-vibe

From: Jacob: Muldrow, OK
Comments: Awesome color selection and great action on the fall. Upgrade the hooks and they will catch more fish.

From: Sam: Indiana, USA
Comments: Cant beat them for the price and color selection.

From: Michael: Malvern, AR
Comments: These are a great inexpensive bait that catches fish. Like any other bait they have to be tuned from time to time. Great colors to match the local forage. Change the hooks to Mustad KVD Elite Series hooks and your in business.

From: Jesse: Visalia, CA
Comments: Not sure why I hear so much positive feed back on this bait. I bought 4 of them and all 4 swim like crap. when i try to burn them over the weeds or just a medium retrieve they ley on there side. I have more success with the daiwa's and lucky craft.
no worth the money.

From:
Comments: The best rattletrap i have ever used. i prefer that its the best on the market, but the only problem is that the hooks bend quite easily. but other than that its a great bait and worth the money.

From:
Comments: These baits flat out catch fish. I caught over 20 bass in two trips with these awesome rattletraps. I bent several hooks and the paint chipped away a lot but they still loaded my livewell. Replace the hooks with a number 2 KVD mustad treble hook and you'll be fine. I recently purchased several more to replace my worn out ones. They're worth the money!

From: Tom: Charleston, SC
Comments: KVD won the bass masters classic with this bait for a reason. It works, and is my favorite lipless crankbait on the market. I kind of wish the paint in SK cranks held up better, but they catch the fish, so I can't complain.

From: Brant: San Diego, CA
Comments:I recently purchased a number of Strike King baits from Tackle Warehouse. As always, I test my baits in the pool prior to fishing. All but one bait had to be tuned. So disappointed. Will inform my club members about the baits. Sorry.
From:Jack: Yulee, FL
Comments: I have found that this is a great bait for fall fishing, and shad hungry bass. The hooks need to be changed, I used a red mustad on the front and a triple grip on the back. After some use the bait must be tuned like a crankbait.
From:Phil: Haughton, La
***Note: If you have questions about this product or need assistance with an order please email your questions to info@tacklewarehouse.com
View Large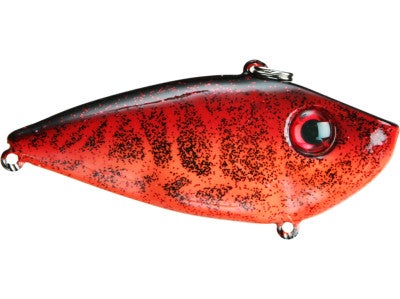 54 Available Colors
More Strike King Hardbaits