Strike King Red Eye Shad Silent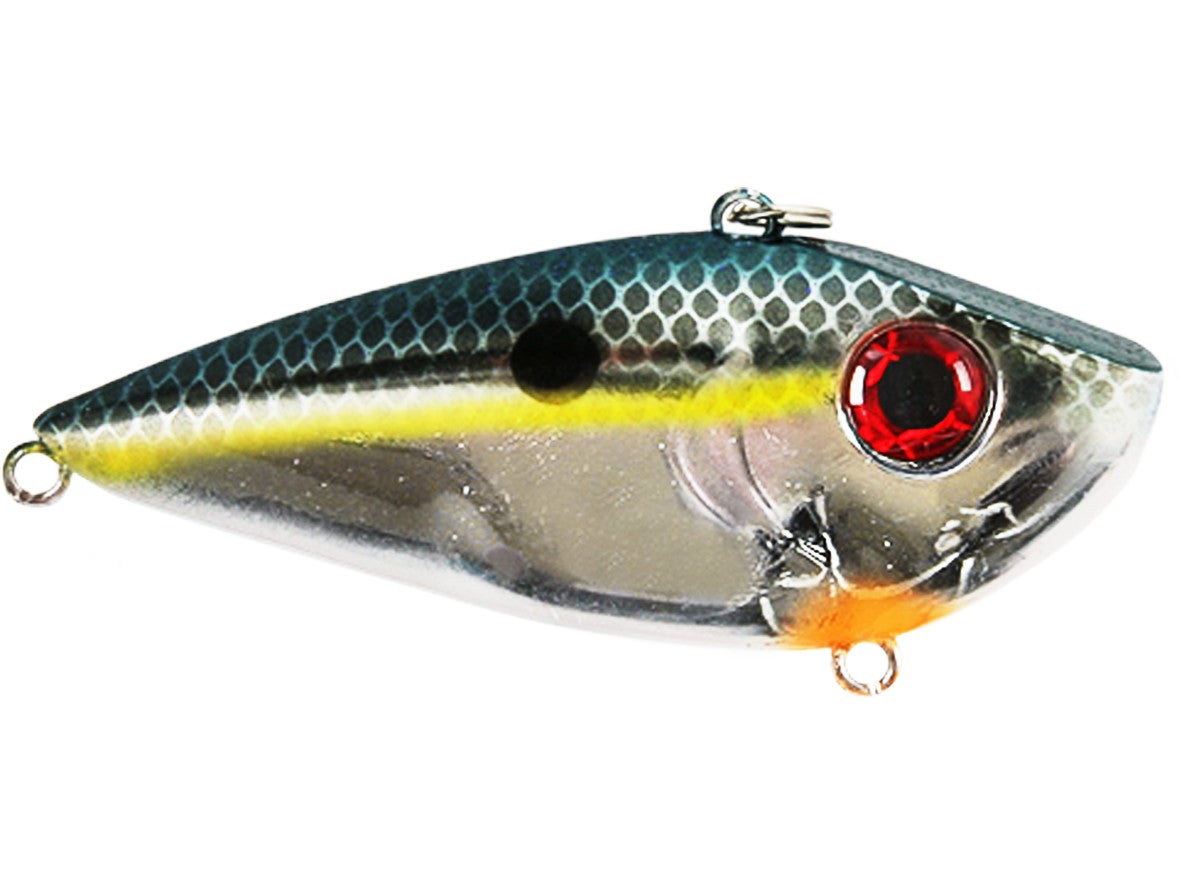 Now available in a silent version, the Strike King Silent Red Eye Shad adds a little stealth to the already famous Red Eye Shad's incredible action. Kevin VanDam made the original famous with his 2010 Bassmaster Classic victory on Lay Lake, and now the silent version is here to help you catch a few of the wary fish that won't commit to a rattling bait. Available in a variety of proven colors, the Strike King Red Eye Shad Silent also comes equipped with premium hooks and 3D eyes.
| | | | |
| --- | --- | --- | --- |
| Strike King | Length | Weight | Class |
| Red Eye Shad - Silent | 2.5" | 1/2oz | Sinking |
12 Colors
More From Strike King Hardbaits
Customer Reviews
Comments: Caught my new PB of 6lb 12oz Smallie on a Chartreuse baitfish & it was my first 2 EVER with this lipless crankbait (pic recently posted on Tackle Warehouse FB page, look for poker chip).
4/19/16
Comments: Really good lure. It works best on my 5'6" pistol grip lighting rod that I gots when I was a kid. Best line is 8lb Cajun red, I lost a 3lber at the boat in the LBL, biggest fish ever for me. I like blue. Best way to fish lure is hit it off docks and boats to wake the fish up and make them bite. I only catch largemouth black bass on it!!! Got to get you some. Wish they sponser me!
From: Bob: Belleville, IL
Comments: Best Bait i've ever used. have a rod set up all the time with 1.

From: Dave: South Africa

Comments: Best lure i have ever used! Iv caught more bass on this lure then any other crack bait i have!

From: Hayden: AZ

Comments: @Dallas I think Josh understands exactly what Tyler is saying. It's just that what Tyler (and you) are saying, doesn't make much sense. If you buy a $5 lure and it catches so many fish that you have to replace it after a few months, I think I would be buying more. If you can't cough up $5 to replace a lure after months of fishing, especially one that catches so many fish, you might need to take up a different hobby. Come on man, use your head!

From: Justin: TN

Comments: @Josh obvioulsy that just went in one of your ears and out the other. He is saying the backs start splitting and the paint comes off from catching large amounts of bass. Come on man use your head but yes they are a great trap for the money.

From: Dallas
Comments: Pretty sweet review Tyler. You Funny. These are great baits. This and the superspot are the only lipless you need. This bait catches lots of fish on the fall or on irregular retrieves, the super spot is great for burning back to the boat. It has good hooks out of the box and holds or well around rock.

From: Nate
Comments: @Tyler, in the same post you said this is the best lipless crank ever then you say don't buy it. For 5 bucks if its the best lipless crank ever who cares if it gets damaged after a few months. by the way this doesn't seem to be happening to anyone else so maybe you abuse your crankbaits.

From: Josh
Comments: DO NOT BUY! They work great at first for a few months being the best lipless crankbait ive ever used. Then the backs start spitting and the inner material shows after use! This happend to every one i bought crazyness!

From: Tyler: Timonium, MD

Comments: Caught me the biggest bass of my life! A little over 11 pounds, in the chartruese sexy shad color. Made me a beleiver!!

From: Sam: USA

Comments: Got a 10.4 Lb Bass on this one last weekend!

From: Jimmy: San Angelo, TX