Strike King S11 Optics Sunglasses - $39.99 to $44.99
Delivering eleven layers of superior polarized lens technology, the Strike King S11 Optics Sunglasses feature scientifically engineered high contrast lenses that tailor the light spectrum to actively enhance visual clarity for all fishing conditions and outdoor activities. Whether it's a clear or overcast day, muddy or clear water, the revolutionary Strike King S11 Optics Sunglasses will dramatically improve the angler's ability to see into the water and locate structure and fish.
Scientifically Engineered Lens Colors - designed to heighten the human eye's ability to clearly distinguish underwater structure and fish in all weather conditions.
Bi-Gradient Mirror Treatment - in addition to providing protection from direct sunlight from above, this special treatment also provides that extra protection from light bouncing off the water.
Super Hydrophobic Coating - Repels oils, dust and water, preventing water spots and making the lens easier to clean.
Anti-Reflective Coating - Prevents light from bouncing off the rear of the lens to the eye, resulting in a clearer, non-distorted image.
Comments: Great sunglasses! I've had no issues with durability, and honestly I think they allow me to see more under the water than my Oakleys. For $40, I think they are a great value. Are there better lens' out there...sure, for anywhere near $40...no way.

From: Keegan: Iowa

Comments: Bought the S11 54 model a couple months ago, and while I love how well they work to block out glare on the water, they are not very durable at all. The frame is starting to crack on both sides up near the lenses after only maybe a dozen or so uses. Only a matter of time before they break the rest of the way. I know they're reasonably cheap, but I expect more durability for $40..

From: Kyle: Lansing, MI

Comments: I was very disapponted with my S11 the outer layer has rubbed half off now unwearable. Only claened with glasses cleaning fluid . I suspect that my sunscreen got on them and the glasses film rubbed off wile wiping sweat off on t shirt. This did not happen with my much cheaper pair of stike kings.

From: David: arlington,tx,usa

Comments: I bought the S11 53 white, full frames and they are a lot more comfortable than my Oakley Polarized Monster Dog's. Seem very durable, and let me tell you the White Look is very cool looking in pictures, they look like Costa's. I love every aspect of them, water rinses off nicely without damaging or smearing the lense like the cheapest off the spinning rack at the local stores. You won't be disappointed in this model, I personally would stay away from the open frame version of any sunglasses for durability sake.

From: Jeremy: Minneapolis, MN USA

Comments: I bought two pair of these, one with mirror lens and one with bronze lens and I have to say I was really impressed with how well they worked. They are extremely comfortable, do a superb job of reducing glare, and the definition is second to none. For 40.00 you can't beat them!

Comments: Just got mines in the mail today, very pleased with them thus far. Wont be able to fish with them for awhile but they are very comfortable for me. For the price, I dont think you can beat them. Lots of top level pros wear them and I can tell why. Comfortable, stylish, and a fraction of the cost.

From: Justin: MN

Comments: I usually have a hard time finding glasses that fit but these fit great. Fished a full day and didn't strain my eyes at all. I'm completely satisfied with my purchase.

From: Jason: Winters, CA

Comments: Good glasses for the money but does not live up to the hype. I have the S11 57 Ambers. Maybe it's just the color. Many products on the market that accomplish the same vision. Some more and some less expensive. Would I recommend? Do your research. Decide for yourself. Am I satisfied? Sort of! Would I recommend? Wallmart has glasses that will accomplish the same for less! They won't make you catch more fish!

From: Carl: Derby, CT

Comments: I liked the optics value, but the pressure fit gave me a headache in just a few hours.

From: Doug: Decatur, AL, USA

Comments: back for more. sent them back to TW. swapped out no prob. spring is here in nj and got out on the water last weekend opening day for trout. Went bass fishing! and i'm very pleased w/ the quality of the lenses. can see everything in the water, cut out all glare. really happy for 40$ rather than 150

From: Jeff: NJ

Comments: These are good for the price. Not nearly as good as my everyday sunglasses. My everyday sunglasses work much butter but they are x10 more.

From: Canada

Comments: Worth $150, and only 45 bucks. Great deal, get em while they're available.

From: Josh: Canada

Comments: Jeff I hope you sent them back to Strike King they have a great Customer service Dept.

From: Mike: DE

Comments: Just got me S11 sunglasses this week I spent the day on the lake yesterday these glasses are unbleviable good. You can see things in the water you never knew was there and you can see your depth finder screen without any problems.

From: Butch: GA

Comments: I was looking for a reasonable priced pair of polarized bronze lensed glasses. Got these and really liked them. its winter here in nj so i didn't get to use them on the water, but 1 night I was driving in thick fog, when i put the glasses on I could make out trees and the road a good 20-30 yards further than without them. I was really suprised how they brought out the dark brown/black colors. The a few days later we had a 10* night and i left them in the car. when i went to put them on the next morning they cracked at the hinge of one of the arms. good lense quality frames not so sure

From: Jeff: NJ

***Note: If you have questions about this product or need assistance with an order please email your questions to info@tacklewarehouse.com
View Large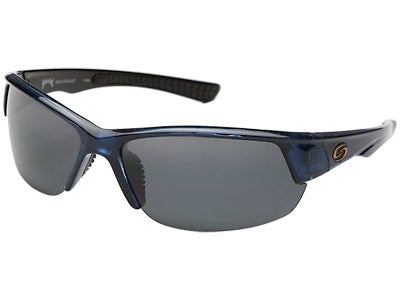 18 Available Colors
More Strike King Sunglasses