Strike King Shadalicious Swimbait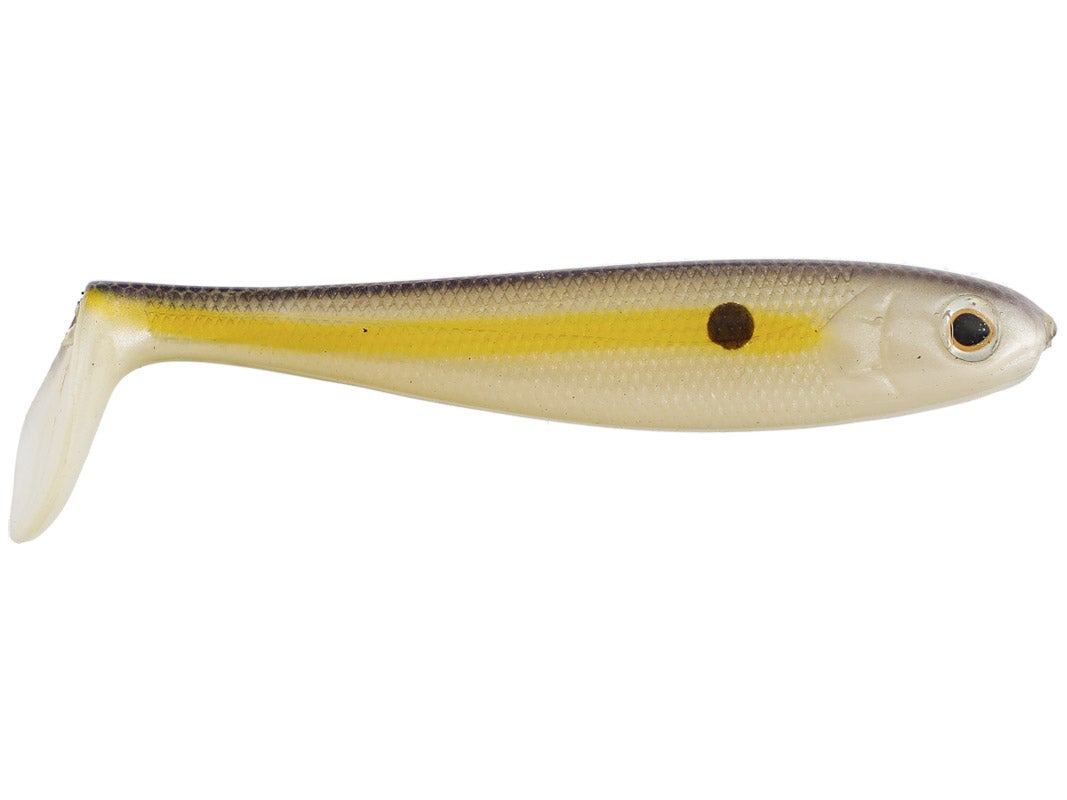 The Strike King Shadalicious swimbait is desinged for the discriminating angler. Every feature, from the action to the lifelike colors, is designed with one the thing in mind...To catch more fish and bigger fish! Rig on either an open ball jig head or with a weighted hookand fish with a slow steady retrieve. Match the hook size to the Shad-A-Licious size of your choice and enjoy one of the finest swimbaits on the market.
| | |
| --- | --- |
| Length | Quantity |
| 3.5" | 7 |
| 4.5" | 6 |
| 5.5" | 5 |
The Strike King Shad-A-Licious Swimbait was one the baits KVD used to secure his fifth Toyota Tundra Bassmaster Angler of the Year at the Evan Williams Bourbon Trophy Triumph on the Alabama River in Montgomery, Ala. Kevin VanDam's two-day total of 30-06 was almost 8 pounds better than second-place Tommy Biffle, giving KVD the AOY title by a mere six points over Skeet Reese.

"One of my very best places was a super-shallow hard spot. That's where I caught them yesterday. I threw a Strike King Series 1 XS (crankbait) and Strike King Caffeine Shad (soft jerkbait). Today I fished the midriver with a Strike King Series 6 in sexy shad, and caught a couple on a Strike King 3 1/2-inch Shadilicious(swimbait) on a jighead." -Kevin VanDam, All-Time BASS Money Winner.
12 Colors
More From Strike King Swimbaits
Customer Reviews
Comments: I have no more problem with these baits coming off of the keeper, I use Davis Swim X 1/4 ounce #4 swim bait hooks on the 3 1/2 inch, I replace the screw keeper with the large size Owner Centering Pin Spring and you can't pull the Shadalicious off. It screws in between the eyes and budges the head out a little, but the bait still swims the same. I throw the Sexy Shad, I dip the paddle tail in chartreuse dye and I'm fishing for bass but the red fish won't leave me alone. Speckle trout love this bait too. I love throwing this bait any where I throw a frog too. I've had them blow up on it while dragging it on top of the grass.
From: ROY: Waggaman, Louisiana 12/29/16
Comments: I love this swimbait and the wide wobble action the only things i want more out of this bait is a 8 and 10 inch version and a harder plastic head. Also a few differnt color option would be nice. But i think the swimbait market is missing a 7+ inch hollowbody swimbait and i feel like shadalicous could feel that spot offer it for alittle more and get more people comfortable throwing big swimbaits for alittle pocket change
From: Luke: Boise, ID 10/23/15
Comments: these baits are my down fall in any day I use them. There to soft rip easy. I only like the swim bit other wise save your money get a more durable swim bait.
From: Matt: USA 10/17/14

Comments: my brother and were fishing with the strike/king shadaliciuos in tourney and know small fish in the boat they range from 3.5 lbs to 6 lbs.thanks to my brother for telling me to use shadalicious,after about 15 minutes of fishing a 4.25 largemouth ate my shadalicious that's the biggest i've caught so far.these bait's are big fish bait's (thank's strike/king keep the good work.
From: Steve: Fort Smith, AR 10/9/14

Comments: These things have great action, and will catch fish. BUT they will not stay on a jig head for more than a few casts. I tried different jig heads (even Strike King) and I tried super glue, super glue gel.. same result. They rip down the back after almost any good fish. I would love them if they were not so poorly made.
From: Dallas: GA 10/2/14

Comments: For all the people that say they don't have good hook sets you have to slit the belly
From: Tyler: USA
Comments: I use the 4.5" model on an Alabama Rig. These rigs have five baits with 1/4 to 3/8oz jig heads. They are highly effective as I boated the biggest bass of my life in March of 2013. She went 8lbs - took a picture then released. I have to agree, these baits need to be more durable. After a couple of fish, they tend to tear and slide down the hook. I use super glue but it doesn't help too much. I went through $100 worth of these baits within 2 months this year.

From: Jason: Middle Tennessee

Comments: I love these swimbaits! I fish the 5.5 one with a trokar 7/0 weighted magnum hook.I love the action of this bait, I guess that is what makes it my go to. If your lucky you might be able to fish the bait twice. Usally the hook set blows out the side of the bait but sometimes holds up and good for another round. Either way I truly love this bait and highly recomend it.

From: Thastickybandit: Omaha, NE
Comments: The colours and paddle tail are good but the plastic is too thin. Rigged as advertised on a jig and the body slid down after 3 casts, tried a swimbait hook and the keeper tore thru the body. Applying super glue did not improve the tearing of the body. Bought 4 pkgs 4.5" have 2 pkgs left and will not use. I will not buy more nor recommend this brand. There are better quality swimbaits on the market for a better price. The same review was submitted to Strike King and I never did get a reply obviously customer satisfaction is not a concern for Strike King!

From: Gerry: Canada

Comments: bait is money. By far best hollow belly lure on the market. Only colors you meed are blue and green gizzard shad

Comments: Lov this bait. Caught some really nice bass and stripers off these. The noen ghost minnow has worked the best for me. Well worth the money. Strike king just now needs to make a smaller pre hooked one of these like the storm goby or live minnow. The bass go nuts when I throw those in. If storm can do I know that strike king can. Favorite lure company right here. Team strike king all the way

From: Harley: Afton, Iowa

Comments: Awesome swimbait. Guaranteed to catch fish! Only complaint is that this little thing isn't too durable. Not bad for the price though

From: Master Yoshi: Beijing, China

Comments: 3.5 in watermelon red flk on a 3/8 oz bluegill swimjig: WOW!!

Comments: Had a friend turn me on to these last summer and they made a believer out of me. When nothing else will bite I can call on these babies. I like the 4.5" in char. shad or sexy shad.

From: Brian: SW Iowa

Comments: Mike: you have to slit the belly to get good hooksets. this is the best hollow body swimbait i have used. i like it way better than my money minnows. the action is superb and i have caught over 30 bass on this lure. im currently on my 6th pack. well worth the money. i rig mine on a gamakatsu 1/4 oz. screwlock EWG 5/0 hook. it does not roll over, and with the weight towards the back of the hook the bait swims with the nose slightly up, just like a dying shad. for durability, slit the belly, and slide a bit of plastic straw onto the hook after you rig the swimbait. that keeps it from riding up on the hook once it is worn out. if you fish these often like i do, it is worth buying a bottle of swimbait glue to fix tears.

From: Cullen: Ashburn, VA

Comments: love the bait but i have the 4.5 one and even with a 5/0 extra wide gap hook you can't get a good hook set. i use this ones a week and get a hole lot of fish to bight but haven't caught one fish with it.

From: Mike: Willmar, MN

Comments: Best swimbait i've ever used. Bought every size, 5.5" get really big hits. Lost a 24" bass that was about as big as they can get in NE on the 5.5, probably around 8 or 9 lbs. caught plenty on the 3.5 which has to be my favorite size, best color is neon ghost minnow. like the 4.5 but i never really use them.

From: NBM: NE

Comments: Strike King absolutly hit a home run with these swimbaits. I've only used the Green Gizzard Shad because of how well it imitates a whitebait aka pilchard and/or finger mullet. I'm a saltwater fishing guide and tournament fisherman and this bait has proven itself in both situations. It's won me tournaments and it has caught inexperienced fisherman very nice fish snook, redfish, trout, flouder...(list goes on) on my boat. The presentation needed is extremely simple and the fish can't resist it. I came up with my own way to rig it by taking advantage of the hollow belly and giving it that much more action! Hands down have to have this on the boat every time I'm out! Southern Sportsman Adventures says thank you Strike King!!

From: Will: Fort Myers, FL

Comments: i bought some of these at a gander mountain because they were marked down and i wanted to try them and i was fishing for pike in a small creek. they were the most effective lure i have ever used period. my friend was using a chatterbait and he lured a few up and didnt bite his but as soon as my shad-a-licious came into its sight BAM! they all striked it within 2 feet of the bank

From: Shawn: Belle Plaine, MN

Comments: just to start it off, these are great hollow belly swim baits.i like to fish them weightless just beneath the surface. It is very cool watching bass come up and follow the lure and then just crush it! my biggest this summer with them was a 4 pounder. the bass came up and t-boned it while i was by myself fishing from the shore.

From: Seth
Comments: These are great baits. Strike King has hit a home run with these babies. I use all three sizes of this bait, from 3.5 in. on up to the 5.5 in. size, but I use the 4.5 in. one the most often. If I am targeting kicker fish I use the 5.5 in version. Sexy Shad in dingier water, and Blue Gizzard Shad in clear water. I catch a ton of fish with them. They're a great bait for following behind someone that is throwing a spinner bait. Absolutely awesome bait. I will ALWAYS have a rod out on the deck with one of these rigged and ready to go. They are that good.

From: Dave: Cuyahoga Falls, OH

Comments: The Shadalicious Hollow Bellies are very good, but I prefer a Basstrix Hollow Belly rigged with a stinger hook. The Shadalicious do catch fish, though. Try a Rick's Top Shelf Swimbait sometime. All I carry are Basstrix, Jerry Rago and Rick's.

From: Oli: Kalamazoo, MI
Comments: I use the 3.5" size only in sexy shad, blue and green gizzard shad. These baits work well in grass, lillies, in and around wood. I rig them on luck e strike 3/0 bellie 1/8 oz. weighted hooks on 20# power pro. This is an awesome bait and I've caught alot of fish on these.

From: Chuckster: Abita Springs, LA
Comments: Decent soft swimbait, but Bastrix is better. I've caught some fish with these, but Bastrix has better action and better color patterns. As per my Bastrix review, try rigging these sideways for some fierce strikes.

From: Big J: Houston, TX
Comments:Same experience here with the 6.5 size. After numerous hooks, weights and allignments, lure still rolls a lot. Maybe smaller size is better? Dunno, first soft swimmer for me.
From:Jeremy: Westland, MI
Comments:Use 3/4oz 9/0,10/0 swimbait hook on 6.5" shad-a-licious.
From:
Comments:I recently purchased these swimbaits and was very pleased. Won a club tournament October 10th at lake Seminole with 15lbs 3 oz., fishing in scattered grass. Shad and needlefish were bunched up in grass patches and this bait did a great job mimicking them. Worked very well with the Owner swimbait hooks. Very pleased with the bait and will be buying many more.
From:Keith: Valdosta, GA
Comments: Strike King has come up with a very good bait. The Smaller version of the SHAD-A-LICIOUS work very well and come in a very good selection of colors. However I have run into problems with the 6.5 size barrel rolling.The plastic is so soft and the paddle tail is so big it makes the bait spin in a barrel roll like.
From: Gabe: Wildomar, CA