Strike King Tour Grade Football Jig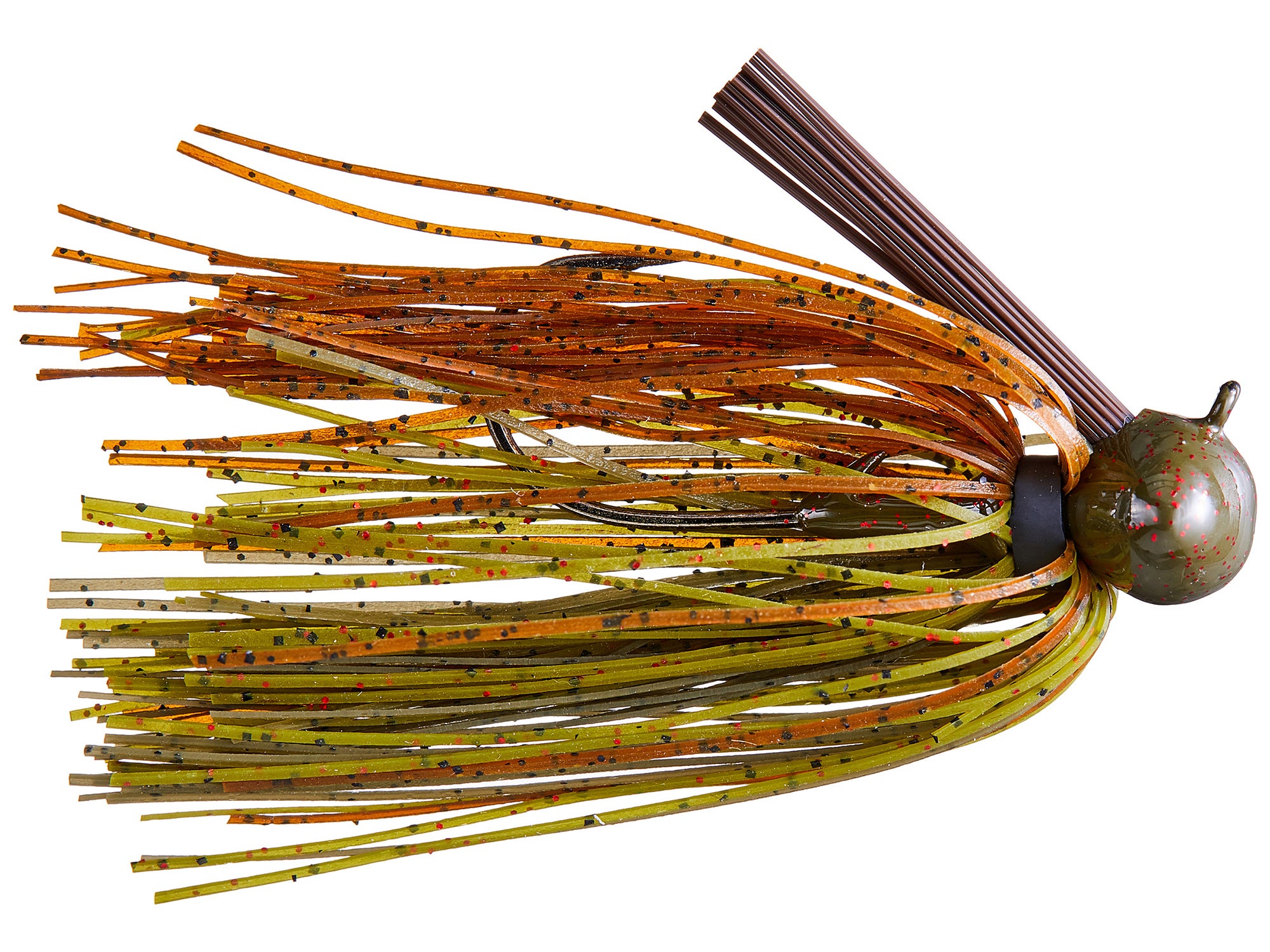 The Tour Grade football head Jig is the ultimate jig for Deep water fishing. The wide football shaped head gives better feel and helps the bait stand- up on the bottom. The flat eye line tie helps keep the line knot and jig in the proper position and the extra sharp Gamakatsu 60 degree round bend hook aids in hook sets. It also features durable powder coated paint, color coordinated weedgaurds and premium skirts for lifelike look and action.

12 Colors
More From Strike King Jigs
Customer Reviews
Comments: Good jig, and I like the colors, However the hook is not strong enough. The hook bent out on a hook set and I lost a nice fish. Make sure you are using lighter line and a lighter rod.
From: Miller: Yulee, FL 1/11/17
Comments: This is an awesome jig, people are saying that the hook is weak, but I have caught TONS of fish on them & the hook performs well, because the hook is not too thick it penetrates the fishes mouth easier, really good hookup ratio, love it!!
From: Andres: Las Vegas, NV 6/4/16

Comments: Awesome jig! Black and blue with your trailer of choice will straight-up slay the largies!! The go-to bait that I will never enter a tournament without!!
From: Grant: IN 1/11/15

Comments: Overall good jig. Some other reviews are saying the hook gets bent after a few strikes but if in my opinion i'll pay another $3.09 to catch bass. Great colors on the skirt and the head is really nice. Weedgaurd is nothing special but it definitely gets the job done. Flipping and pitching this thing in the lily pads is easy and works great. Throw a netbait trailer on here and you'll crush 'em. Great jig for the money.
From: Evan: MN
Comments: I love this jig! You don't have to fish it deep, you can skip this thing into the heaviest cover and this thing will never get snagged. I love to use a Yum Wollee Bullee as my trailer. I've had the most luck with the Texas Craw color.

From: Ethan: Charlottesville, VA

Comments: This jig has a great skirt and great paint, but the hooks are very small and I have have poor a hook up ratio. I missed 4 and landed one on this jig yesterday.

From: Adam: WI

Comments: Absolutely love these jigs. Have caught too many bass to count. They're the only football jigs I use.

From: Dan: Dirty South

Comments: Absolute piece of junk!! I was fishing today and got a good hit, set the hook, got about two cranks on him and he come loose. Reeled the jig in and the hook had been straightened out!!! I had just bought a whole box full too, those are at the landfill now. Don't waste your time.

From: Jason: Pennington Gap, VA

Comments: In my opinion, these are well made jigs with quality hooks. If they weren't quality, then I'm not sure I would have landed the 3lb and 8lb 11oz bass that I did. I lost this lure in the mouth of a 5+ bass when my line snapped of abrasion.

From: Christian: GA

Comments: Good jig but a weak hook.

From: Justin: Mason, OH

Comments: Beautiful jig, SORRY hook, sold mine at a yard sale.

From: John: Fayetteville, AR

Comments: The football jig has been big in deep water and this jig is the best EVER. The color i had was candy craw. Pair it up with the lobster.

From: Matthew: Port Barre, LA

Comments: This is the best football head jig i have ever used. I fished it all day and didnt get hung once i was even fishing in rocks. I used the Gator Craw with a Yum trailor craw and a Berkley Chigger craw and caught my limit within the first hour and the hook is strong enough to handle over ten two and three pound bass. I was very impressed, it is definalty my go to bait now.

From: Jake: Clemson, SC
Comments:Excellent Jigs! Most jig heads chip off after the first outing. This by far hasn't done that on the first outing. Bumped it on rocks and logs all day. The skirts are well balanced on color. The hook bent out a bit afer catching 7 2lbs+ LMB. Overall, great performer under the right circumstances. A must have in your tackle box!
From:Michelle: California, USA