Strike King Tour Grade Rage Blade Swim Jig - $5.79
A new take on the bladed swim jig, the Strike King Tour Grade Rage Blade Swim Jig features a unique blade and head design. Instead of having the head molded onto the hook like most swim jigs and jigs in general, the weighted head is actually molded onto the blade. Field testing has shown this design greatly increases hook up percentages by giving the blade more movement to get out of the way of the hook when a fish strikes the lure. It also helps decrease snags as well thanks to the increased movement of the blade, and still delivers the classic bladed swim jig vibration that bass can't resist. The Perfect Skirt and twin tail trailers also combine to provide additional lifelike action, and a custom Gamakatsu hook is sticky sharp and ultra strong to keep fish buttoned down. If you like fishing bladed swim jigs, give the new Strike King Tour Grade Rage Blade Swim Jig a try. The results speak for themselves.
Comments: After the classic buzz on Chatterbaits I tried several chatterbait style lures out and this is by far the best. New version has an improved line tie so that is no longer and issue. Quality Gamakatsu hook. This thing is awesome for shallow grass lakes in the spring and comes through grass and pads like a beast. Pull off the skirt and add a lake fork magic shad or boot tail magic shad for a set up big bass have never seen before. Highly recommend.
From: AJ: MO 3/23/14
Comments: LEGIT. I was getting bites the guy throwing a Chatterbait wasn't.
From: Jay6: USA 3/21/14
Comments: Comes through all cover much better than other bladed swim jigs. Hook up ratio is also better.
From: Unknown: USA 3/17/14
Comments: I bought the 3/8 ounce and i couldnt get it to run no more than 3-5ft max on a very slow retrieve. Junk in my book...
From: Chris: Burlington 3/3/14
Comments: Definitely a different type of bladed swim bait. This bait comes through all types of cover MUCH better than traditional "Chatterbait-style" lures. Wicked vibration combined with confidence in throwing it in all types of cover makes this a winner, and as long as the line passes through both small loops of the line connector, it is a tremendous improvement on the old duolock snap that comes on all bladed swim baits. I tie directly with 50-65 lb. braid and have caught numerous big bass and striped bass with no distortion of the connector under heavy strain. It would be difficult to resort back to the old style of bladed swim jig after using this product.
From: Thomas: Lake Wylie, SC 2/27/14
Comments: The snap that comes with this lure is definitely in need of an upgrade. I had to change one out because the eyes would not line up. The snap that comes with it is not the one in the picture. A whole lot flimsier. I ended up changing them all out. Hard to believe SK would put such cheap hardware on a lure.
From: Mike: Central TX
Comments: definitely change the swivel out, but its a goood idea. Swivel broke in testing on a 8lb dumbell.

***Note: If you have questions about this product or need assistance with an order please email your questions to info@tacklewarehouse.com
View Large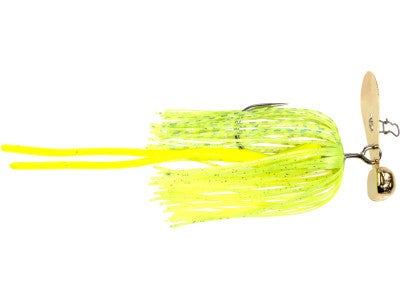 8 Available Colors
More Strike King Jigs