Sufix 832 Braided Line Camo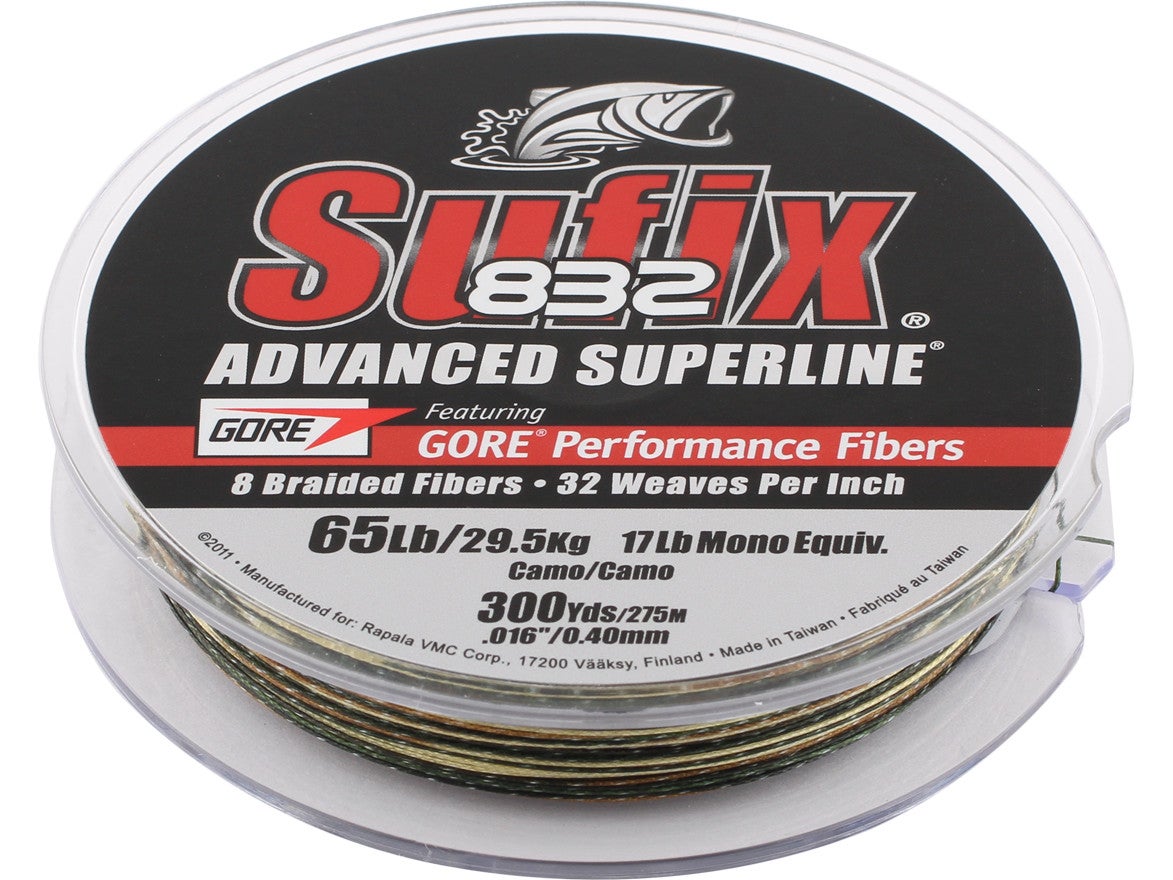 The strongest, most durable small diameter braid on the market, Sufix 832 Superline is now offered in Camo for an increased level of invisibility. The alternating colors of the line breaks up its silhouette in the water. Constructed from 8 fibers (7 Dyneema plus 1 GORE Performance Fiber) at 32 weaves per inch, Suffix 832's R8 Precision Braiding and advanced fiber technology deliver superior strength, roundness and line consistency. The Gore Performance Fibers (from the makers of GORE-TEX) improve abrasion resistance, increase casting distance and accuracy, and also reduces line vibration, while the Dyneema fibers provide increased strength and sensitivity, as well as, superior hydrophobic protection and a smaller diameter. Stay ahead of the curve with Sufix 832 Braided Fishing Line in Camo.
| | | | | | | | |
| --- | --- | --- | --- | --- | --- | --- | --- |
| Line Diameter | 10lb | 20lb | 30lb | 40lb | 50lb | 65lb | 80lb |
| Inches | .008 | .009 | .011 | .013 | .014 | .016 | .018 |
| Millimeters | .20 | .23 | .29 | .33 | .34 | .40 | .45 |
| Equiv. Mono Dia. | 4lb | 6lb | 8lb | 10lb | 12lb | 17lb | 20lb |
Place Your Order
More From Sufix Fishing Line
Customer Reviews
Comments: I like 832 but camo pattern half baked. If you are using a moving bait the light sections of the line look like tracer rounds underwater and is actually the most visible line i have ever used. Stick with a single color line.
From: Matt: Forth Worth, TX 2/13/15

Comments: Best braid on the market...don't know how effective the camo pattern really is, but it seems like a good idea!!! lol...I fish some fairly clear water and have no problems catching fish...50 lb for pitching and 20 lb for spin rigs and you're set!!! I'm a braid aficionado and have used every one on the market, I will not own any suffix flouro or mono because of memory issues, but they have braid figured out apparently.
From: Alex: LA 10/7/14

Comments: Best braid ever made; no question.

From: Don: Vancouver, WA

Comments: I use the 50lbs for flipping and have no problem with snatch the bass out of the thick stuff. First time I found it in camo.

From: Mike: Norman Park, GA

Comments: Do not buy! Been using sunline, this stuff is so stiff and casts poorly. I tried putting 30lb on one of my spinning outfits, I would not have line twists but on a random cast this stuff out of nowhere would get all bunched up through the line ties and I would have to cut my line. I thought this was from using a very light jig head but same thing happened while fishing a shad rap.

From: Brett: NY