Sufix Siege Camo Monofilament 330yds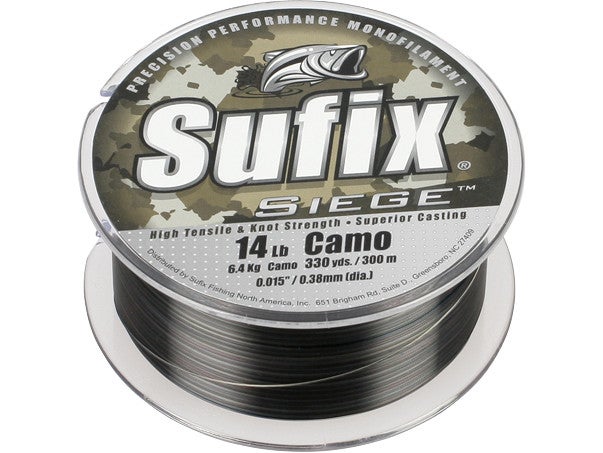 Sufix has started a revolution in fishing line technology with their new Siege fishing line. Patented XV2 Technology allows Sufix to produce a line with an unmatched strength to diameter ratio. This tough line still offers smooth handling characteristics for long casts and accuracy. The exclusive NanoTech Process produces a line that is up to fifteen times more abrasion resistant than many lines you may be using. If you're fishing rough, line cutting cover, try the tough stuff; Sufix Siege.
| | | | | | | | |
| --- | --- | --- | --- | --- | --- | --- | --- |
| Line Diameter | 6lb | 8lb | 10lb | 12lb | 14lb | 17lb | 20lb |
| Inches | .010 | .011 | .012 | .014 | .015 | .016 | .018 |
| Millimeters | .254 | .279 | .305 | .356 | .381 | .406 | .457 |
Place Your Order
More From Sufix Fishing Line
Customer Reviews
Comments: I just put the 17lb on my Curado and its like casting an extension cord. It's the coolest looking line I've seen, but leave 17lb on the shelf unless you are fishing for Jaws or weed eating!
From: Justin: Dallas, TX 3/20/14
Comments: I love this line!! It's super supple, casts like a bullet, and has stood up to some serious abuse. I use the 14# as a all around line, from jigs and worms to buzz baits, and it perfoms perfectly! If you fish in stained or dark water this line rocks! I cought a 10lb bass with this line and had to pull the fish around a lay down that she ran behind and I thought for sure my line was gona break but it didn't. Sticking with this line for all my mono needs.

From: Christian: Cleveland, TN

Comments: Sucks for cold weather but has been warming up and casts great

Comments: There is something about the camo series in the Sufix Siege line that makes it very stiff. I've used the other Sufix colors and they all seem to work fine, but its just this spool that doesn't perform that well.

From: FB: Fresno, CA

Comments: Im a suffix fan however, I don't like the siege "at all." I was using the 17lb test and man that stuff cast like it's 25lb test. I do think it would be nice for your catfish rig. Just my point of view.

From: Jay: Meridian, MS

Comments: best line ive used ilike the low memory it casts well and is strong to boot great line

From: Candlewood: Connecticut

Comments: i used this line for one season and found it to be ok. it casted well and held a good knot. the only thing i didn't like about it was that when under a heavy load the line will curl. after having to put the breaks on a few redfish about a foot or so of the line would be curled. it naturally did the same them when hung and having to break off. i was losing over a foot of line after every time i broke off or had a hard battle with a red.

From: bassNredfish: Louisiana
Comments: This is absolutely the worst line I have ever put on a reel!! The line was breaking inside the spool. The line is very stiff and brittle.

From: Bryan: Fortson, GA