Sufix Siege Smoke Green Monofilament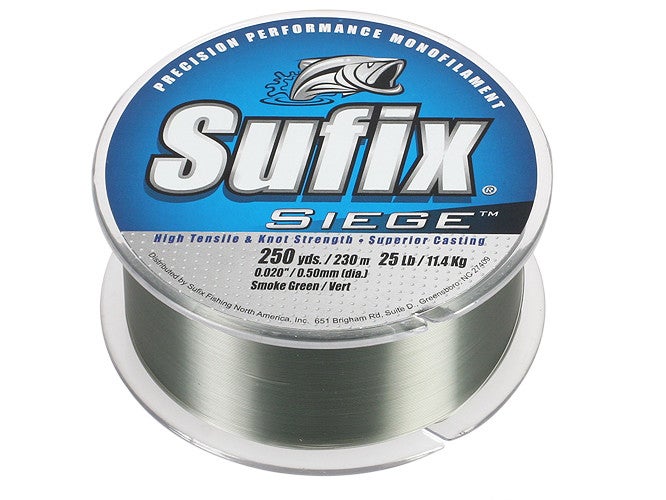 Sufix has started a revolution in fishing line technology with their new Siege fishing line. Patented XV2 Technology allows Sufix to produce a line with an unmatched strength to diameter ratio. This tough line still offers smooth handling characteristics for long casts and accuracy. The exclusive NanoTech Process produces a line that is up to fifteen times more abrasion resistant than many lines you may be using. The Neon Tangerine color will be very visible, especially against a green background like the weeds, grass, and brush you like to flip, but will disappear just under the surface of the water, becoming almost invisible to the bass.
| | | | | | | | |
| --- | --- | --- | --- | --- | --- | --- | --- |
| Line Diameter | 6lb | 8lb | 10lb | 12lb | 14lb | 17lb | 20lb |
| Inches | .010 | .011 | .012 | .014 | .015 | .016 | .018 |
| Millimeter | .254 | .279 | .305 | .356 | .381 | .406 | .457 |
Place Your Order
More From Sufix Fishing Line
Customer Reviews
Comments: suffix makes great line no matter what kind it is. as far as mono goes this siege & suffix elite is great stuff. I think I like the siege better. It's super strong & casts phenomenal out of a baitcaster.
I have some Pline CXX which is probably the strongest mono made but its too stiff, I much prefer Sufix
From: Tim: Phoenix, AZ 5/11/16

Comments: I bought this line in 10# test and put in on my lews bb1 pro.. Works really good and casts a mile.. For 10# line I'm really surprised with the strength, highly recommend
From: Justin: Pittsburgh, PA 4/10/15

Comments: had 17 ln Siege on throwing a chatterbait and got hung up in water oo shallow to get the boat in to the lure. Took me 5 tries and finally the chatterbait blade broke off and came back with the line. And I have had the same 8 lb line on one of my mojo spinning rods for smallies for over a year, and I change line often but this just has not needed to be changed. Every line has some memory but this line has what I like to call loose memory and only after a few months. Any memory is easily straitened out after a few casts. I switched to this line for spinnig gear originally because I was tired of twist and memory in my lines. This stuff is great.
From: Don: Cincinnati, OH 11/2/14

Comments: I have fished this sufix siege for a while now. Yea over time it may get a tiny bit of memory, but so does most other lines. Sufix siege for the price is the best. My brother in law and I went fishing on Lake Austin in tx at night. He caught a 6 1/2lb bass on the 12lb test with the drag cinched down. I thought it may break. Held like a champ. There is no better line for the price. I hauled in a 7 lber. a few months earlier. This stuff is legendary. I hope they never stop making it.

From: Jordan: Austin, TX

Comments: Line has low memory but doesnt hold a knot well. Seems to stretch a lot too. When snagged line will stretch and stretch instead of breaking. I will be sticking to Trilene XT.

From: Anthony: Bay Area, CA

Comments: This line is awesome. I wont buy anything else now. It handles really well. The lightest I have used is 12 so I cant speak for ten and lighter. I love how cheap it is too.

From: Nathan: WA

Comments: This line is pretty limp and it casts far as most people said. I caught a 22-24 inch smallmouth on this line and it remained strong!!

From: Alex: PA

Comments: If you want a fishing Line with virtually no memory go with this line no. no memory coils and one of the strongest monos I have used depending on your line size if you get snagged up you will most likely have to cut the line rather than pull an expect it tot snap.

From: Freddy: Ontario, CA

Comments: This is the best monofilament line out there! I fish a lot of bass tournaments and never use anything over 14lb test. This stuff wont break! Smooth, tough, and very affordable!

From: Ryan: Notasulga, Al
Comments: I couldn't believe how strong this line is, I bought the 14lbs green smoke, I swear it will not break, I got caught in a brush pile and tryed and tryed to snap the line LOL It wouldn't snap, Plus is super smooth and casts farther than other lines i have used witch is everything, I fish everyday and this line never let me down.
From: Sonny: East Wareham, MA