Sunline Reaction FC Fluorocarbon 200yd - $21.99
Sunline Reaction FC is a new fluorocarbon line designed specifically for reaction baits, including spinnerbaits, crankbaits, rattlebaits and vibrating jigs. Reaction FC is made from a new, softer, high strength fluorocarbon material. This new material combined with its unique manufacturing process creates a line that is very supple and flexible, which allows Reaction FC to handle better on your reel. Double resin processing also gives the line outstanding slickness for better casting than traditional fluorocarbons.
Also formulated to have more stretch than other Sunline fluorocarbons, Sunline Reaction FC will increase landing percentages of fish caught on reaction baits. With a high specific gravity of 1.78, Reaction FC helps get your crankbaits to run at their maximum depth. Sunline Reaction FC is also dyed stealth gray to help it be even more invisible in any water color.
| | | | | | | |
| --- | --- | --- | --- | --- | --- | --- |
| Line Diameter | 8lb | 10lb | 12lb | 14lb | 16lb | 20lb |
| Inches | .0093 | .00102 | .0112 | .0122 | .0130 | .0146 |
| Millimeters | .235 | .260 | .285 | .310 | .330 | .370 |
Comments: Really Disappointed, I love Sunline Sniper and really wanted to love this stuff for fishing crankbaits. However, it brakes very easily. It also does not hold up to abrasion, one rock rub and your lure is gone.

From: David: Moore, SC

Comments: I was disappointed with the the Reaction FC, it broke quite a few times and it seemed to fray in the middle of the line( I mean at points where the line never touched anything) for $22 Sunline should make a better product.

From: JF: NY

Comments: I am extremely pleased with this line for my crankin setup. I put the 14lb on there because i really like to fish cranks around rocks so it helps with some extra abrasion resistance. It casts great and it lets me feel what my crankbait its doing very well. It also is invisible in water. Another GREAT Sunline product.

From: Kyle: Hutchinson, KS

Comments: pure junk is the best way to put it ,iam a guy who really likes sun products ,but this stuff is really bad

From: Lenny: CA

Comments: garbage! Plain and simple. I'll stick to Defier for cranks

From: Bob: Stockton, CA

Comments: What a dissapointment. This line snapped in the center after my fourth cast, sending my $16.00 crankbait flying.I was using 14 pound line with a 3/4 crankbait. When I stripped the rest of the line off it was like a slinky with abrasions. Absolute waste of money. I am a big fan of sunline braid and I use FC Sniper with success as a leader, so Im not just a hater. I also tried the machine gun mono, super mistake. It wasn't as bad as the reaction but not far behind it.

From: Greg: AL

Comments: to nathan- the best knot is the double uni

Comments: I am not having the same success with this line as others seem to be experiencing. I have been using the 8# test for deep cranking and have a lot of issues with fraying and peeling. Also it will not hold a uni knot. Polymer knots are holding well but are a pain to tie with big crankbaits.

From: Nathan: Pasco, WA

Comments: I"m not a Sunline fan for other lines (it's hard for me to switch from InvisX)... BUT - this line is like no other. I had been using 15# InvisX for all cranking - Strike King Series 4, 5xd and 6xd, Norman Deep Little N, and anything from KVD 1.5s to Wiggle Warts. I'm using this line in 12# test, and the sensitivity is unreal. I finally snagged a Rapala DT10, and I couldn't get this line to break (using a double san diego jam knot). Finally had to troll up on the sweet spot to get the lure back, did a bow and arrow snap and the lure popped right off. Checked the line and there was no fraying, even after an hour of beating rip rap, 4 fish and then moving to the deep brush. Buy this line with confidence. Oh - there is something about the casting distance too. I can get about 5-6 yards further than I could before. Rod - Dobyns 804CB paired with a Daiwa Zillion 100HA

From: Russ: Canton, GA

Comments: Love this line!!! I bought 2 spools of the 12 lb for my crankbaits rods. I have been throwing rick clunn crankbaits with it lately on windy flat points with isolate stumps and it has peformed flawlessly. I have always used the sniper in 10 or 12 but this works better with it being a little more stretch added to it and it's softer and you can really cast this stuff. Try it out!!

From: Brian: IL

***Note: If you have questions about this product or need assistance with an order please email your questions to info@tacklewarehouse.com
View Large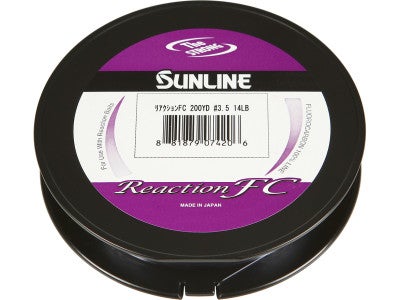 Place Your Order
More Sunline Fishing Line