Fish Head Spin Underspin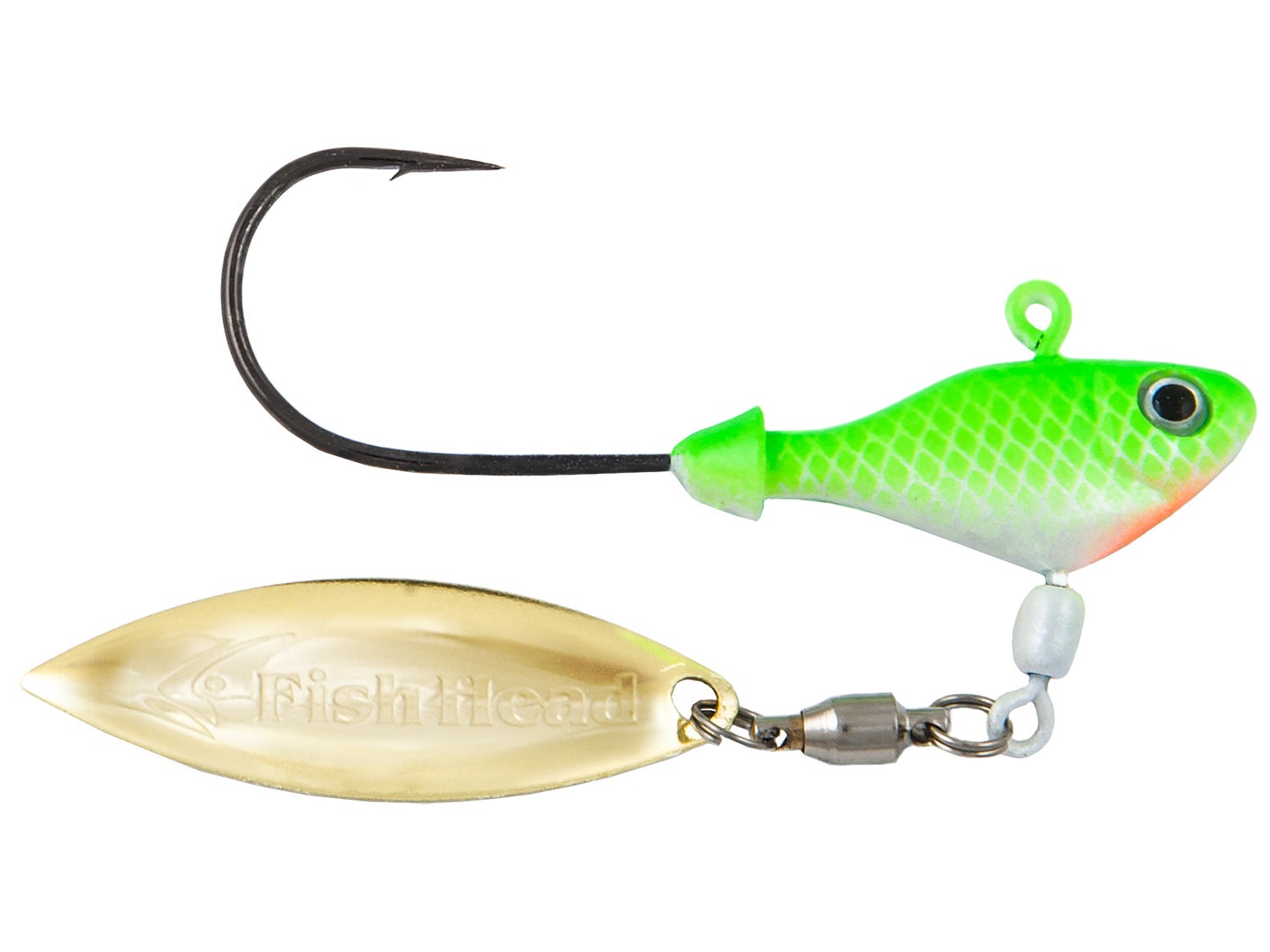 Please Note: Head colors and blade colors may vary
The Fish Head Underspins made a big name for themselves in early '05 when a famous Western Pro used the jig head to take a strong second place finish by swimming the Hornet/Fluke Jr. combo. The Fish Head Underspin features chip resistant paint, a conical bait keeper, and a quality ball bearing swivel to enable the blade to spin easily at any retrieve speed. Fish Head uses a top quality Mustad Ultrapoint hook that will hook and hold any bass that bites. Fish Head Underspins work well when fished over deep cover like brush piles, around standing cover like bridge pilings and standing timber, and along weed edges anywhere in the US. Use any single or double tail grub or the Super Fluke or Super Fluke Jr. as a trailer.
Kevin Hawk used a 1/2oz White Head Spin to win the 2010 FLW Lake Lanier Championship.
Sworming Hornet Fish Head Spinner Rigging Tip
1 pk

Click the logo to view their review.
11 Colors
More From Fish Head Underspins
Customer Reviews
Comments: This is a fish catching machine, unfortunately the hook is junk. Seems like for the price they could have put a quality hook on. To bad because this thing could really catch fish.
From: Scott: Bonne Terre, MO 2/9/16

Comments: Make sure you know 1 pk equals 1 lure. I recently ordered 2 pk of the 1/8 oz Fish Head Spin thinking there were 2 per pack based on similar brands. $4.79 is way too high for one 1/8 oz lure.
From: Tim: Charleston, TN 2/8/16

Comments: They get bites, but u will loose a lot of fish. The hook stinks to put it mildly. If you catch more than one bass per hook you are doing great with these. They need a heavy gauge hook.
From: Derek: Orlando, FL 4/21/15

Comments: This bait catch plenty of bass but the hook on this bait is complete garbage. I'm losing about 40% of my fish due to them shaking off the lure. when i do land some i notice that the hook barely penetrate their lips(you're going to really need to set the hook hard). for the price of 1 lure, they need to upgrade to better quality and sharper hooks.

From: Tim
Comments: I liked the idea of these but in my experience the quality is sub par, when I fished them along rip rap the blades and hooks came up bent. However this was only with the chartreuse one, the albino and sexy shad seem to be higher quality.

From: Michael: Chicago IL

Comments: I like em for fishing sediment blown flats on otherwise clear waters. That extra flash helps draw em in i think. They cast and run better that those ultra finesse spinnerbaits which is why I choose these instead. I usually like the Mustad UltraPoint hooks but the model they threw on these are garbage, or maybe mine are older ones that do not have those hooks. I go through these pretty quick as the hook points are weak and burr easily.

From: Nate
Comments: I fished the white 3/8oz with a white berkely mud minnow in the Hatteras surf and did awesome on flounder all week long. Also caught redfish and a weakfish on this lure.

From: Pat: Pittsburgh, PA

Comments: good lure I bought acouple of these. But I don't like the price 4.00 for one jig spinner. Seems too expensive for me for only one. Might be good if they cut the price and sold 3 in one pack instead of only one for 4.00+

Comments: Paired up with a reaction innovation little dipper its amazing. Benefits of both a swimbait and spinnerbait

From: Justin: Manson, OH

Comments: This head is very effective and we use it a lot here in france to get pike and sandra. The hook is great and the spinner made a big difference and allowed us to catch big fishes this winter. We use fat rockvibe (green) or fat swing impact (green) and it swims just perfect. The only problem is that i use it a lot to pass just over the weed and when the spinner get stuck on the grass, you can loose easily as the wire just behind the head bends and this allow the spinner to get out.

From: Olivier: France

Comments: I have been using these for Striper fishing. Stripers kill this thing. Rig one on with a zoom super fluke and hold on tight.

From: Riches: Fresno, CA

Comments: just picked one up a cupple days ago and have just been killin them. most have been small bu today it landed me a six pounder. its a great bait that will catch you lots of fish.

From: Kenny: Santee, CA

Comments: Put a fluke,jr. on and look out! I've caught flathead cats up to 27 lbs. and blues up to 24 lbs. Plus many stripers and bass on these. they are great.

From: Banks: Kimberly, AL

Comments: Great lure! If you want to have a blast, rig a 3/8 with a 4" Berkley Hollowbelly swimbait and hang on! Great for Smallies up north or schoolin largemouths down south! I've tried all of the other under-spins, and this one handsdown works the best for me. Best tip I've learned about this bait is that you can't retrieve it too slow!!!

From: IDREDFISHIN: Norwalk, CT
Comments:Rig a Yum money minnow one of these lures and hang on for dear life! Combination of the spinner and swimbait action makes this a great big fish lure.
From:Bob: San Antonio, TX