TNT Baits Claymore Jig - $5.29

We all know how easy it is to catch fish by throwing a little TNT into the water – the TNT Baits Claymore Jig that is. The TNT Baits Claymore Jig is a high-quality, bladed swim jig that delivers a big underwater disturbance no matter how it's fished. The TNT Baits Claymore Jig can be used as a traditional swimming jig, or retrieved like a spinnerbait, depending on conditions. The rounded hex blade delivers a powerful ruckus while also acting as a weedguard and allowing the TNT Baits Claymore Jig to be worked around docks, rocks, tulles, long points, and grass. The arkie-style head is molded around a stout Mustad Ultrapoint 5/0 Flipping Hook and accompanied by a hand-tied living-rubber "mop" skirt, which gives it a flowing presentation and a slower descent. Blow the competition out of the water with the TNT Baits Claymore Jig.
View Large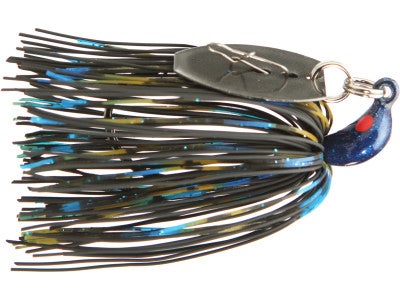 More TNT Baits Jigs
Comments: These are decent performers. The bad: The blade chips the head when ripped through grass. It rolled a hook point on the first hook set on a 3lber. The biggest problem is the insane spin that this bait does in the air. The good: They catch fish.
From: Cman: USA 5/6/15

Comments: Awesome bladed jig responsible for some big bass out here on the Delta. Very stout hook and the skirt pulsates really well. Love throwing this with a super fluke style trailer. Best colors have been Chartreuse Shad and White.

From: Dom
Comments: Just Like richard said, these things are one of the best chatterbaits, sharp hooks, great blades and skirts. Their jigs are the best I have ever used. Really durable and the live rubber skirt moves around and flares in the water and big spots and largemouth love them

Comments: THIS IS A TOP OF THE LINE BLADED SWIM JIG DURABLE HEAD TREMENDOUS ACTION EXCELLENT SKIRTS AND THEY CATCH FISH CICADA AND BLUEGILL ARE SWEET COLORS I own over 300 bladed swim jigs Tackelwarehouse has the best selection.I use the little dipper in dark blue or the grass pig in blue black color for the blue gill color a fish catching combo here in new jersey. the cicada the sky is the limit on colors.pick up a couple of these baits you will not be sorry.Tackelwarehouse is responsible FOR 90% OF THE BASS I CATCH. GREAT SERVICE QUALITY GOODS AND A TREMENDOUS SELECTION THANKS TACKELWAREHOUSE.GOOD FISHING GUYS THANKS

From: Richard: MOUNTAINSIDE NEW JERSEY

***Note: If you have questions about this product or need assistance with an order please email your questions to info@tacklewarehouse.com