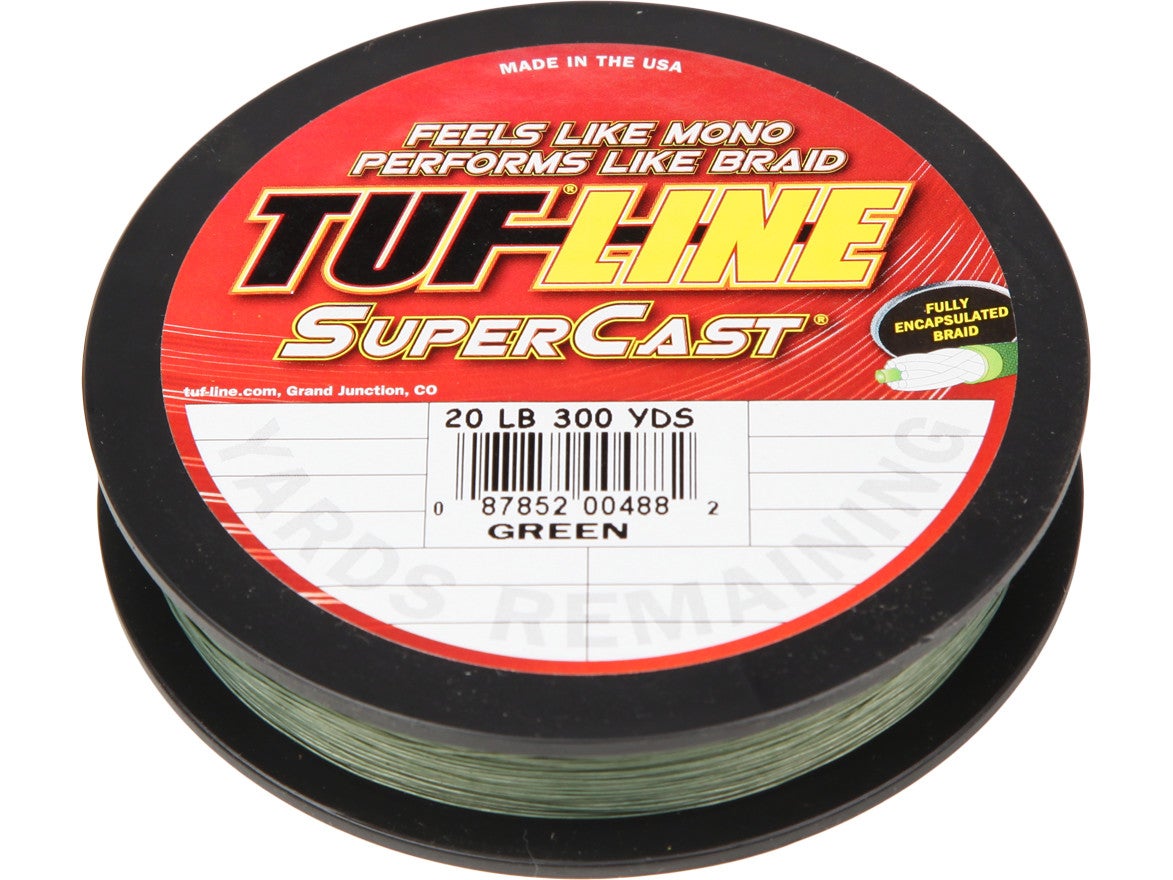 The longest-casting and easiest handling superline TUF-Line has ever developed, TUF-Line SuperCast will change the way you think about braided line. Utilizing a revolutionary post-process coating that adds lubricity, this new coating allows SuperCast to have superior castability and distance compared to monofilament, fluorocarbon, or standard braided lines. The added lubricity also allows knots to cinch down tighter for higher strength and security.
Manufactured with a unique bi-component process, TUF-Line SuperCast incorporates an exclusive inside-out coating process that ensures a perfectly round, smooth, and highly abrasion-resistant superline that does not break down or lose its rigidity with prolonged use. The coating process of SuperCast also ensures permanent coloration of the line so the color won't fade, flake, or bleed.
SuperCast with its smooth outer coating, quietly glides through the rod guides without the tell-tale braided line screech, allowing for longer casting distance and a stealthier approach when flipping or punching. SuperCast also eliminates common issues associated with spinning reels when using braided lines, like poor bail performance, tip wraps, and wind knots. So if you have been hesitant to try braided lines on your spinning reels, SuperCast is the perfect choice. For casting reel applications the ultra-round construction of SuperCast virtually eliminates the line's ability to dig into itself and will give you trouble-free handling all day long. So whether you are using a casting or spinning reel you will find SuperCast to be the quietest and easiest to manage superline ever designed. TUF-Line SuperCast delivers a significant advancement in superlines by producing a line that has the smoothness and handling of monofilament and the toughness of braid.
-Designed for both fresh and saltwater
-Made in the USA
| | | | | | | | |
| --- | --- | --- | --- | --- | --- | --- | --- |
| Line Diameter | 8lb | 10lb | 12lb | 15lb | 20lb | 25lb | 30lb |
| Inches | .003 | .005 | .007 | .009 | .011 | .013 | .016 |
| Millimeters | .076 | .127 | .178 | .229 | .280 | .331 | .407 |
| Equiv. Mono Diameter | 3lb | 4lb | 6lb | 8lb | 10lb | 12lb | 15lb |
Place Your Order
More From TUF Line Braided Line
Customer Reviews
Comments: I have been using the 10lb Hi-Viz-Yellow since it came out for my Lite-Line Finesse fishing. Ned Rig, Spybaiting, Wacky Worm, Flick Shakn. Any & all Lite-Line Finesse fishing. No problems at all. Casts great, very strong and holds knots. I use a 12' leader of Sunline FC Sniper Fluorocarbon 5lb to 7lb on my Avid 6'6" MLF rod. FANTASTIC! I used the Tuf-Line DuraCast Yellow before the SuperCast came out with NO problems.
From: Fran: Columbus, OH 8/16/16

Comments: Used 8lb on a spinning reel for drop shot and wackey rig. Line changed color after 3 uses. Issues with line wrapping around line guides. Used 40lb on baitcaster for frogs. Line changed color, lot of issues with backlashes.
From: Steve: Charleston, SC 3/30/16

Comments: This stuff casted great in the yard, thought it was going to be my favorite, my old favorite being xp. I spooled it up on my frog rod with 30lb test. I lost 6 frogs that day on the Mississippi, breaking them all of on the hooksets. Had my buddy tie the knots....same story, and yes they were bass I saw them. sent them an email and they refused to respond about the issue. I will no longer buy tuf-line.
From: Chad: WI
Comments: I also tried the free samples. It is pretty decent braid. However, have had a few break offs at uni:uni connection to floro on drop shot rigs. I am sure that there may be a better knot to use but have never had this problem with Power Pro. It is due, as others have mentioned, to the finish coat slipping off after some use. I will not hesitate to use for general purpose but NOT for tying a leader to.
From: Rob: Penna
Comments: I did a redfish and speckled trout trip out of Grand Isle La and it was blowing 15-25 MPH and we never had even 1 wind knot and it was super abrasion resistant even throwing around all the oyster beds. I would recommend this product to anyone

From: Sean: Boise, ID

Comments: I was able to get a free sample and next season I may buy this over Fireline. Casts far, good strength, doesn't birds nest, however I found that when I tie a Palomar knot and by the end of the day the coating is gone and line is exposed, a Tuf-Line Rep stated this will not affect line strength, I still re-tie when I see this. Hauled in a few big fish using it and worked as expected.

From: Jason: Central, PA, USA

Comments: Can you say sensitive.? This stuff is it, and strong. Very pleased.

From: Bubba: Shreveport,LA

Comments: WOW! I was a bit sceptical of the line but I gave it a try and am VERY impressed. You cant go wrong with this decission. Thank you TUF Line!!!

From: Ron: Shreveport,LA

Comments: Castability is very good. I spooled it on my spinner bait rod and worm rod. Hook sets are solid and handles fish well. High winds affects my worm presentation as it catches wind and moves my worm a bit. Overall I am pleased with the performance and will stick with it.

From: Charlie: Shreveport, LA USA

Comments: Awesome!!! If you want to throw weightless baits on braid this is it. I've wrapped it around cypress knees and raked it across oyster beds and yet to break it.

From: Kelly: Shreveport,La

Comments: I fish bass tournaments for a living and can't afford to fish anything but the best line available. I've tried a lot of braids but never was satisfied with any of them until I tried Tuf-Line SuperCast. I love the fact that it is smooth, abrasion resistant, super strong and has no stretch. When the situation calls for braid - try SuperCast, you won't be sorry!

From: Charlie: GILBERTSVILLE, KY, USA

Comments: its everything they say it is and more, i think it will be my main line before long,no wind knots,quiet casting and good strength.

From: Chuck: OH

Comments: Ok Tuf-Line. You were the first braid I actually didn't hate, so I'm going to help you out. You have a potentially great product here. But.... the coating slips. You need to weave a different fiber into the braid so that the coating has something to stick to. I got a free sample, and right off the bat, the coating tore and exposed the braid when I tried tying it to my backing.

From: Gali
Comments: This is the best Super Line I have ever used! If you are tired of wind knots and listening to the sing of normal braid this is the line for you! It is so slick it will shoot off the reel and through the eyes of you rod. The color stays with it so you don't have to worry about fade. Get Some!! You want be disappointed!

From: Gofisharkansas: Magnolia, Arkansas
Comments: Gave the 12lb a shot on one of my sick spinner setups. It is pretty much as Tuf-Line claims, a rarity among manufacturers, the most important aspect being line diameter. It is braid with a sheath. Test for test, impact strength should be the same. Knots hold well, casts well, catches some wind, floats, limits tip wrap effect, appears to resist abrasion. Bottom line? If I'm to deploy a braid setup, I like it better than any comparable diameter 20lb braid I've tried.

From: Trio