Tackle Warehouse Low Profile Casting Reel Covers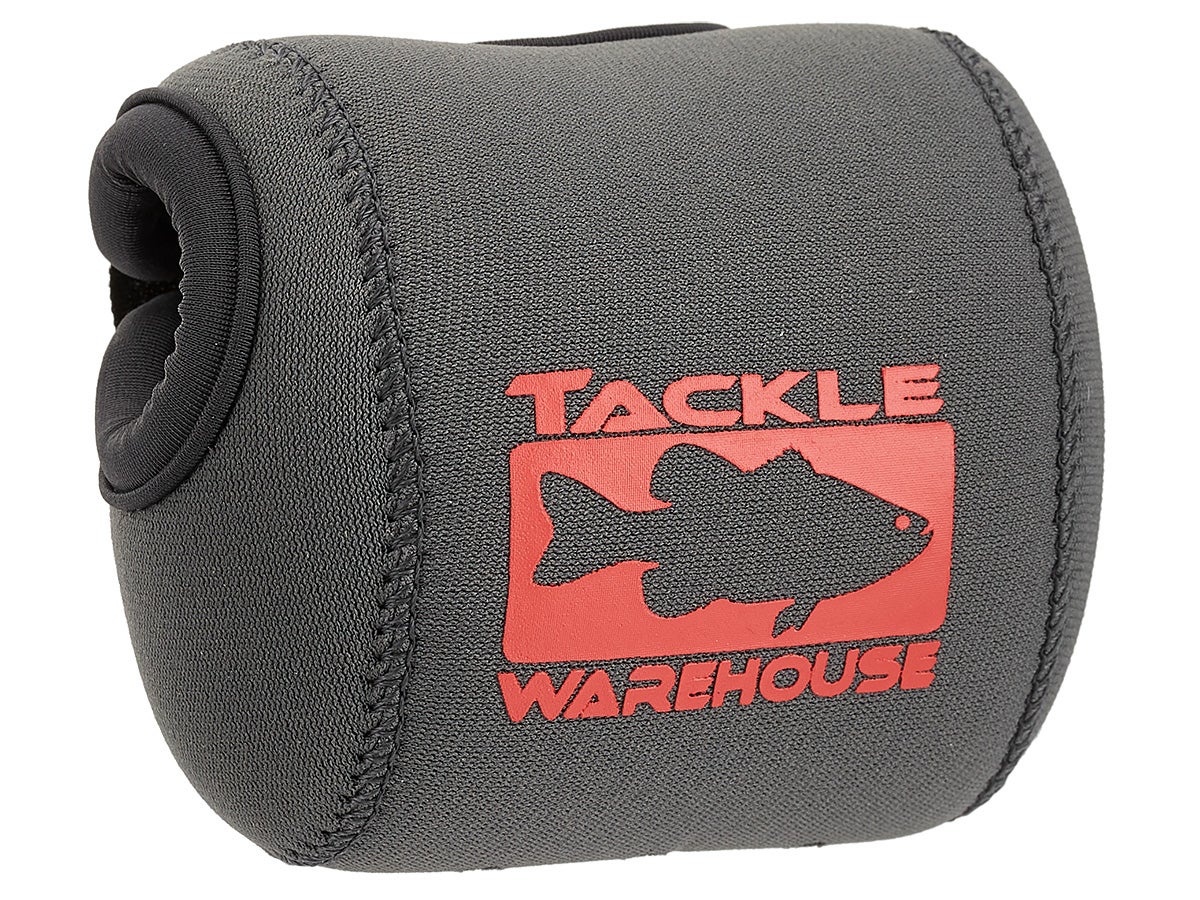 The Tackle Warehouse Casting Reel Covers offer a stylish and affordable solution for keeping your favorite baitcaster reels clean and protected. Constructed from durable neoprene fabric with a sturdy Velcro attachment, the Tackle Warehouse Casting Reel Covers also let everyone know where you get the best deals on fishing gear. Only $2.99 with purchase of any casting reel.
Available in left and right hand models.
Place Your Order
More From Tackle Warehouse Accessories
Customer Reviews
Comments: I bought a few of these and I really like how snug it fits over my reels. I thought I payed $2.99 each but who's paying attention!
From: Mike: Georgia 2/14/17
Comments: Offers protection as a Go Pro camera cover too! Unfortunately, the logo shows upside down. TW, Howz about a limited run of covers with the logo reversed? A few different color (logo) choices would be cool too.
From: Outcast: Corrupt, CA 8/21/16

Comments: Great product! I've never had issues with it pinching the line on any of my reels. Just leave a little slack in your line if you're gonna use it while your combo is rigged.
From: Jessie: Moore, OK 1/7/16

Comments: I've used other reel covers over double the price and none of them come close to the TW cover. It surely fits extremely well on most if not all low profile casters. Amazing quality! Great piece of addition to all reels
From: Dori: WI 8/21/15

Comments: Perfect! The only cover i use on all my combos. I have 300 dollar combos and these covers plus a good rod cover are a must. Im a lefthandranker and these are a perfect fit on every one of my reels 5/5.

From: Michael: Smithfield, VA 3/14/15

Comments: Purchased these for my Shimano Chronarch, Lew's Tournament Pro and Quantum PT Casting Reels and all 3 fit perfectly. Very thick material gives me peace of mind that my reels will be protected. AWESOME product, Tackle Warehouse!
From: Brian: Nashville, GA 9/6/14

Comments: got one with my lews reel and they are great. fits perfect and protects your reel. great quality
From: Joe: OH 7/14/14

Comments: These are the best reel covers I've ever seen. Quality construction, and excellent design. The ONLY downsides are they will barely cover a 300 size reel, and they most definitely will pinch your line if left rigged during transport. Excellent product TW. PLEASE MAKE A SPINNING REEL COVER!!!
From: KT: AZ 6/11/14

Comments: The Tackle Warehouse Casting Reel Covers are well built. The neoprene material is a lot thicker than my Shimano Casting Reel Cover. I have it covered on my Shimano Chronarchs (201E7 / 200E5).
From: Sherwine: Elk Grove, CA 5/2/14
Comments: Love these covers, best I've used! Tackle Warehouse...please make a spinning cover!!
From: Sean: NJ 3/4/14
Comments: Thanks tackle Warehouse. Im really happy with yalls reel covers! They are top of the line! If any 1 is looking for the right reel cover. You can't go wrong with the tackle Warehouse covers!

From: Craig: Lyman, SC
Comments: I have one on every reel in my box except my calcutta's. only because they don't have a round one. Please make a round one. Don't bother with any other reel covers.
From: Roger: Lafayette, Louisiana
Comments: I prefer these over the Abu and the Shimano. Much more durable and no detail overlooked

From: J@y: Ca Delta

Comments: I purchased 3 of these during the Memorial Day Sale,these are good quality and do the job right to protect your baitcast during transportation or just to keep dust/dirt off while in storage...I will buy more if needed!

From: CJS: Ohio

Comments: This is a very nice and effective low-profile reel cover...no need to spend twice as much to match the quality. Thanks TW!

From: JMJ: CA

Comments: Best reel cover ever and I've owned my fair share of them bass pro, gander mountain, etc and not only are these half the price of those but there 10x better IMO. I am swapping out all my other brand reel covers and making the switch to the TW ones exclusively. You won't be let down by these I promise that.

From: CJ: PA

Comments: TW's Reel covers are awesome! They are super thick, durable and fit every reel nice and snug! Definitely worth their weight 10 times over! They protect my valuable reels from being scratched, getting dust or dirt on them, and from being banged around during transport and in tourneys! A must have for any fisherman wanting to keep their reels protected from the abuse of everyday life and the elements!

From: Shark: Where Blue Angels Fly

Comments: I love these, they are great...however, I think I must be an idiot, OR in the alternative there is some design flaw in these. That being, if you put these on a rigged rod, they will "crimp" or crease the line right at the line winder. I actually take them and cut a slit up the front so they straddle the line. They work just the same, but they do not force my line to be unnecessarily abused. I take care of my rods and reels and I keep these on all of my reels in my rod locker. I am just hopeful that someday they fix this problem. OR is it just me ?

From: Pete: Cleveland, Ohio

Comments: These reel covers are great, very nice fit and quality. I got one when I ordered my Pflueger Patriarch and this one is actually a nicer cover than the one that came with it. I use this one on my good real and the factory Pflueger cover on my backup Caenen.

From: Brandon: Moosomin, Sask, Canada

Comments: Bought one of these for 2.99 with my new revo winch fits great and is very well made great deal

From: David: Chesterfield, VA

Comments: Great reel cover. Best Quality. Tacklewarehouse puts their name on quality stuff. Theese things are thick neoprene.

From: Joe: Montezuma, NY

Comments: Fits great on Curado 200E and similar size reels. Not so much on Curado 50 size reels - too big.

From: Pete: Twin Cities, MN

Comments: These are the best reel covers that I have ever used. I bought 4 just to try them out and man were they great.. I am going to order 12 more to cover up the rest of my reels. You should never worry if Tacklewarehouse puts their name on something, it will be the best that money can buy. You can't beat the price or the quality period.

From: William: Hohenwald, TN

Comments: These reel covers are the best reel covers on the market! I have one on every baitcaster I own. The designers did a heck of a job ensuring that they have a flex fit design that will comform to most all the different size baitcasters. Not only that, but the tackle warehouse logo looks really good on these covers!

From: Zak: Manhattan, KS

Comments: No reason to look any further, these covers are great! Thanks TW for an awesome product!

From: Garret: South Fulton, TN

Comments: I got this covers and they are very good in fit and shape,but,I just found out that they bleed out and stained my reels paint. They bleed right out of the fabric around the edge and where the velcro pushes down on the reel. I noticed this on one of my Chronarchs 100SF and thought it was problem with the paint itself,but looked at other ones and avery one that has a light color has a stain on the same spot where the velcro presses down,one of my Chronarchs 50MG had the worst part since it even got the clear coat eaten away by this thing. I guess the paint on the fabric has some chemical from the die that do not like the paint on my Shimano reeels.Hopefully is not the same with all reels,it might be just a problem with shimano's paint. I am keeping them on my curados and Chronarchs B since they have a dark color, for now they seem to be ok!

Comments: i have also tried the bass pro covers and gander mtn covers these from tackle wharehouse are second to none. they fit nice and are very easy to install, Thanks tackle wharehouse.

From: Mike: Duluth, MN

Comments: I agree with Larry and have to say that these are the top covers out there. I also have Shimano and BPS covers, but I'll only buy TW's from now on.

From: NorcalBasser
Comments: Nice little perk for buying a Shimano reel. Quality neoprene. Thanks TW for the promo offer.

From: M: Vancouver, Canada

Comments: Very nice reel covers!! I have 5 different brands and models of reel covers and these are the best. They fit my reels like a glove, well made, look great with the Tackle Warehouse logo and come in left hand reel version. Great product at a very low price.

From: Larry: Toano, VA

Comments: It is very OK

From: Maciej: Poland

Comments: LOVE THEM! Only thing I recommend is having them in various colors for those of us who over-organize they tackle and equipment.

From: Manuel: Wylie, TX

Comments: Best reel covers PERIOD Plus they make um for LH reels PERFECT Fit nothing cheap about um

From: Sonny: East Wareham, MA

Comments: These are great reel covers fit like a glove. Pick you up some you wont regret it.

From: Lance: Livingston, TX

Comments: Just got eight covers and they are worth every penney. Good quality and fit perfectly. Lightning fast delivery. Great service. I'm ordering eight more and if you get them for lefties and spinning i'm ready to order !

From: Doug: Longview, WA

Comments: I am so glad I found these. The ones from BPS are a joke compared to these. In fact, there are none better.

From: Roman: Dallas, TX
Comments: I was looking for something similar to what came with my steez reel but did'nt wana pay alot of money , picked up a couple of these on my "bait monkey binge" and I'll be picking up what I need to cover the rest of my reels shortly. very nice

From: Jason: Port Huron, MI
Comments: Without question the best reel cover out there. Fits my Aldeabrans, and Metainiums like they were made just for them. I don't even use the ones that came with the reels! THANKS TW!

From: Jobil: Oakland, TN
Comments: Finally, found the perfect reel covers for my Revo SKT, STX, SX and SC reels. Fits perfect and easy put on and off. I'm definitely going to buy more TW reel covers. Thanks TackleWarehouse....

From: gary: Centreville, MS
Comments: best designed and most protective cover, better than daiwa, shimano etc. Represent TW and protect your reels in style

From: Ryan: Chicagoland, IL
Comments: These are excellent reel covers. IMO, the best on the market. Solid seams, tight fit, superior closure strap and it even comes in left hand. These are better than the Daiwa covers. I have Zillions, Fuegos, Sols and Alphas, and it fits each frame perfectly.

From: Dave: Akron, OH
Comments: Great cover way better than the daiwa covers. Fits my td-z's, zillion's and even alphas like a glove.
Well made nice seams.....

From: Dustin: Shreveport, LA
Comments: Great Reel Cover! Fits perfectly and easily. I am definitely buying more of these. They even have 3 pin holes in the top to help circulate air to help dry your reels. GREAT Product! Thanks Tackle Warehouse for offering a left hand reel cover.

From: Ace: New York, USA
Comments: Thank you for a great reel cover. It fits all my Shimano reels like a glove, and is the best built that I have seen.

From: David: Arkansas, USA
Comments:Great covers...Better than Shimano's and half the price. TW ROCKS!!!
From:Kenneth: Aalborg, Denmark