Talon Custom Lures Lake Fork Flutter Spoons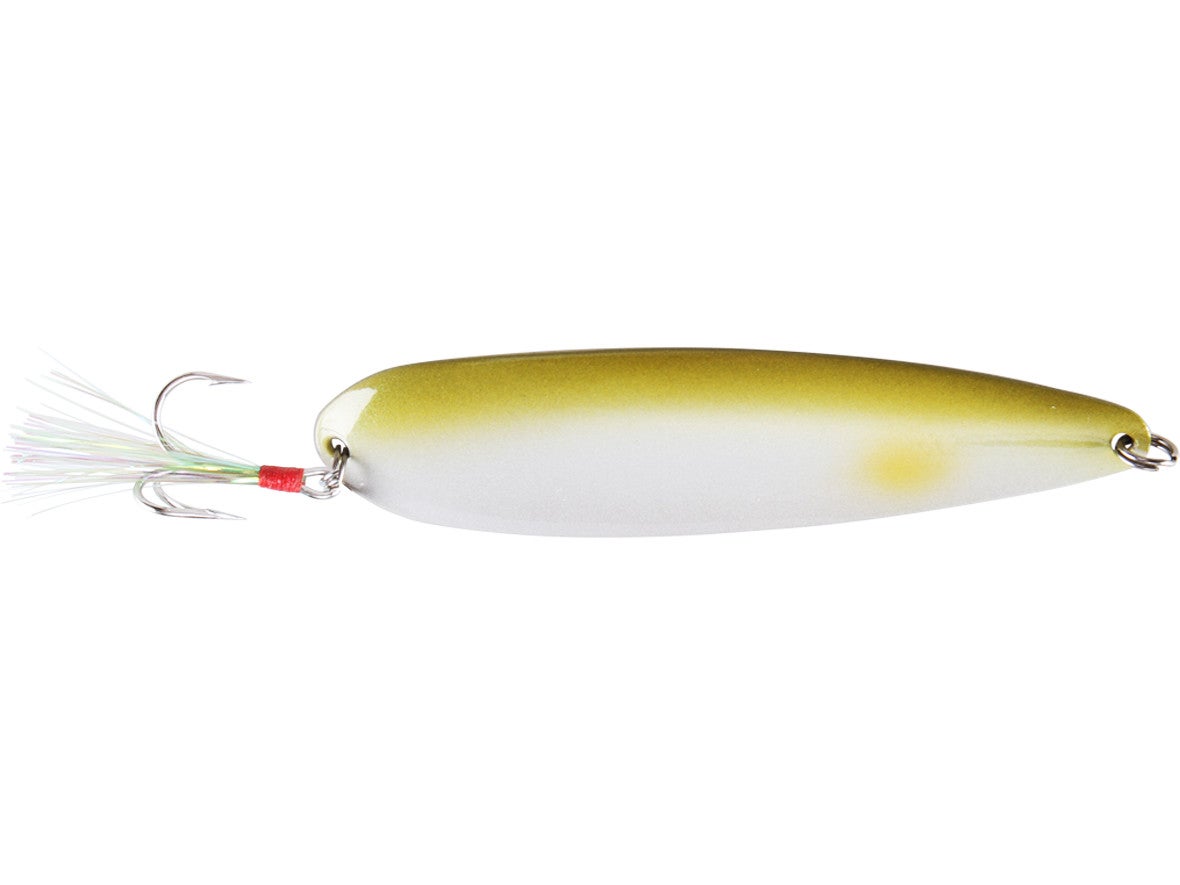 Featuring excellent quality, workmanship and design, the Talon Custom Lures "Big Dandy" Lake Fork Flutter Spoon was designed closely with Elite Pro Ben Matsubu. Proven extremely deadly on Lake Fork, its been a closely kept secret among savvy bass anglers on waters across the country. It can produce unbelievable limits just about any time of year, and it's especially effective when ripped over submerged grassbeds, rockpiles, points, ditches and channel ledges. All of the Talon Custom Lures "Big Dandy" Lake Fork Flutter Spoons feature heavy USA stock and a premium nickel chrome finish, and the XXX-strong VMC Nickel finished Teble Hooks are hand tied with genuine Flashabou and colorfast threads for extreme flash and durability.
Please note that the 3.5" Spoon is thicker than the 4.75"
| | |
| --- | --- |
| Length | Weight |
| 4.75" | 1.25oz |
| 3.5" | 1.5oz |
12 Colors
More From Talon Custom Lures Spoons
Customer Reviews
Comments: can some guy make dying spoon rig like A rig but two spoons falling together at once and fall weight head that falls at good rate with the spoons. That would be good for doubles, I seen this spoon its good and colorful, I like them.

From: Alex: KS

Comments: I've used a lot of different spoons and these by far have the best erratic action out of all the big bass spoons. Bass, hybrid, even eyes will eat these things. Ayu, Barfish, Gold Holo Gold.

From: Miles: OK

Comments: The hook is not the best but the spoon it's self looks awesome. Just don't be a dummy in a rush like me I wanted the 3.5" so I got the one that was less weight but that it actually the bigger 4.75" spoon so now I have a pretty big spoon that I will probably not use much.

From: John: MO

Comments: These spoons are awesome! I have never fished a spoon in my life, but after reading some articles in bass fishing magazines I decided to purchase one. I cast it out and let it sink. Then I will slowly reel it, maybe let it sink again and reel or pop it. Most hits came just reeling slow, and they hammered it, every fish was a monster. A crankbait would've worked and so would a jig, but these big ol spoons just catch big ol bass. It has become my new favorite big fish lure.

From: Robert: Davenport, IA