Talon Custom Lures Shibui Yana Swim Jig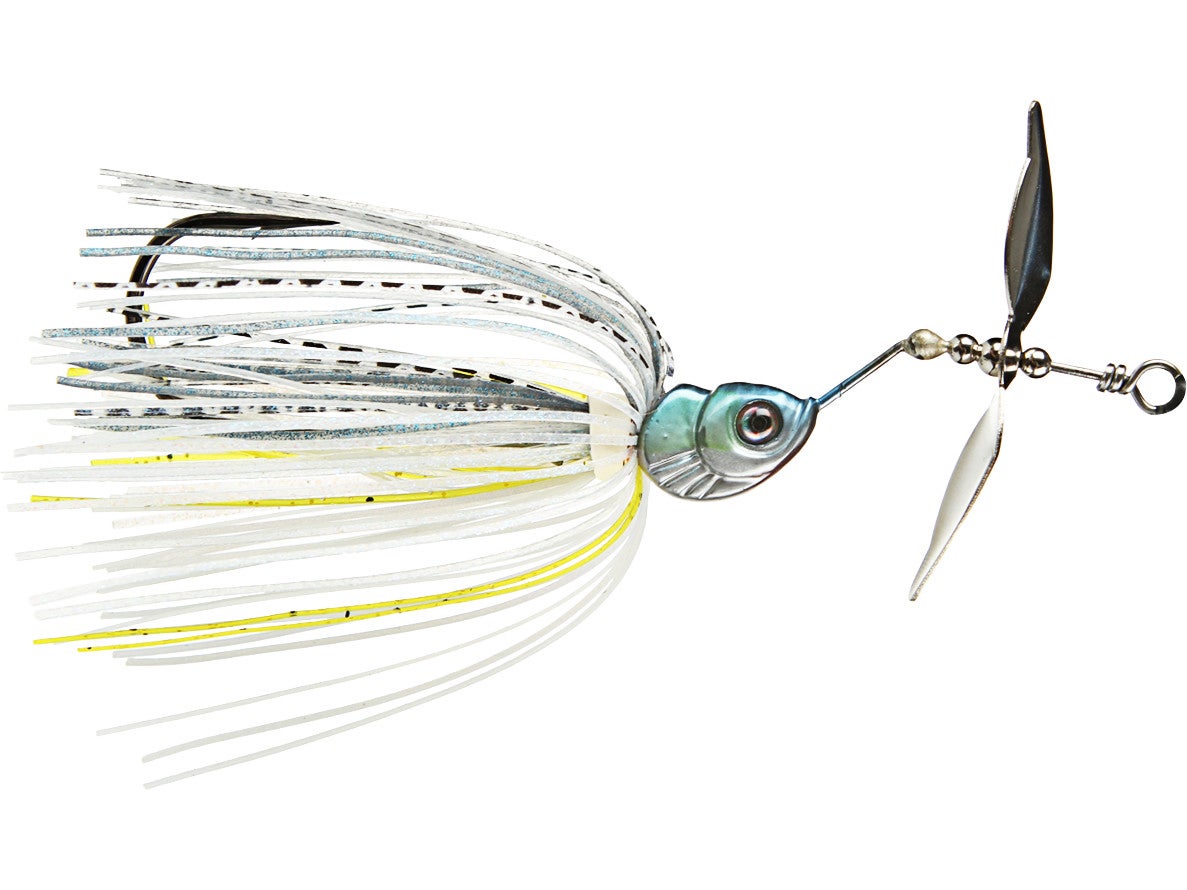 A popular application in Japan that is just now making its way to the US, the Talon Custom Lures Shibui Yana Swim Jig features a specially designed offset prop extending from its uniquely weighted head. Its spinning propeller creates tantalizing flash and vibration, as well as a unique clicking as it moves through the water, and its Shibui Yana head is precisely shaped and balanced to create an exaggerated shimmying motion without rolling - even at high speeds. Talon's exclusive V-Claw trailer keeper also ensures all your trailers stay secure - from large, bulky swimbaits to needle tail worms. Pair it with your favorite Swim Jig Trailer for an action few bass have seen outside of Japan.
Slow roll it and bump it along bottom cover, count it down and retrieve it through suspended bass, drop it vertically through tree tops, or even burn it near the surface similar to a buzzbait. Bass have never seen anything like the Shibui Yana Swim Jig. Also equipped with a stout Mustad 6/0 Ultra Point Black Nickel Hook, each Talon Custom Lures Shibui Yana Swim Jig also features a beautiful, lifelike head complete with 3D eyes and a hand tied, wire wrapped skirt.
9 Colors
More From Talon Custom Lures Jigs
Customer Reviews
Comments: Really good lure to throw around the springtime bite.....outfishes a chatterbait 5 to 1 in clear or slightly stained water conditions . Also made with high quality components which is a necessity when working with a swim jig
From: J: GA
Comments: While using this product, i found that my braided line tangled and twisted around the blade. Since im still new to using this product, but any info towards how to use and hopefully fix this problem that i have, would be extremely appreciated =0)

From: Robert: South Okanagan, British Columbia, Canada

Comments: These look great right out of the box but for whatever reason I cant get the prop to turn consistently. I have tried tuning the prop blades but to no avail. I throw these on a 6:2 Curado. Is that fast enough or is there something I am missing?

From: Oscar: Mesquite, TX

Comments: Not sure about this product. I have had much more success with standard swim jigs. Can anyone suggest the best way to fish this jig and what trailer might work best? Thanks and good fishing.

From: Gary: Pittsburgh, PA

Comments: GREAT lure

From: T: Centre, AL

Comments: This is a one - of -a - kind bait that will take swimming a jig to the next level. I fish the famed swim jig waters of the upper Mississippi River. While testing prototypes of this bait, the fish acted like they had never seen a lure before. That's because while they see thousands of standard swim jigs, they have never seen or felt this lure before. Awesome, awesome product from Talon Custom Lures.

From: Matt: Aurora, IL

Comments: i make my own little 1-2" wire spinners and add them to swim jigs with splitrings from time to time for added action and sound.the only way mine really works for me is if i swim it at a steady retrive over grass beds or along weedline stretches.if i get it close to the surface it makes a nice wake bait but only downside is u have to kinda swim it fast to get a nice wake going.but these might work better then what i made.

From: Sam: Chicago

Comments: I found this link very helpful http://www.wfn.tv/gear/article.php?blog=412137

From: Grant: Kentucky, USA