Talon Custom Lures Worm Blades 6pk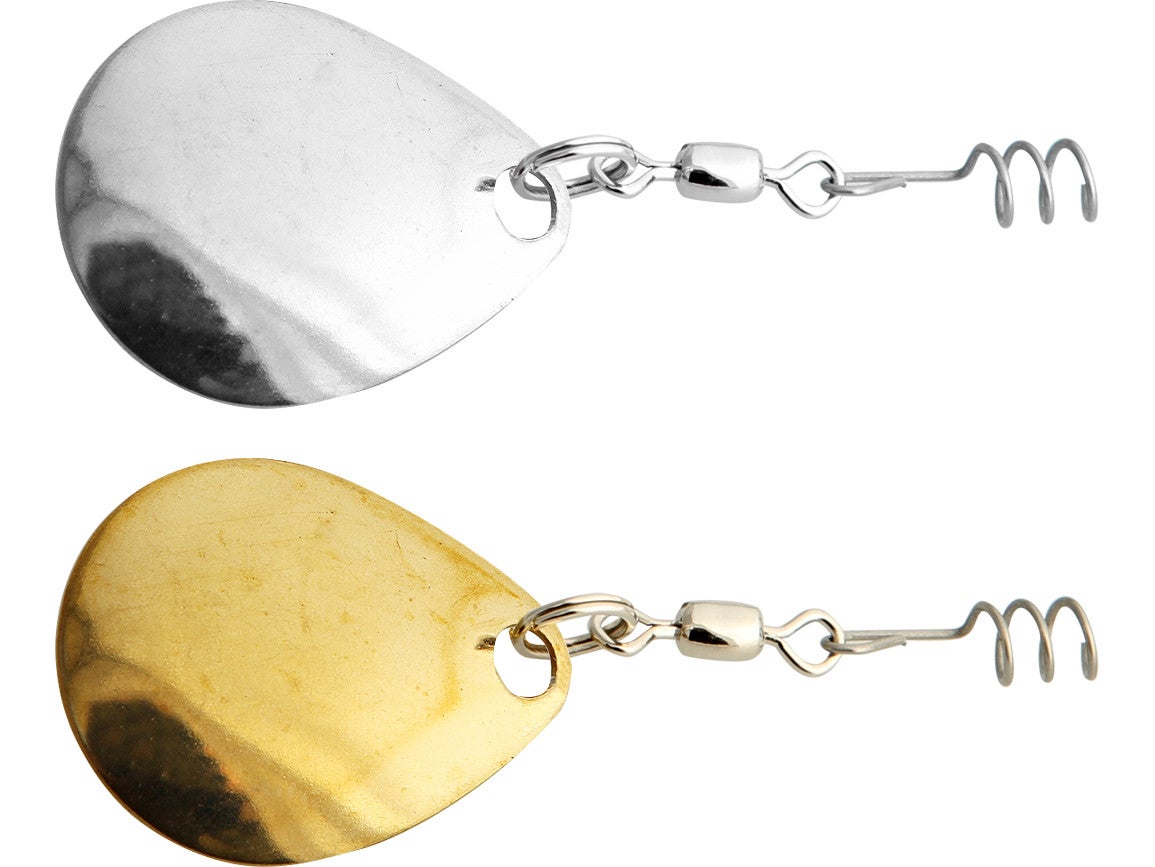 Elite Series pro Keith Poche brought the Worm Blade to the bass fishing world's attention with his 3rd place finish at the 2012 Red River Bassmaster Classic. Featuring a simple design with an innovative application, the Talon Custom Lures Worm Blades allow you to quickly and easily enhance your soft plastic presentations. When rigging, simply screw the Talon Custom Lures Worm Blade into any part of your soft plastic, and you are ready to rock. During the Classic, Poche rigged his Worm Blade in the posterior or tail section of his stick bait. Available in three different blade styles - Colorado, Indiana & Willow - the Talon Custom Lures Worm Blades will take your soft plastic bait presentation to whole new level.
Colorado Blade Size: #2
Indiana Blade Size: #2
Willow Blade Size: #3
3 Colors
More From Talon Custom Lures Terminal Tackle
Customer Reviews
Comments: I love these things! I always try regular Texas rigging first when fishing into cover. If I don't get the fish I'll screw one of these things on and fish it on the side or over the cover and more often than not, I can entice the hiding fish to come out for dinner. Some have complained about size but you don't want a huge blade. The idea behind this rig is to add just a little bit of flash and more water displacement. They do exactly that, you get some flash and you'll move a lot more water and the fish will feel it along their lateral line. My favorite two ways to fish this are slow rolling it while bouncing it up & down or just hopping it like a Texas rig but a little faster.
From: Jessie: Moore, OK 12/18/15

Comments: I've only used these on Senkos. The point end. Lop off 1/4" near the end, screw in the blade, and get to chunkin. Sometimes you will lose one on the hookset, or a fish will rip it off...no worries, buy more. This rig puts in major work. I fish it around grass on a hover retrieve. Play on, Playa.
From: Jay6: USA 6/4/14

Comments: I bought the Indiana blades and notice that they do not spin on the decent, they fold over themselves and create no action. They do however spin when pulled or swam through the water. I guess its not what I expected.
From: BList: Huntington Beach, CA 4/7/14
Comments: Used these blades exclusively this year anytime I fished a stick bait. They provide enough weight that they cause the stick bait to fall backwards fishing it Texas rigged, with no weight, and the flash of the blade drives the bass crazy. Caught a lot of nice size largemouth on this rig. Used all three blade designs and both colors, Indiana is my favorite, but they all work.

From: Dan: Shullsburg, Wi. USA

Comments: these blades flat out work. They also hold up very well atleast for me:) great product will be buying more soon

From: Jeremy: CA

Comments: I bought a pack of silver Indiana blades and was pumped to test them out but to my surprise I only received 4 blades instead of 6 and the blades were not very big. The components don't look very high quality either for the price. I think I'm just going to make my own.

From: John: CA

Comments: ONLY 1 SIZE WILLOWS. SEEM TOO SMALL.TESTING THEM MONDAY FOR QUALITY & SPIN ETC.

From: Mel: MD

Comments: I first watch Timmy Horton use the MJ rig on TH Outdoors, and have looked for these pre-rigged spinners every since. I know they will work. My order will drop soon!

From: Mark: Crossville, Tennessee - USA

Comments: Fished them for the first time in a tournament on an unfamiliar body of water. Weighed in over 16 lbs. My non boater, an excellent fisherman, was getting one hit to my four until he tried them. Right away he was catching them as well. We are both believers and put a dozen packs on order right after returning home.

From: Mel: Davie, FL

Comments: These worm blades work great. Gives just enough flash and noise to entice strikes.

From: Malcolm: Kennesaw, GA

Comments: I haven't fished these blades from talon yet,but I just fished a tournament this passed weekend 7/21/12 which I finished 4th with a home made version of this. I pulled a gold willow blade from an underspin bait and a screw lock from a horny toad hook and put it on the back of a black and blue strike king shimmey stick. I caught 12 bass. At the dock the winner said he only got 4 bites all day. Today I'm shopping for the parts and came across these and will buy them !

From: Debeaux: Waccamaw River, SC