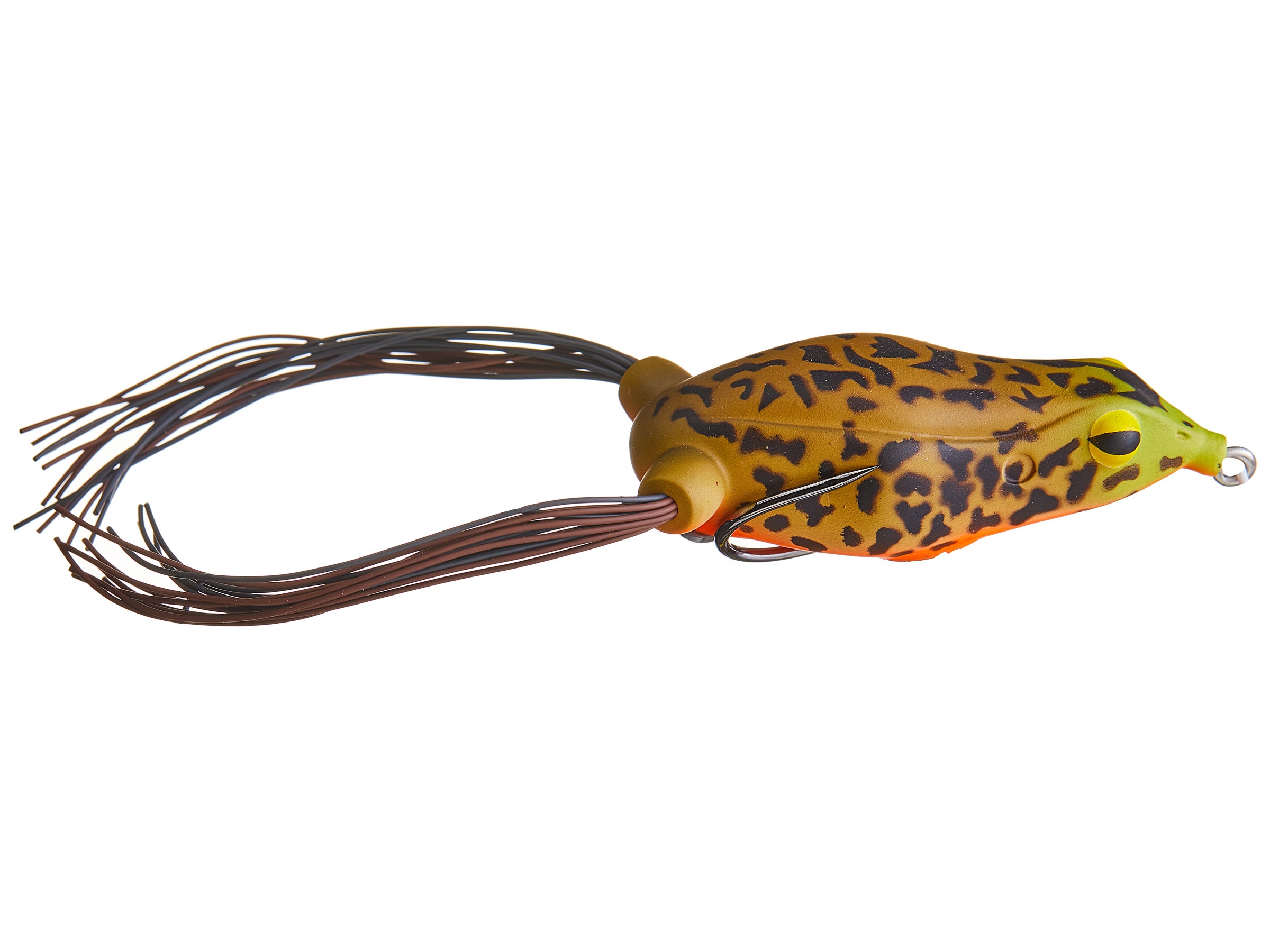 From the coast of California to the Swamps of Florida, the Teckel USA Whacker Frog has been proven to put Donkeys in the boat. Designed by Japanese lure maker and tournament angler, Hideki Maeda, the Teckel USA Whacker Frog features a classic design and distinct action that all but disappeared and created a cult following with any anglers over the years.
The long, slender body of the Teckel USA Whacker Frog allows it to move effortlessly over vegetation, and is also responsible for its killer movement. With each twitch, the Teckel USA Whacker Frog almost executes a complete 180-degree turn, which is accentuated by its two flowing ponytails. It also features a built-in weight that makes casting a breeze, and ensures that it won't land upside-down. Built with a sticky-sharp Gamakatsu double frog hook and offering excellent collapsibility, the Teckell USA Whacker Frog delivers rock solid hook sets. Available in a number of realistic color combinations, the Teckel USA Whacker Frog is the perfect tool for "whacking 'em" dead.
| | | |
| --- | --- | --- |
| Teckel USA | Length | Weight |
| Whacker Frog | 2-3/4" | 1/2oz |
1 Colors
More From Teckel Frogs
Customer Reviews
Comments: Simply put-this is a reaction innovations swamp donkey.it is identical in every way, even the packaging is identical. The Teckel buzzbait is a 3/8oz clone of the squeaky dolphin from reaction innovations with a blade like a whopper plopped. I might also add that the Teckel drunker is a nicer wiggle wart. i don't usually buy knock offs or copies, but Teckel has copied and somewhat improved a few of my favorite baits.
From: Matt: Sunbury, OH 1/23/17
Comments: Absolutely perfect. Great hooks. Walks so easily, awesome colors, and it doesn't sink! Perfect!
From: Zeth: Oakland, CA 94602

Comments: Attended the Bassmaster Elite Delta weigh in May 2nd and witnessed several Elite anglers frog rods on deck. Interesting to see several Elite's with Teckel Whacker Frog tied on. Super happy to see the Teckel Frog back on market! This is an exceptional, top-notch frog for many reasons. Quality control is solid, line tie is always vertical right out of package (unlike other frogs), very weedless but yet collapses well when bass inhales it, easily walks and Gamakatsu hook points up and slightly outward for increased hook-ups. Clear Lake & Delta bass engulf this frog as it's usually deeply buried in their mouths. Buy some from TW and try for yourself - You'll see!
From: Eric: Napa, CA 6/5/15

Comments: EXCELLENT frog. Easy to walk, great action, comes through thick cover very well. Good castability and so far very durable. Great hookup ratio too. One of the best frogs I have used.

From: Mark: Lake Fork, Texas