Terminator Pro Series Jigs - $3.19
Made for the pro's, the Terminator Pro Jigs feature a unique head, designed specifically for penetrating cover, as well as an ideal nylon weedguard to protect against snags, while not inhibiting hooksets. A stainless steel wire keeper holds all your soft plastic trailers firmly in place so they don't slip down the hook shank, and a premium banded silicone skirt and rattles provide additional fish attraction. Available in a range of colors, the Terminator Pro Jigs also come equipped with super strong VMC hooks to make every bite count.
Comments: I like these little jigs! They have a great head deisgn, and also have a small enough profile with with a zoom super chunk jr that the smallies inhale them! Hooks are strong! Skirts are great and so are the colors! Get some of these jigs!
From: Chris: NE, WI 5/26/14

Comments: Amazing jig. Heres the trick though... Put a Net Bait Paca Chunk 3inch, 10lb mono on and SWIM JIG this on the surface. The bass cant stand the flapping arms, so much action! Be prepared, fish do nip at this presentation. They strike it hard.
From: Nick: Indianapolis, IN 5/8/14

Comments: Not a great jig. The hooks rust and become dull quick and the jigs don't stand up straight on the bottom. These jigs just fall on their side which makes them easier to snag and kills the presentation. Plus the wire bait keeper always tears up my trailers. Not a big fan
From: J Bird: RI 2/25/14
Comments: This jig is unbeatable for the price. I got one in green pumpkin and junbug. The hooks are very sticky but may not hold up. Can't wait to use them!

From: Nicole: Ramona,CA

Comments: good jigs, I snapped one hook and bent two others. jig is good, hooks are not.

Comments: Great jig hook rusted but I just wiped it off caught a 3 pounder on it

From: Birmingham alabama
Comments: I used to like terminator jigs until I bent out a their hook. Im a little disappointed

From: Peter: MN

Comments: Very good jig for the money. I have a PBJ color that works great for bass under docks,in weeds, rocks and almost everywhere. Its my favorite jig.

From: Josh: MN

Comments: Great jig. Weed guard comes down to personal preference. It may be a bit soft to some. But I really like it. Paint quality is there and it can take a beating on hard surfaces. Out of the box I had to make a minor modification to the jig. Using a pair of pliers I had to pinch down the trailer guard just a hair because out of the box it can rip and tear your plastic.

From: Cvang2345: Minneapolis, MN

Comments: Good Jig. Good colors. Spent a day flipping reeds with it and did hang up alot. But with 65 braid I just ripped it free. Hook held up well and did not budge. give it a 4. Needs a better weed guard.

Comments: One of my all time favorite jigs, bar none. Great flipping jig for brush, perfect weedguard (wish it was a tad longer, I like to trim mine) and a strong hook. Just got a couple in the 1 ounce size for punching grass mats, can't wait to try them. Awesome bait keeper as well, even really soft baits like Flappin' Hawgs don't pull off easily. The rattle is removable, and I like to take them off in clear water. The skirt is lengthy, I normally give it a trim before fishing. I wish they made a Tungsten model, it would be the only jig I would ever buy. Awesome price point too, you can stack a box full of these without destroying your wallet. Great colors combo's as well. I'm a big jig fisherman, and these quickly became my favorite after 8+ years of searching. Pair it with a 4" Chigger Craw, and you're in business.

From: Zach: Ramsey, NJ

Comments: The VMC hook black coating not as solid as the Mustad Ultra Point but VMC feels stronger from my finger pressure test. Keep dry, it'll be fine. Skirt glitter is all over my fingers, minor hiccup. Opposed to reviewer before me, I think weedguard is normal length. Excellent head taper that has that tungsten weight look and appears very, very chip resistant. Overall grade: A-

From: CXX: St. Paul, MN

Comments: Great head design, and paint doesn't chip. Used only one jig for an entire weekend on the 'sippi and pitched to back water laydowns all day both days and it held up great. Only gripe i have with it is the brush gaurd is a bit short, i like mine a bit thin and i didn't trim it at all since its somewhat short. The wire trailer keeper takes a bit of getting used to threading plastics on. It will tear right through baits unless you put them on just right, but it holds trailers on better than most jigs. Only pitchin' jig that can come close to these are the Northland Jungle Jigs.

From: Alex: WI

***Note: If you have questions about this product or need assistance with an order please email your questions to info@tacklewarehouse.com
View Large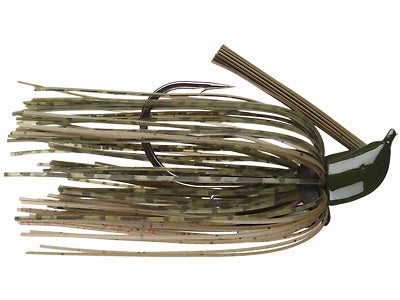 12 Available Colors
More Terminator Jigs