Terminator Super Stainless Double Willow Spinnerbait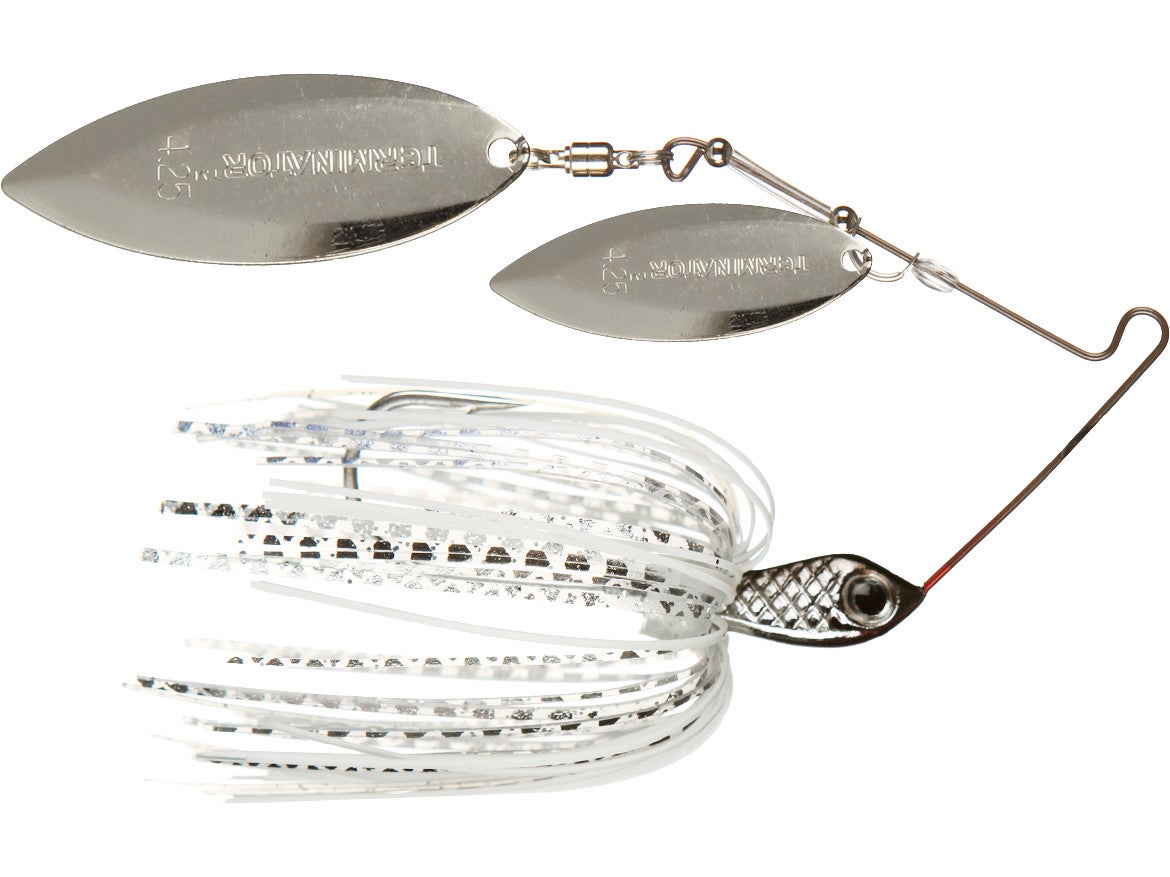 A great choice for clear water fishing, the Terminator Super Stainless Double Willow Spinnerbaits offer a more realistic baitfish look and even more flash in the water than standard spinnerbaits thanks to their exclusive beveled edge blades. They also provide 47% more vibration than other spinnerbaits, and 30% better bend resistance than traditional stainless steel frames thanks to their high quality materials and construction.
Their durable, lifelike heads are designed to rip through vegetation and roll through wood without getting snagged, and QuickSkirt changeable premium silicone skirts complete the winning presentation. Available in a range of colors and sizes, the Terminator Super Stainless Colorado Willow Spinnerbaits offer premium performance and functioning.
9 Colors
More From Terminator Spinnerbaits
Customer Reviews
Comments: Not a fan of the quick skirts on these spinnerbaits. They're cut from a solid piece of silicone and tear very easily. If you're looking to pick up some of these I would change out the skirts, or get the power pulse skirted colors instead.
From: AL: Chicago, IL 1/17/16

Comments: Good spinnerbait for the price, but I don't recommend the 'quick skirts' some these come with. They tear very easily & feel very cheap. If you're looking to get this spinnerbait I'd recommend replacing the skirt, or opting for the silicone skirted colors instead. (bluegill/hot shad/pumpkinseed/silver shiner colors)
From: AL: Chicago, IL 1/16/16

Comments: Had the rear blade come off of two different ones while fishing a fish. First one I thought was just bad luck. The next day it happened again. I won't be buying any more Terminators. These are cheaply made. price should be $1.
From: Matt: Saratoga Springs, NY 8/7/14

Comments: i never have had a dissapointment with terminator spinnerbaits.the vibration these spinners give out is awesome.always a strong hook set and skirts rarely ever get ripped up..this is the only brand of spinners i will ever buy.waiting for tw to restock on some so i can order more..

From: Bassin Mike: Fremont , CA USA

Comments: Reporting from the last week of December 2012. The water was cooling down quickly, but the bass were still biting. The water was also slightly murky from rains so I used the Chartreuse White Shad and tipped it with a Chartreuse Yamamoto double tail grub (color not available on TW). This bait just called the bass over. In a span of 2 separate fishing days, I caught two identical size (7.6 lb) bass from different areas of the lake and caught a few smaller fish in the 2-4 lb range as well. All fish had fat bellies and may have been gorging on bait in preparation for the cooler months ahead. Even after catching 7 bass, including the two large ones, the bait still swam true. The cons: The hook needs sharpening.

From: Rudy: Fresno Area

Comments: these things are incredible! the vibration is amazing. the rod feels like its gunna shake out of your hand! to bad i lost my last one on a stump... getting more soon.

From: Reid: NC

Comments: BUY THIS!!!!!!! went fishing and fish werent biting at all!!! i tied on a chart. and white dbl willow booyah. my dad had a chart.and white terminator double willow, both in 3/8 oz. he caught 9 fish, 6 bass, 3 crappie all bass over a pound. all crappie at least one pound. i caught 3 bass maybe a pound. so... do the math

From: Connor: AR

Comments: got mine today and the hook was round not sharpend at all you couldnt catch anything on it i must have got a bad one because i have other terminators and there great but the one i got in this model isnt even fishable

Comments: Out performs all others of a similar price. Reasonable priced, thin blade, tough skirt, beautiful painted heads. All around top notch. Love these spinnerbaits

From: TJM: Minisoda, MN

Comments: The best blade out there, IMO. Super thin but strong blade, great hook and da skirts wont rot off and turn into confetti when you cast one. Terminator is out of the spot light since they threw Skeet in the trash can but it doesnt mean they stopped making good ish!

From: Meatwad: Terminating. come with me if you want to live