Terminator T1 Buzzbait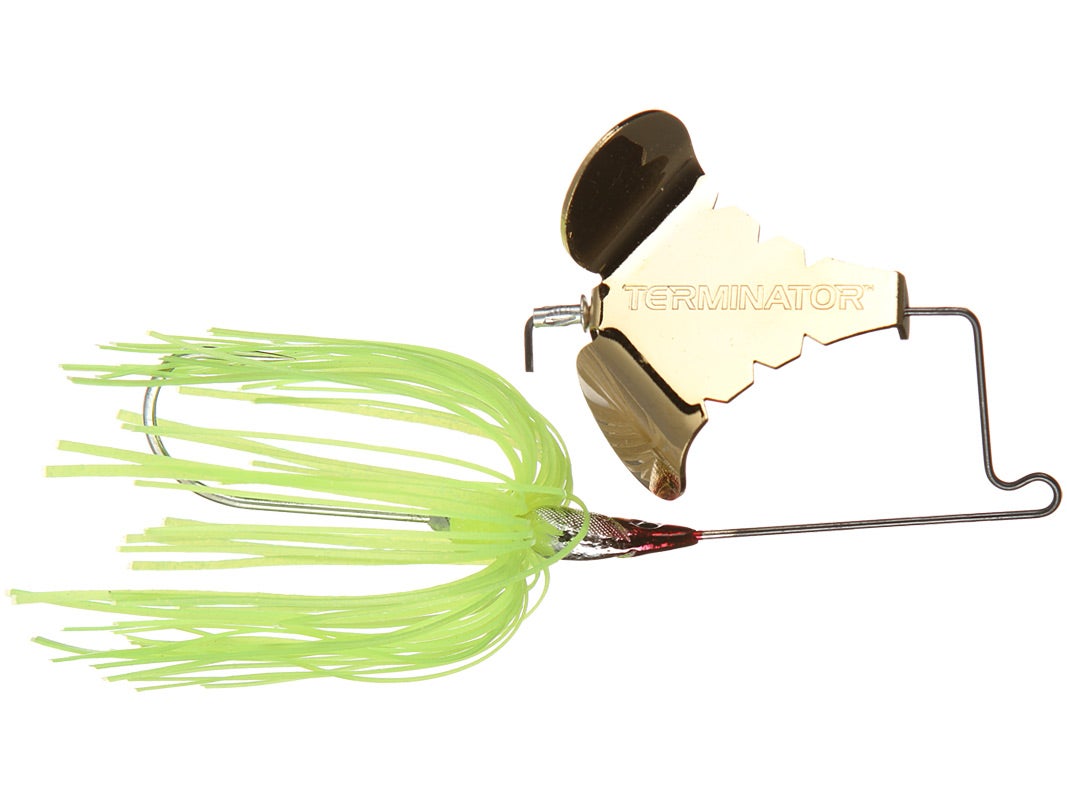 Perfect right out of the package - Terminator incorporated some well thought out design features into the Terminator T1 Buzzbait. An upturned nose on the head of the bait helps it get on plane quickly and run over sticks and grass more easily, and the heads are beautifully finished with a single bright eye on the bottom where fish can actually see it. The blades also features a bend that is greater than ninety degrees for more splash and noise, and they are fastened with a "tuned rivet" for more squeak. The titanium wire frame also snaps back to its original shape even after a big fish tears it up. Also outfitted with highly reflective SiliChrome skirts in a range of colors, the Terminator T1 Buzzbait is an impressive buzzbait you won't want to put down.
3 Colors
More From Terminator Buzzbaits
Customer Reviews
Comments: A good buzzbait and one of the most durable on the market. They catch fish for sure. Not as good as a cavitron though in terms of noise, the ability to retrieve them slowly, and overall productivity. Four out of five stars.
From: Tyler: Grand Juction, CO 9/23/14

Comments: These buzzbaits suck! which is very surprising considering I will ONLY fish with a terminator spinnerbait so when I saw these buzzbaits I figured I couldn't go wrong with a name like terminator and purchased about 5 of these with the titanium wire and they suck! the prop/blade bangs off the head and makes it not run correctly. If your looking for a real buzzbait and not some titanium junk checkout D&M custom baits there hot rod/slow roller buzzbaits are the best on the market however there pricey. If I didn't want to spend the money on the D&M the cavitrons are pretty good too! tight lines

From: PA: PA

Comments: I love the Terminator T1 buzzbaits. My favorite is the 1/4 oz. chartreuse/white. I caught a 7+ pound bass on this model. I use all of the available colors depending on the condition. The skirts are great. Other skirts have the rubber band that always breaks after a while. The black/blue is great for night and low light. I usually have one of these tied on from March - October in Texas, especially early and late in the day. I rarely use any other brand of buzzbait.

From: Paul: Irving, TX

Comments: Rate it 4*s out of 5. Have the wht/chart 1/4 oz. Skirt blooms well and hook is very sharpe. Frame is excellent with snapback titanium, impossible to bend out of shape. Found it a little slow to surface and did not produce many bubbles or noise as my Strike King Tri-wing which has a sturdy but bendable frame. Hook on the S.K. has a good point, but broadens out too much making for less secure hooksets. Terminator worth the extra money especially if you like to work a buzzer fast with more subtle sound.

From: Ed: Champaign, IL