Terminator T1 Colorado Willow Spinnerbait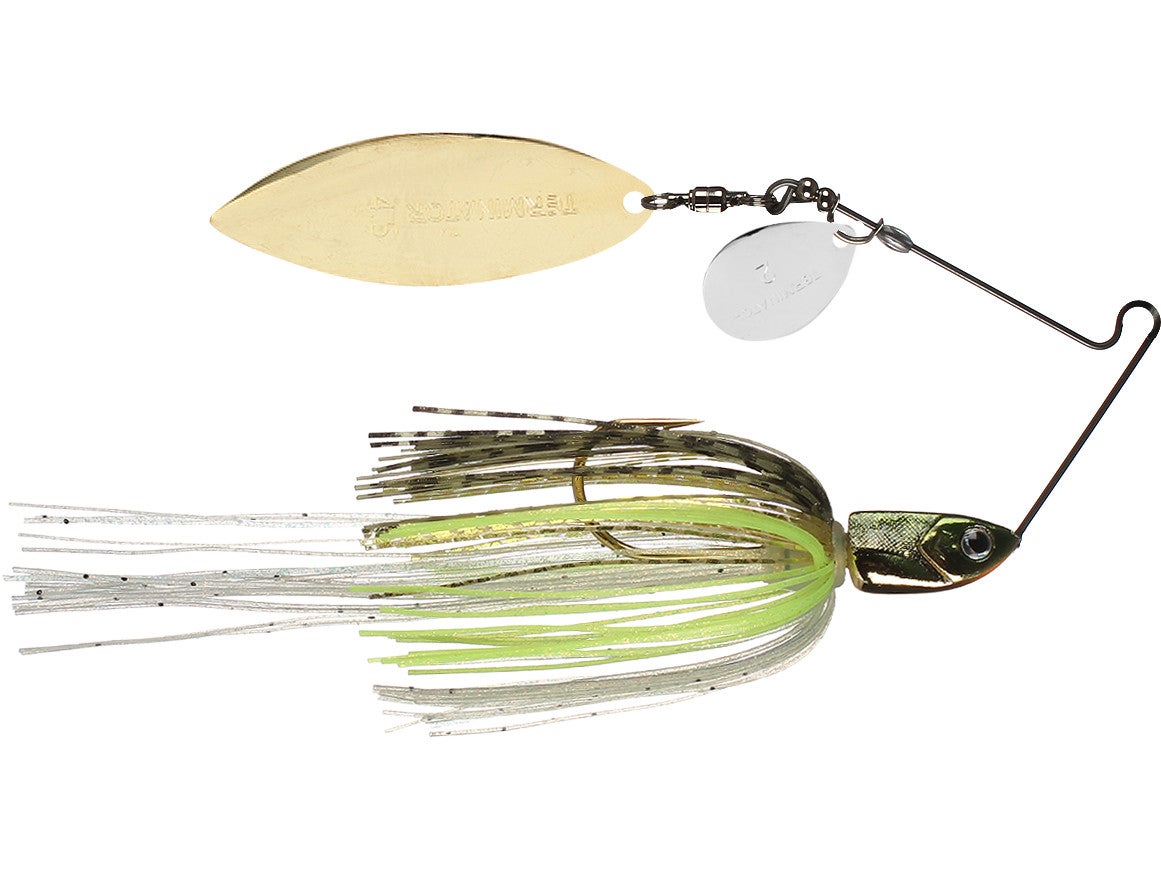 The Terminator T-1 Colorado Willow Spinnerbaits started a revolution in spinnerbait technology with their SnapBack Titanium wire frames. They last longer, never need re-tuning, and run straight right out of the package. It doesn't matter how many monster bass crush your lure, the titanium wire will SnapBack and keep its original shape. The natural baitfish heads also feature incredible detail, including 3D eyes. Beveled edge blades create more flash and vibration as well as a fish tail look, and the QuickSkirt System allows you to change skirt colors quickly without having to re-tie. Available in a wide range of colors, the Terminator T-1 Colorado Willow Spinnerbaits offer superior toughness, super sharp hooks, and an ideal blend of flash and vibration.
13 Colors
More From Terminator Spinnerbaits
Customer Reviews
Comments: The most durable spinnerbait there is. I fished Champlain last October and caught a ton of smallmouth, largemouth and big pike--it never lost its shape and ran perfectly after all was said and done. Yes, it I expensive for a spinnerbait, but it is worth it.
From: David: New Hampshire 2/16/17
Comments: The old T-1s were great. The newer ones are not what they used to be. The wire is much shorter making the gap between the hook and back blade small. The blades have less flash than the older T-1 blades. The paint on the head is less durable. The paint and the blades don't bother me as much as how close the blades are to the hook. Also, it's disappointing they don't make the okie model T-1s anymore.
From: JD Mudbug: MA 7/16/15

Comments: Though this lure is on the expensive side for a spinnerbait, it is worth it. The components are quality and I have had mine for 3 years, the skirt is just like new, and there is minimum wear on the entire bait, do NOT let the price turn you away this lure is worth the price
From: Mitch: MN 6/8/15

Comments: These spinnerbaits are by far the best I've ever used. They are expensive but worth everydime! These things have taken a pounding by bass, blackfish, gar and chain pickeral! They keep going and going and going! I hope EVERYONE buy these things so Terminator/Rapala will keep making them! They are indestructible! Pair them with a 1/0 trailer hook and they are golden. Trust me! These things are a hell of an investment because they last and last and last. As someone mentioned... get a good hook sharpener because you'll need to sharpen the hooks before you replace these. I'm not sponsored by terminator... but I'd love to be only because I believe in there product. I use to use the regular old Stainless Steel terminator spinnerbaits. But now that I've used these guys I'll never use anything else. Again, they are worth their weight in gold! Tight lines!
From: Jeffrey: Williamston, NC 9/29/14

Comments: Used the Gold Shiner here in Central FL, absolutely the correct bait during these warming periods. I had never had success on a spinner bait like I've had with this one! AMAZING. Super sharp hook, great flash, wonderful pulse. Using 12lb stren original, quantum smoke 100, and gloomis 783 IMX.
From: Kris: Minneola, FL
Comments: AMAZING!Caught a bag of giant bass with a 5 inch HAVOC Grass Pig in the pearl fleck with a silver shinerspinnerbait! Great baits over all but remember to buy trailer hooks and your all set.

From: James: ontario,Canada

Comments: Best spinnerbait ever emarald shiner kills them. Regular three pounders in smalll local ponds not that bad for ILL

From: Kyle: IL

Comments: Spinnerbaits are about quility, durability when fishing heavy cover and this are the best, worth every cent you pay!!!

From: Hans: Mexico

Comments: Killer bait caught a 8lbs bass on it buy it!!

From: Bob
Comments: This spinnerbait is the best out there. I was out in the PreSpawn and caught 10 in a row on a rocky flat. I was tearin smallies and largiea with the yellow perch color! Must buy!

From: CO
Comments: Bought a few of these on sale at the BPS classic last year. Headed to Kentucky Lake for some prespawn action. Slow rolling was super easy. Blades spun at super slow retrieve and ran true. Then to top it off, wrestled in some monster white drum, certain it would be mangled. Popped the hook out and threw her back in the water... didnt even phase this thing. Worth the extra money. I used to swear I would never spend this much for a spinner bait... After throwing them, I am convinced this price is a steal and would pay upwards of $10 for these... Worth every penny.

From: Michael: Cuero, TX

Comments: This bait catches 10lb bass, its good bait. A man caught 8 lber off this kind of bait. Keep this bait in box folks. Good fishing!

From: Alex: Kansas

Comments: When I took up serious bass fishing in 2003, I had to re-stock my spinnerbait collection. I bought 5 or 6 of these baits in 3/8 and 1/2 oz sizes in mostly white colors. These baits always run true and I catch spots, largemouth and smallmouth on these lures in all conditions. Occasionally, I sharpen the main hooks if I'm not using a trailer. These baits hold up to wear and they are worth the price.

From: John: Lexington, KY

Comments: Great baits! Buy a couple of these and a good hook sharpener. You'll need the sharpener cause you cant wear this bait out!. Can't break or even bend the wire without it snapping back every time. I have several that have the finsh wore off the heads from all the fish it has caught......And I STILL use them. Well worth the money!

From: Craig: IL