Terminator T1 Double Willow Spinnerbait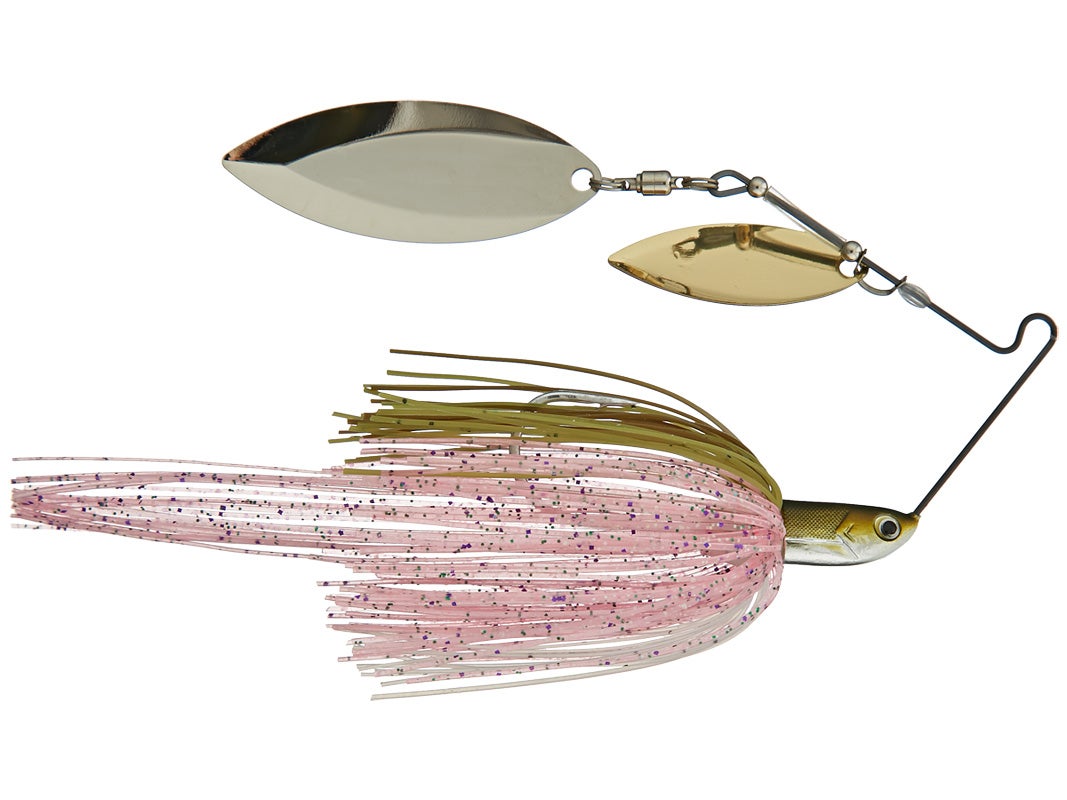 The Terminator T-1 Double Willow Spinnerbaits started a revolution in spinnerbait technology with their SnapBack Titanium wire frames. They last longer, never need re-tuning, and run straight right out of the package. It doesn't matter how many monster bass crush your lure, the titanium wire will SnapBack and keep its original shape. The natural baitfish heads also feature incredible detail, including 3D eyes. Beveled edge blades create more flash and vibration as well as a fish tail look, and the QuickSkirt System allows you to change skirt colors quickly without having to re-tie. Available in a wide range of colors, the Terminator T-1 Double Willow Spinnerbaits offer superior toughness, super sharp hooks, and a tremendous amount of flash.
12 Colors
More From Terminator Spinnerbaits
Customer Reviews
Comments: I honestly do not see how people have any complaints about this spinnerbait. It is no doubt the best double blade spinnerbait you can buy. I am in love with this thing! It performs like no other, run it slow or fast it really doesn't matter, this thing is a fish catching machine! I highly suggest buying this thing! Well worth the money.
From: Ethan: Oklahoma 2/22/17
Comments: I caught my pb pike of 44 1/2 inches 21 lbs on one of these on the golden shiner color. Afterward the lure still ran like it was brand new out of the package. If it was any other spinnerbait she probably would have broke it in half. Other spinnerbaits bend and you have to constantly try to tune them after one fish. They never really run true after that. With the titanium wire in my opinion this is the best spinnerbait on the market
From: Travis: New York 1/29/17
Comments: Swims fairly well, not a very good slow-rolling spinnerbait. However, when you do get both blades spinning, it puts off tremendous action. Very small profile as well, don't know what to think just yet, but will continue to give them a try.
From: Daniel: Monroe, LA 2/14/16

Comments: I never really had much confidence in willow-blade spinnerbaits; single or multi-blade. But when I want to cover a lot of water quickly for a reaction bite, these baits are great!! You can burn these double willows across logs, dead falls, rocks, and lrgmth, smallies, spots will crush em'. The titanium are on these lures makes them very durable. Well worth the $$$.
From: John: Knoxville, TN 11/23/15
Comments: The wire on the newer T-1 is short. The is only a small gap between the hook and blades. You need a trailer hook to have any chance of catching fish. Used to be my favorite, not anymore.
From: Rusty: Alton, NH 7/22/15

Comments: The old T-1s were great. The newer ones are not what they used to be. The wire is much shorter making the gap between the hook and back blade small. The blades have less flash than the older T-1 blades. The paint on the head is less durable. The paint and blades don't bother me as much as how close the blades are to the hook. Also, it's disappointing they don't make the okie models in the T-1 anymore.
From: JD: MA 7/16/15

Comments: These spinnerbaits are great. I love the colors available and these flat out catch fish. I am not afraid to pitch these things in the thickest cover because they flat out work. My favorite color is the Hot Olive followed by the Silver Shiner. I have had a lot of success using these spinnerbaits and they have worked for me straight out of the box on day 1.
From: Yakenstein: Hickory, NC 6/27/15

Comments: I've found out that they aren't super great "out of the box"I mean they work, but I find if you clip off the smaller blade, the beads, and whatnot, the lure swims perfectly (if not, check your knots) best spinnerbait on the market today.
From: Richard: Natick, MA 6/14/15

Comments: I have had trouble with the little blade on the double willow leaf T1 Terminators not spinning. I have messed around with it and have found that if you flatten the point of it and just barely bend it out on the side that has Terminator stamped on it that it will spin just fine. Hope this info is useful to you all.
From: Cody: Athens, GA 3/16/15

Comments: These are by far the best spinnerbaits I have ever used. I used War Eagle for many years and I finally tried a terminator and it blew them out the water. My first fish was 6 pounds on this spinnerbait. I am using the 1/2 size and have all of the shiner colors. I will never buy another brand of spinnerbait.
From: Derek: SC 6/5/14

Comments: Definitely not what they used to be, I have had 2 break in half on fish and blades come off on others. I hope they go back to the quality they used to be and become my favorite bait again.
From: Rich: Downers Grove, IL 5/14/14

Comments: Cody is right, the front blade of the double willow models will not even spin at all. The old models never had that problem. They were bar none the best spinnerbait out there. Not anymore.
From: Tyler: Grand Junction, CO 3/18/14
Comments: These spinnerbaits are not what they use to be at all. I through a double willow, and the top blade does'nt even spin. Very disapointed in the new Terminator T1 Spinnerbaits.

From: Cody: GA

Comments: I love the Terminator T1 spinnerbaits! They are a little more expensive but are worth the money. I primarily use the 1/2 oz. size. The titanium frame, baitfish head, and QuickSkirt are the best. The only issue that I have ever had was losing a blade that came undone from the split ring. I wrote Terminator and they sent me 2 replacement blades. I have caught numerous 4 - 6+ # bass on these. I rarely use any other brand of spinnerbait.
From: Paul: Irving, TX

Comments: Before purchasing I was using SS wired spinnerbaits that would bend and snap in half on 1 - 3 lbers from all day use.
Glad I purchsed this when the 10 lber hit or may have busted and lost him with the regular stainless steel wired others, get some and your confidence will return in spinnerbaits.
From: Johnny Bass, Lake Success: Strathmore, CA

Comments: These newer versions of the T-1 have cheaper blades, I compared the flash of one of my old beat up ones to a brand new one I bought here and I was definetely disappointed. The blades are plated gold and a cheap plating as well, it chips off and the blade looks copper underneath, very disappointing
From: Ron: WA

Comments: Great spinnerbait. Swim true, sharp hooks and it holds up! used sunfish color with no trailer and caught a 6 lber.

From: LL: MI

Comments: These are the best spinnerbaits there are. incredibly durable' amazing paint jobs, sharp hooks, and great blades. Ive had the best bites on Yellow Perch. i was throwing this into a shallow grass flat, and 5 in a row... ended up with 24 fish total. still in great shape. cant say enough!

From: CC: USA

Comments: The T1 spinnerbait is my go to bait in the spring and fall. It is by far my favorite spinnerbait.
From: Cody: GA