The Professor Sonar & GPS DVD Series - $27.99
Bass fishing professionals call on the one expert whose advise they know and trust - "The Professor," Wilson Frazier. Wilson is often quoted in Basmaster Magazine, and Bass Insider's "Ask The Experts" as the authority on the subject of electronics. With over 30 years of pro-staff and technician work in the GPS/Sonar business, he has a vast amount of experience teaching the pros and anyone else with the desire to know more about their Sonar/GPS unit. He also still continues to teach seminars across the country to rave reviews.
The Professor Sonar & GPS DVD Series is broken down into 4 parts - and is perfect for anyone looking to set up, understand, and properly use their sonar device.
Sonar 101 is the first step in understanding the concept of Sonar and GPS. Wilson has set the sessions up so that you can watch the first one, do your homework, and go fishing using what you've learned. It is imperative that you watch the first DVD in order to understand what is on the subsequent DVD's (201, 301 & 401), which take you even more in depth. It doesn't matter what brand of Sonar and GPS unit you use, The Professor Sonar & GPS DVD Series will help you make the most of your electronics, and time on the water.
Comments: There is no more info in this DVD than any other sonar video has. He just strung the series out to 4 dvd's with the phony pipe and school professor act so that he could make more money. I would recommend Don Iovino's sonar video as being better than this and cheaper.

From: John: Nashville, TN

Comments: Just bought the set locally. It is fantastic. I dont care how advanced you think you are with your sonar, these dvds will take you to the next level. Very easy to watch and absorb. Its kinda dumb to have three thousand dollars worth of electronics and only know how to turn em on. Check this guy out he is the real deal.

From: Clint: Pleasant Plains, AR

***Note: If you have questions about this product or need assistance with an order please email your questions to info@tacklewarehouse.com
Color:
Sonar 101
View Large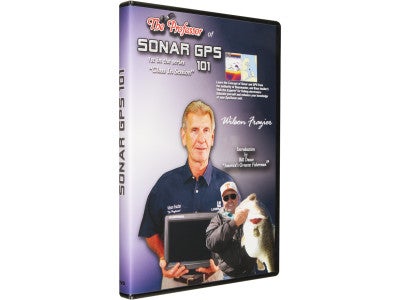 4 Available Colors
More The Professor Elite Series Products