The Professor Sonar & GPS DVD Series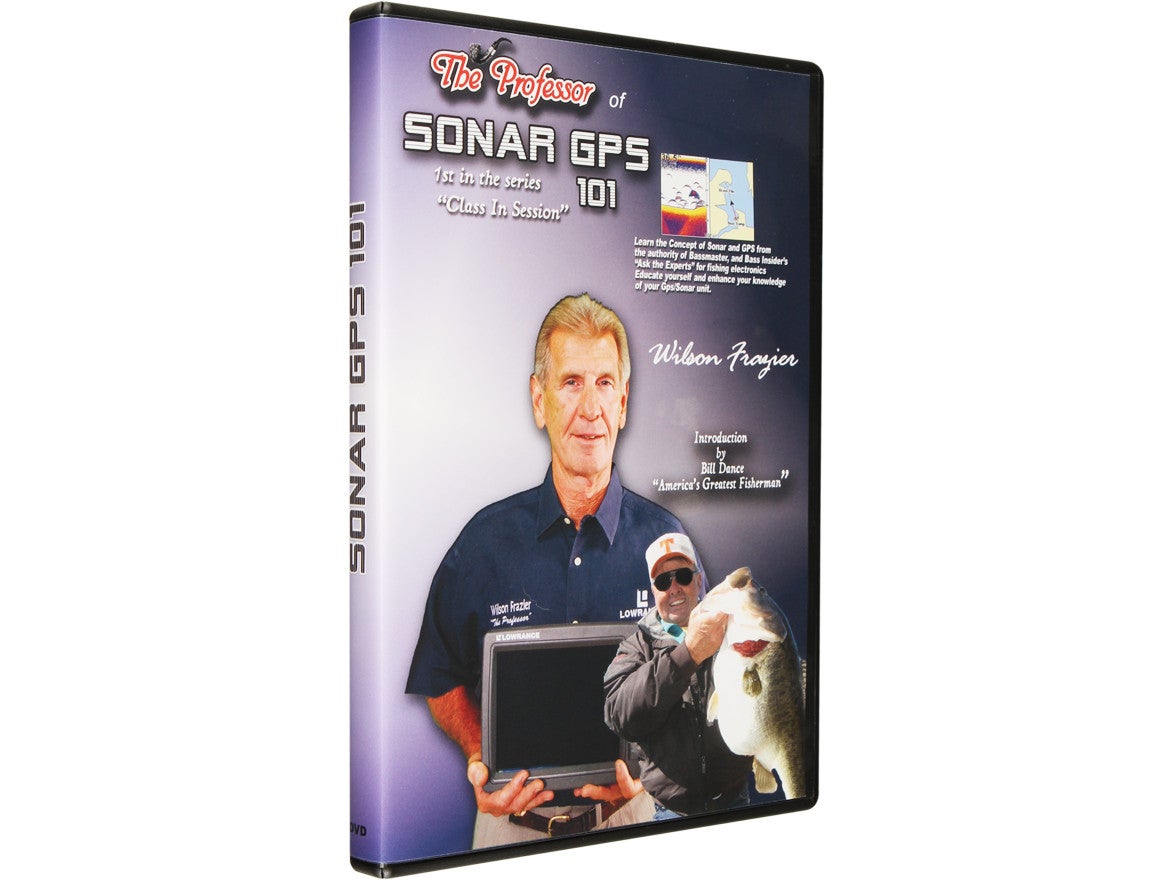 Bass fishing professionals call on the one expert whose advise they know and trust - "The Professor," Wilson Frazier. Wilson is often quoted in Basmaster Magazine, and Bass Insider's "Ask The Experts" as the authority on the subject of electronics. With over 30 years of pro-staff and technician work in the GPS/Sonar business, he has a vast amount of experience teaching the pros and anyone else with the desire to know more about their Sonar/GPS unit. He also still continues to teach seminars across the country to rave reviews.
The Professor Sonar & GPS DVD Series is broken down into 4 parts - and is perfect for anyone looking to set up, understand, and properly use their sonar device.
Sonar 101 is the first step in understanding the concept of Sonar and GPS. Wilson has set the sessions up so that you can watch the first one, do your homework, and go fishing using what you've learned. It is imperative that you watch the first DVD in order to understand what is on the subsequent DVD's (201, 301 & 401), which take you even more in depth. It doesn't matter what brand of Sonar and GPS unit you use, The Professor Sonar & GPS DVD Series will help you make the most of your electronics, and time on the water.
5 Colors
More From The Professor Elite Series Products
Customer Reviews
Comments: These DVD's are legit... You may think you know what you're doing on the water (and I'm sure you probably do) but I can almost guarantee you that by watching this series, you will become a better fisherman. Everyone can walk away from watching these and have learned many things about sonar and gps. As someone previously stated, I think it's impressive that after watching these, you literally (if u follow instructions) can hit the EXACT same spot over and over again. Plain and simple, buy the set and become a fisherman who truly understands sonar and can put yourself on fish 99% of the time. The question would be if you could get them to bite, bcuz u will be on fish for sure.
From: Dee - CA 2/2/17

Comments: Fist of all I fish for my living, we guide from Falcon to Dale Hollow. I have watched all the DVD's and I am 28 yrs young and have become a better fisherman because of these DVD's. Do not read what was posted above, we all remember the "cool kids" in high school that never did their homework (two work for me now) well, these boys did not do the homework that was given from The Professor. Once you learn "How to Get Back to it" I promise you will catch more fish and he guarantees you will catch 100 fish, I did catch 100 in doing "my homework. This DVD set is very simple to understand and it is the truth. Sonar is EASY to Learn!! Just buy The Professor DVD's and make sure you watch them 3 times for you will learn something new each time! Then after you watch them GO TO YOUR HOMEWORK on the water!!! Once you can get back to it 6 times in a row you will be a much improved fisherman, without wasted money on your boat.
From: Jake: Nashville

Comments: these Dvd's are great but you need to watch them and take notes to apply what is taught. Wilson is the best at setting up units on the elite series and open series. Wilson even shows up at events like the fishers of men national tournament trail national championship and set units up for free.

From: David: char nc

Comments: These DVDs are worth your time & $$$$. I watch them in my truck all the time going to tourns. Just to refresh my mind... I have learned how to really use my graphs to their full potential..... They teach u so much, the most important for me was how to find something and trn arnd & hit the target every time.... I have used these to help so many local fisherman & youth high school team be more efficient on the water. My prac. Time has cut way down since learning how to master my graphs.. I find so many fish in prac. With my graphs with the confidence to not throw at them till tourn. Time!!!!!! I can tell you the over the phone tech support & trouble shooting this guy has given me for free has been invaluable on the water!!!!!!
From: Michael: Texarkana Arkansas

Comments: This product should not be sold! Its like stealing money from people! Waste of your time and money! Really!

From: Tom: NH

Comments: There is no more info in this DVD than any other sonar video has. He just strung the series out to 4 dvd's with the phony pipe and school professor act so that he could make more money. I would recommend Don Iovino's sonar video as being better than this and cheaper.
From: John: Nashville, TN

Comments: Just bought the set locally. It is fantastic. I dont care how advanced you think you are with your sonar, these dvds will take you to the next level. Very easy to watch and absorb. Its kinda dumb to have three thousand dollars worth of electronics and only know how to turn em on. Check this guy out he is the real deal.
From: Clint: Pleasant Plains, AR