Top Shelf Original Swimbaits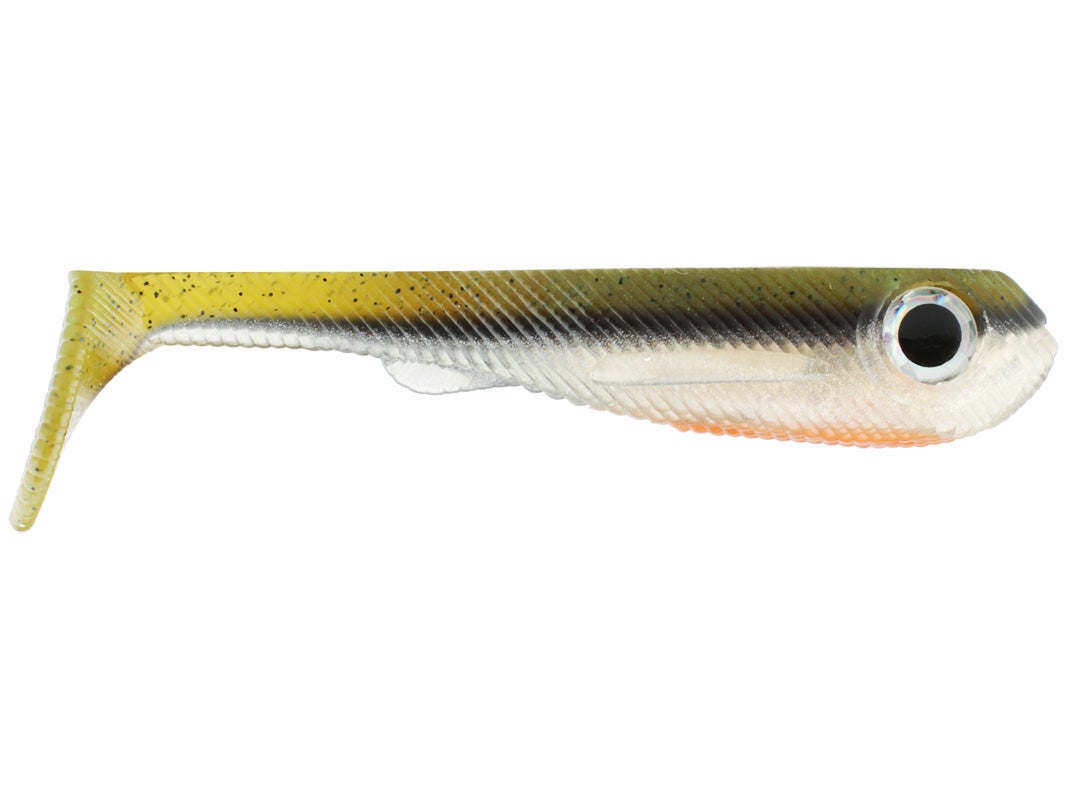 Now available to the public - the Top Shelf Swimbait has been the secret bait of the pros for some time now. Responsible for $200,000 in winnings on the Elite and FLW Tours in less than a year, it was also the winning bait in the 2009 B.A.S.S. Elite Series on Smith Mountain Lake.
100% handmade in the USA, each Top Shelf Swimbait undergoes a strict, confidential 48-hour pouring process. This one-of-a-kind process is responsible for creating the bait's extremely realistic coloring, texture and unique head wobble and side to side swimming action unlike any other swimbait on the market today. This exclusive process also ensures a high level of precision so the bait never rolls over or turns on its side, whether you fish it super fast or extremely slow. Featuring only premium components, each Top Shelf Swimbait also includes Owner Needle Point Hooks. Along the same vein, the line inserts are nickel-plated, avoiding the common problem of lead inserts changing the plastic's color over time. The inserts, as well as, the bait's 3D eyes are also cemented in place by hand, so they won't fall out easily or shake loose. Fish it around cover or in open water, wake it on the surface or fish it deep - the Top Shelf Swimbait is the choice of the pros with its dynamic coloring, tantalizing swimming action and premium construction.
-Includes one Owner Needle Point Treble Hook
| | |
| --- | --- |
| Length | Weight |
| 4" | 3/4 oz |
| 5" | 1.4 oz |
20 Colors
More From Top Shelf Swimbaits
Customer Reviews
Comments: USE MEND IT OVER THE TOP AFTER YOU PUT EYE IN,AND IT WILL HOLD GREAT...and hold on to your Rod!!Big Fish Swallow these Swimbaits.
From: Bill: USA 3/29/14
Comments: Do the 5" and 4" have the size eye diameter? And what is the measurement?
From: Tyler: USA 3/26/14
Comments: Good looking baits, yes you have to add a drop of glue to the eyes but that's minor, great colors except my electric bluegill looks nothing like the picture but overall great baits.
From: Louis: Green Bay, WI 3/9/14
Comments: Awesome swimbait, always got one tied on now...4" for numbers 5" for kickers. Super glue eyes on and you're good to go, although I don't think they really matter anyway. I catch em slow rolling and also fishing it faster just below the surface.

From: Pete: DC

Comments: Great customer service. I got the 4" one and caught some decent fish on it the first day. Second day I went out with it the tail ripped off on the first cast. Ended up talking to the owner, Rick, and he hooked me up. Even though it was probably my fault b/c I switched up rods the second day and tried throwing it on a flipping stick with braid, I'm sure I ripped the bait right out of the fishes mouth. Will give another review after fishing with this more, just wanted to say the customer service was great!

From: Pete
Comments: I've Had the same two for over 2 years and caught tons of fish... Love Them !!.... the eye situation is an easy fix with mend it.... Just picked up Two more colors in the 4in and 5 in and they run just like my old ones. Solid product. Thank you top shelf !

From: Tito: Seattle, WA

Comments: This is the best line threw Swimbait ever on the Market. You must see one in your hand,and SWIM IT to believe! Game over is my Favorite Color in Trout Lakes.

From: Jordan: WA

Comments: I have the hologram shad and the so cal special. This is such a good line through swimbait you can reel really slow and get good action and reel it in super fast and it wont roll, buy this instead of an osprey.

From: Drew: Westlake, CA
Comments: Best line-through swimbait on the market. Can slowroll with pleanty of tail action or burn it and it dosent roll over. Get urself a 5in. hologram shad when the bass are on the shad and its game over amigos.

From: Josh: DVL, California
Comments: Fantastic bait. Ya, the eyeballs fall out but who cares, doesn't effect the insane swimming action. The 4" seems to sink a little on the slow side for me, but works great for burning over beds.

From: Joe: Massachusetts, USA
Comments: Purchased a couple of the 5" to try out. I liked the big eyes on these baits, but on the very first cast, they both came off. And before I could catch a bass on it, the perch ate the tail off of it. At $15.00 a pop, I was, understandably, disappointed. They do, however, look good in the water. They can be fished fast or slow, with no roll over, and they have the right amount of wobble as they come through the water. But, rather than tying on the other one, I got serious and picked up my Huddleston.
From: Ron: Oregon, USA
Comments:I don't own any other insert baits, Top Shelf is all that I throw. Best colors and texture out of any other products on the market by far. I have never had any issues with either style of bait, perfect right out of the package. A must buy!
From:Shawn: Western Washington, USA
Comments:The best kept secret around. Guys like KVD and Swindle are fishing these baits and winning tournaments. Absolutely the best line-Through bait out! The durability and quality are second to none. Period! They are called "Top Shelf" because of the components and quality used. An absolute must have tool for catching fish and cashing checks. But most importantly, this bait can be burned or slow rolled and it will ALWAYS swim true.
From:John: So Cal, USA