Toray Bawo Finesse Braid 82yds - $27.99 to $42.99
Toray Bawo Finesse Braid is one of the most technically advanced braided lines on the market. This eight-strand braid maintains its round shape, leading to better durability, castability, and control. Bawo Finesse Braid features great flexibility and strength. It comes in a dark green color with white markings every meter.
Comments: Once you try this braid you will never use cheap braid ever again. Cast great, great when used with top shots or flipped straight in the heavy stuff. When other guys fish out of my boat and are using cheap braid I make it a point to LOL at all of the noise their braid makes going through their rod's guides. FUNNY!! Remember, cheap braid makes noise going through heavy cover too and the fish are LOL too! Treat yoursel, buy the best the first time. Buy Toray!

From: Tony: SoCal

Comments: Without a doubt the best braid on the market. The strength compared to diameter is unmatched. The 8 strand technology makes it very sturdy for long periods of time. The roundness of the line also allows me to cast it farther and make better presentations. There is no coating on the line so you don't have the inconsistency you see with other braids. Inch by inch the line is identical all the through the entire spool. Great stuff, and until something better comes along (I doubt it ever will) there is no reason to use another product.

From: Kurt: Del Rio, TX
***Note: If you have questions about this product or need assistance with an order please email your questions to info@tacklewarehouse.com
View Large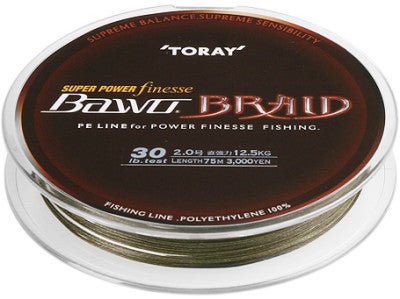 Place Your Order