Trigger X Aggression Flappin Craw - $3.48 to $3.89
Incredible life-like action is the trademark of the Trigger X Aggression Flappin' Craw. Its claws rise in a defensive position when the bait's at rest, and they also generate a mild kicking action on the retrieve thanks to Flappin' Craw's precise bio-salt infused formulation. The Flappin' Craw also has just enough heft to match well with a variety of jig sizes, and like all Trigger X Aggression baits, it's loaded with UltraBite Aggression Pheromones. This custom blend of aggression and fear pheromones mimics the natural predator versus prey response - triggering a predator's feeding instinct. Available in several colors, each Trigger X Aggression Flappin Craw also features a phthalate-free soft plastic composition that eliminates the "plastic" smell found in other soft baits - putting an end to scent contamination.
| | |
| --- | --- |
| Length | Quantity |
| 3" | 8 |
| 4" | 6 |
Comments: An great bait to put on as a jig trailer or a football jig trailer. Produces tons of bass that bite this bait every time. Only issue is the durability of the bait. Typically the claws do come off after your first or second fish, but this happens with lots off other baits to. All in all its a great bait that also works great as a trailer for a jig.
From: Jake: USA 8/23/14

Comments: These things have no flapping action whatsoever at slow or fast speeds, they are a good football jig trailer in the winter when you don't want a whole lot of action.
From: Sam: USA 3/2/14
Comments: The claws do not flap.. Never cauhght a thing.. amd there so greasy never get the grease off my fingers

From: Jeff: GA

Comments: I caught a 44 lb limit on these things.. best bait even

From: Mike: Erie, PA

Comments: I love this bait first time with it a bass smashed it can't wait to fish with it more!

From: Brendan: Hanoverton, OH

Comments: For some reason the Bass can't stop biting this craw. I fish them on Jigs as a trailer and TX rigged, both way produce Bass for me. This is my goto craw when others has failed.

From: Fish Guru: CMH, Ohio

***Note: If you have questions about this product or need assistance with an order please email your questions to info@tacklewarehouse.com
View Large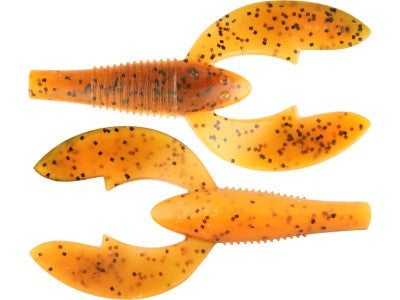 17 Available Colors
More Trigger X Softbaits