Trigger X Goo Bug - $4.89
The Trigger X Goo Bug is one of the key baits Jacob Wheeler used to secure his 2012 FLW Forrest Wood Cup victory on Lake Lanier, becoming the youngest ever to win the Cup, and taking home $500,000 in prize money.
A tremendous heavy cover bait, the Trigger X Goo Bug features a unique tail design that allows it to fish like two baits in one. When you fish it with the tail intact, it glides seductively on the fall, maximizing time in the strike zone, and when you split the tail, you have two life-like craw pinchers that flap and flutter on the fall and at to its killer crawfish profile. On a jig head with a split tail, the claws will also float up and assume a perfect defensive position when resting on the bottom. Available in a range of proven colors, the Trigger X Goo Bug is loaded with Trigger X's Ultrabite Aggression Pheromones that combine natural "aggression" and "fear" pheromones to mimic the real life predator vs. prey response.
No customer feedback has been added yet! Be the first to write something about this product.
***Note: If you have questions about this product or need assistance with an order please email your questions to info@tacklewarehouse.com
Color:
Black Blue Sapphire
View Large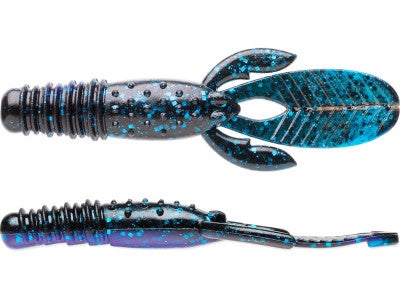 14 Available Colors