Trigger X Slop Hopper - $3.89

The Trigger X Slop Hopper is made to swim its way through grass and slop, coaxing strikes out of bass waiting to ambush prey. Offering a compact, streamlined baitfish profile, the Trigger X Slop Hopper also features a phthalate-free soft plastic composition that eliminates the "plastic" smell found in other soft plastics. Its paddle tail generates a tremendous amount of thump as well - much more than other similar baits. Available in a variety of colors, each Trigger X Slop Hopper is loaded with UltraBite Aggression Pheromones for additional fish attraction. This custom blend of aggression and fear pheromones mimics the natural predator versus prey response - triggering a predator's feeding instinct.
| | |
| --- | --- |
| Length | Quantity |
| 4.5" | 6 |
| 5.5" | 5 |
Comments: insane bait. use it in germany for walleye and perch. caught my pb pikeperch (81 cm) and some perch up to 46 cm with it. Fished it with a simple jig head and kickback rig. just love it.
From: Patrick: Germany 6/16/14

Comments: This bait is awsome, rig it with a belly wighted hook ,or put it on the back of a swim jig in any case it catches fish!

From: Brendan: hanoverton OH USA

Comments: I have been a kietech man for years bluegill flash my favorite color seen the review at tackle warehouse picked up a couple packs in bluegill I was fishing a reservoir in a 200 yard stretch I picked up 2 bass about 2.5 to three pounds lost my kietech walked back to my bag said lets try the trigger x the same 200 yard stretch landed 8 for 10 on the slop hopper a great bait. fish will run and chew on it sometimes for like 50 feet let it drop to the bottom reel then drop and pow all fish were between 2.5 to 5 pounds thanks for that review tackle warehose and Dustin a great bait use the new vmc swimbait hook in 7/0 a perfect match both available at tackle warehouse good fishing guys

From: Richard: Mountainside, NJ

Comments: Baddest soft swimmer of all time. Like a swimming super fluke but with some stank on it the fish can't resist. Gizzard shad, shiner, and bluegill got it goin on.

From: Dustin: Sugar Land, TX

***Note: If you have questions about this product or need assistance with an order please email your questions to info@tacklewarehouse.com
View Large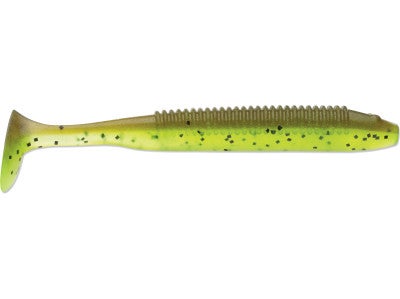 13 Available Colors
More Trigger X Softbaits