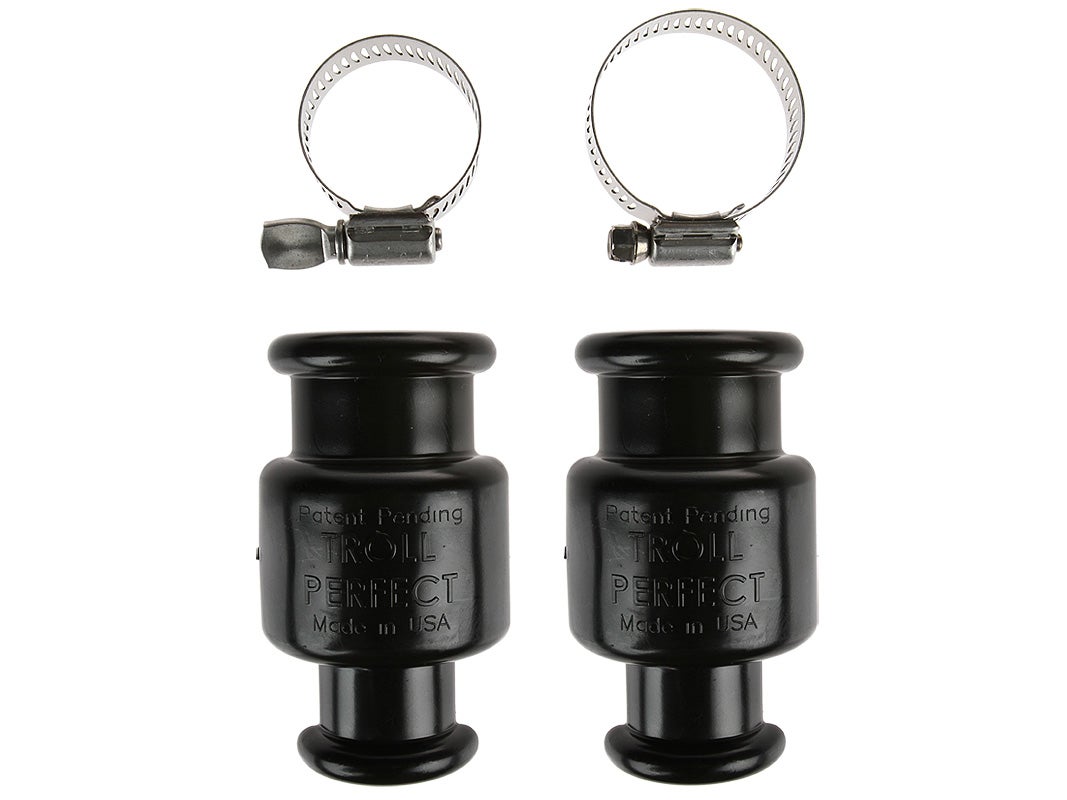 Please Note: Does not fit MotorGuide X3 Trolling Motors.
Get control of your MotorGuide Trolling Motor with the Troll Perfect Trolling Motor Adjustment System. Whether fishing in wind, waves, current, or just whenever you need the high speed settings, Troll Perfect will allow you to stop fighting the kick back, and side to side torque steer of your trolling motor. It also eliminate that "sloppy foot pedal" issue.
Troll Perfect's patented (#7967650) device clamps over the motor shaft swivel bearing, and allows you to easily adjust the tension on your cable steering. By allowing this precision control of your trolling motor, you can instantly adapt to any condition on the water. Troll Perfect means less effort, less fatigue, and better fishing. Adjusting the Troll Perfect on the water is also fast and easy. A small 1/4 turn adjustment of the lower stainless steel clamp is enough to fine-tune your trolling motor just the way you like it. (Always adjust Troll Perfect while the trolling motor is in the stowed position).
Installation is a breeze too. It takes only minutes, and doesn't require any modification to your trolling motor.
The Pro's Know - Here are just some of the professional anglers who have utilized a Troll Perfect on their boat while competing in the BASS Elite Series tournament series:
Brent Chapman, Britt Myers, Casey Ashley, Cliff Prince, Dean Rojas, Derek Remitz, Gerald Swindle, Gary Klein, Jason Quinn, James Niggemeyer, Jeff Kriet, John Crews, Jonathon VanDam, Kevin VanDam, Mike McClelland, Paul Elias, Randy Howell, Russ Lane, Scott Ashmore, Scott Rook, Skeet Reese, Shaw Grigsby.
More From MotorGuide Accessories
More From R2 Marine Trolling Motor Accessories
More From Troll Perfect Mount
Customer Reviews
Comments: I love this thing. Best 25 dollars ive ever spent. I hated having a trolling motor that flew all over the place, but with this it makes the foot pedal not move nearly as much and you can adjust it to your liking.
From: John: Richmond, VA