Ultimate SmartLink Titanium Rings 6pk - $8.99 to $9.99

If you've been fishing for a while you've faced a situation where the fish were biting crankbaits or jerkbaits in thick, lure eating brush and trees. There you are, down to your last crankbait in the only color they're biting and you DON"T want to lose it in the sticks. You've tried other presentations but nothing is working. What do you do? Quit fishing? Throw your crankbait until you lose it? Not many good options here.
Now, Smartlink split rings gives you another option; keep throwing the secret crank but get it back every time it hangs up! The secret is the special titanium wire SmartLink uses. This wire will hold it's shape while you're fighting and landing a fish but when your lure hangs up, the right pressure will open the ring and release your bait. Now you can fish in snag infested water and rest easy that you'll get your prized hardbait back. When rigged correctly all you lose is your hook, the bait and SmartLink ring come back ready for another hook and more fishing! This product is being used on the pro tour and has been endorsed by pros like Jimmy Houston.
6 Large SmartLink Split Rings per Pack
View Large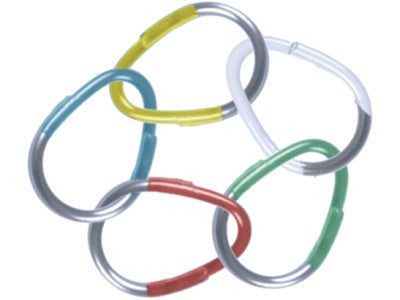 Place Your Order
More Ultimate Lure Saver Split Rings
Comments: THESE RINGS WORK!!! I put these on all my crankbaits, spoons and spinners. One thing you have to do is place the size rings a few pounds lighter than your line. My lines is 12-15lb florocarbon with small 6lb rings. Works perfect. REMEMBER you have to tie strong knots, recheck you line for frays and use the hook release method as described on the box!!!! Of course your line is going to break if you do any different.

From: George: Phoenix, AZ

Comments: 20lb striper escaped my photographs even though I got him on shore because my triple trout had 20lb smart links on it that broke and let the fish flop back into the drink. Don't put these on your lures. As soon as you do you will hook into the monster of a lifetime and forget you have them on there and lose the fish! I did it because of a review I saw on Tackletour. Bad idea! Trust me you'd rather have the fish bust your line and take the swimbait and say it was giant you hooked than have it all come down to a split ring like this.

From: Tacklejunkie: Southern California

Comments: Ricardo must have had the lure body wedged in the hang-up. 50 lb. braid should straighten any hook on a bass lure.

From: Bob: Scottsboro, AL
Comments: I use these (small 10lb) on Norman Deep Little N's all the time. The line I use is Seaguar Red Label in 15# test. In the 4-5 times I couldn't get my lure back with a pocket knocker, the rings split - it left my hook in the stumps but brought my rings and bait back every time.

From: Russ: Georgia, USA
Comments:I recently purchased the 25-35lb large Smart Link lure system to install on a 5" bull shad I purchased at the same time. I figured I did not want to risk losing a $50 dollar lure so decided to purchase this item. I was fishing 50lb spectra and the first hang up I had and attempted to free the lure in the manner it describes, the line snapped before the Smartlink opened up. I lost the bull shad on the first hang up I ever had. This item failed at the very situation it was created to perform in. The guarantee that "...one snag and you'll be hooked!" is a complete joke. This company does not even have an email on their website to submit complaints.I would not recommend this item to a friend and now that I think about it I should have saved myself the money and stuck to a lure knocker.
From:Ricardo: Carson, CA
***Note: If you have questions about this product or need assistance with an order please email your questions to info@tacklewarehouse.com