Vagabond Airbait Slim Worm - $6.99
Delivering a nose down, tail up presentation that even the wariest bass find hard to resist, the versatile Vagabond M.H.C. Worms Air Bait Slim is the perfect offering when bass become lock-jaw. The Air Bait Slim Worm Series bring soft plastic buoyancy to previously-unseen levels, incorporating proprietary "Vagabond Air Ribs" which capture and trap air between the body rings. While there are other worms that exhibit some of these floating characteristics, none do it quite as naturally as these 4.5" and 7.7" morsels. On a slack or semi-slack line, the Air Ribs slow the worm's fall, providing a tantalizing morsel, particularly for suspended fish. The ribs also prevent a line-twisting spiral fall. Utilized in any presentation, the worm's tail will be positioned upright and even the slightest angler-induced movement will cause a seductive shimmer. The unique profile makes them perfect for any application that requires a worm, including Texas Rigs, Neko Rigs, dropshotting, splitshotting and jighead presentations. Available in two sizes and array of colors, the Vagabond M.H.C. Worms Air Bait Slim maybe small but will pack a punch.
| | |
| --- | --- |
| Length | Quantity |
| 7.7" | 5 |
| 4.5" | 10 |
Comments: Bought some of these for 2012. Wished I bought more. Irresistible to all kinds of fish when Neko-rigged. Visited a small creek that I know have a few smallmouth bass swimming around. They wouldn't bite on spinners and tubes. They would occasionally hit swim jigs and grubs. As soon has I tied on the Airbait worm and neko-rigged it working along the bottom, smallmouth came out of every crack and crevice to hit those worms and clobbered 'em. I ran out of Airbait worms that day. Went home and directly to my computer to order more!

From: Thor, MN

Comments: Ok i know you hear a lot of reviews that say a certain lure works but on my mother's grave i swear to you these worms are killer baits. I use the 4.5 and it's the best finesse bait I've ever used, and believe me I got boxes full of stuff I've tried. Look no further for an awesome finesse worm. Scupernong is the one that works best for me on the stained pond i fish. try them, you will not be disappointed.

From: Chuck: N. Bergen, NJ

***Note: If you have questions about this product or need assistance with an order please email your questions to info@tacklewarehouse.com
View Large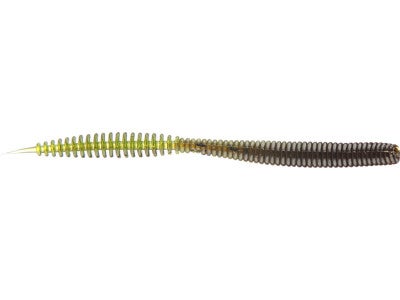 7 Available Colors
More Vagabond Soft Baits