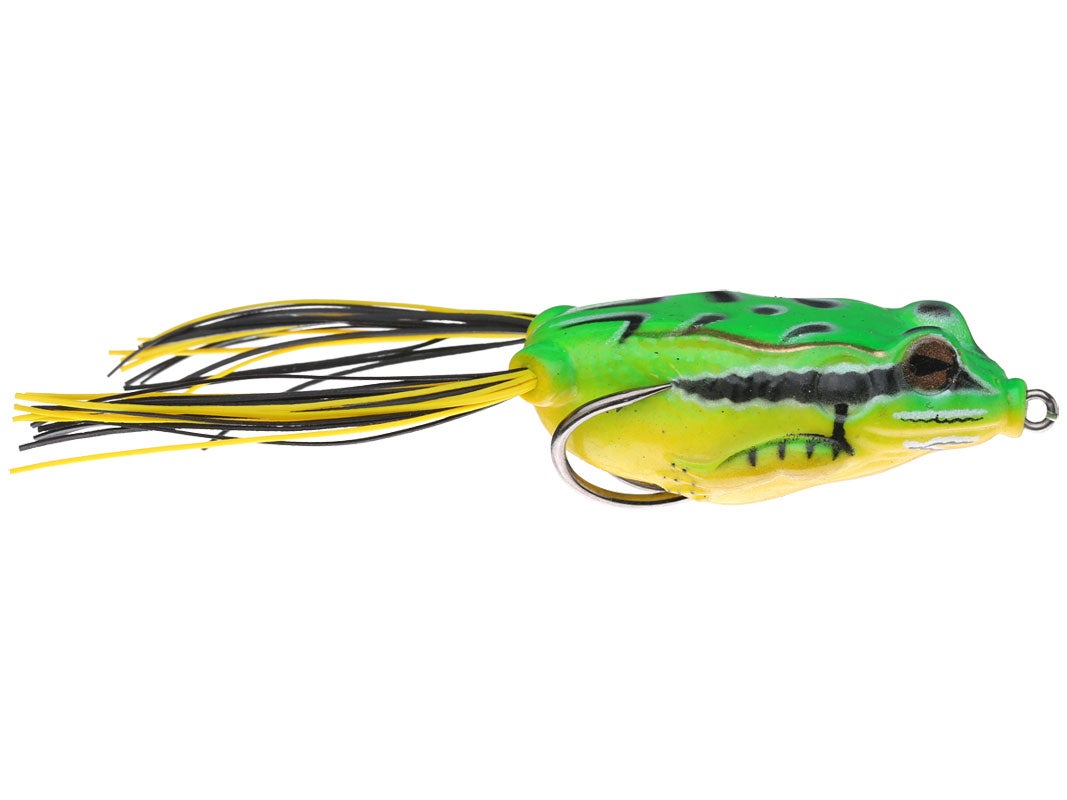 Terrorize the tops of pads and mats with one of the most animated amphibians on the market ­– the Vicious Frog. Designed with a special "bass boat" belly, the Vicious Frog produces a tantalizing side-to-side action that turns bass' attention towards the surface. In addition, the Vicious Frog is accented at the rear with twin ponytails to give it a livelier, flowing presentation. Upon attack, the Vicious Frog quickly collapses to expose its razor-sharp double frog hooks for clean, unhindered hook sets. Offered in a number of anatomically accurate frog patterns, the Vicious Frog will fool the wariest bass into biting with a look and action that is second-to-none.
| | | |
| --- | --- | --- |
| Vicious | Length | Weight |
| 40mm | 1-1/2" | 3/16oz |
| 50mm | 2" | 1/4oz |
| 60mm | 2-1/2" | 1/3oz |
| 70mm | 3" | 2/3oz |
8 Colors
More From Vicious Fishing Frogs
Customer Reviews
Comments: It's a good frog super soft body the hooks Do sit a little Low but it still has a good hook up ratio got 3 blow up & caught 2 of the 3 both around 2.10 so all in all good frog for the price
From: Matt: Yelm, WA 6/9/16

Comments: I bought one of these and I liked it. The hooks are a little awkward. I got multiple blow ups but I can absolutely not hook them. I think its me cause I can never set the hook on a frog. On the other hand people say they don't walk but I can walk them just fine. The legs pulled out after a few trips so I threw it out. I'll probably get more and just glue the legs in place.
From: Eric: WI 8/4/15

Comments: You are paying for what you get. It's not the best walking frog but try throwing it onto some vegitation. Has a good hookset. Definetly a seasoned angler frog.
From: Chris: USA 7/27/15

Comments: the hook sits a little to far down the side of the bait but it doesn't matter. yes it doesn't walk very good, but if you are in pads how can you walk a frog? During this tournament they wanted it just sitting not moving at all and this frog did the trick. I like to put a rattle in mine also. This frog landed all the fish except one that rolled on it. Great frog!
From: Dominick: Pennellville, NY 10/3/14

Comments: The frog is decent, It doesn't walk very well but will walk at longer distances on thinner lines. I use 30lb braid and it will not walk well. Ive cought tons of bass on it though. Never had problem with hook sets, the hooks are very sharp and strong too. I use this frig exclusively and it works great.
From: Taizer: Detroit, MI 7/14/14

Comments: The material is bad and it doesn't walk... the hooks aren't as pictured, they sit super low and dig into the body on hook sets. Like Noah said... spend some extra dough and get something better. For $6 you can get an evolve nervous walker with a similar body profile, but it walks amazingly and the hookup ratio is excellent.
From: Travis: NY 4/10/14
Comments: This frog is garbage, I bought it expecting it to be and it was. Spend the money on a Spro or a Live Target. The Hooks set too low on the sides of the body, the chance of hooking up with this bait is pretty low. I'll try fishing it when the top water bite kicks off, but I don't expect to like it anymore.
From: Noah: Grand Junction, CO 2/26/14