Vicious Ultimate Co-Polymer Lo-Vis Green 330yd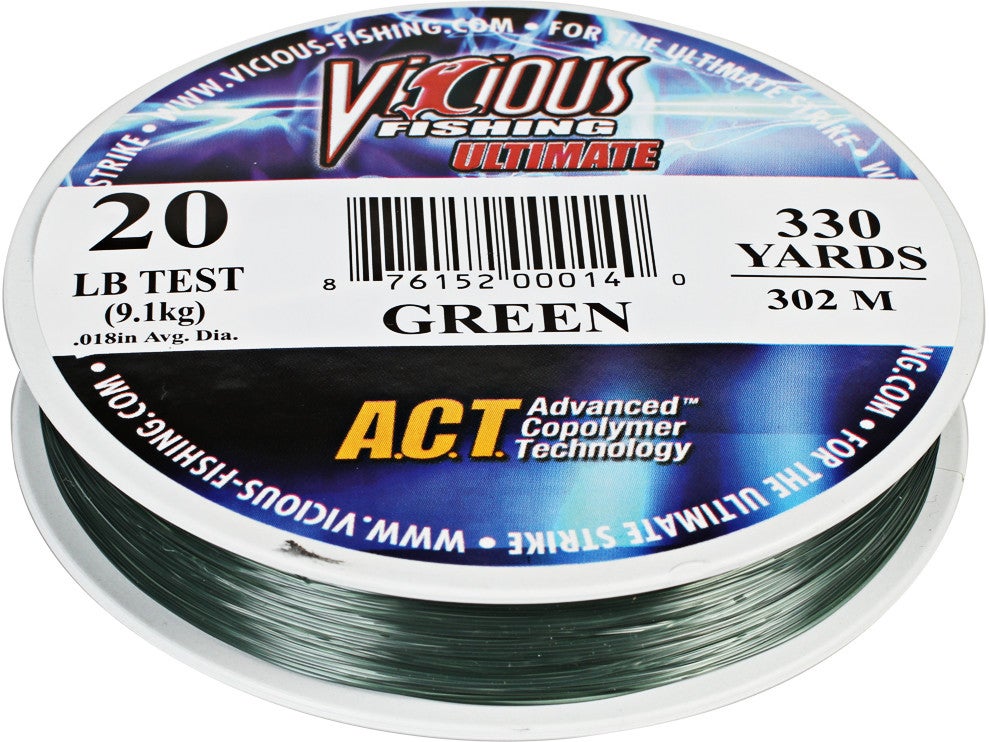 Vicious Ultimate Co-Polymer Fishing Line in Lo-Vis Green is a copolymer monofilament manufactured with Vicious' ACT (Advanced Copolymer Technology). Featuring high tensile strength, very low stretch and superior castability, it also has high abrasion resistance characteristics for all types of freshwater and inshore fishing.
100% Made in the USA
"Vicious Ultimate is ideal for topwater fishing due to the increased advantage in casting distance." - Pete Ponds, Bassmaster Elite Series Angler.
| | | | | | | | |
| --- | --- | --- | --- | --- | --- | --- | --- |
| Line Diameter | 6lb | 8lb | 10lb | 12lb | 14lb | 17lb | 20lb |
| Inches | .010 | .011 | .012 | .013 | .014 | .017 | .018 |
| Millimeters | .254 | .279 | .305 | .330 | .356 | .432 | .457 |
Place Your Order
More From Vicious Fishing Line
Customer Reviews
Comments: I have been trying different lines for the past 2yrs. This line has very low memory, it's strong and has performed flawlessly. Caught many fish up to 5.2lbs on 12lbs Vicious line and I am very happy with it.
From: Sam: IA 8/22/15

Comments: Funny how different people can use the same product and get such different results. I used the clear 14# and had excellent results--low stretch, limp, good abrasion resistance (didn't try flippin' in brush piles), and for $7.49 for 330 yds, a good deal.

From: Ed: Champaign, IL.

Comments: probably the worst line I've ever used. Plenty of memory after one day of fishing. Go with big game trilene

From: striped team: flezzno

Comments: Decent line, I was using the 17lb. Turns a milky color, and is very stretchy, and not very abrasion resistant. However it is quite limp, and cast able. Good for topwaters where your line isn't getting rubbed on stuff, but I wouldn't used it for anything else.

Comments: i use to use big game but one day a i saw this and im glad its my favorite line yet amazing

From: Ben: FL

Comments: The white ultimate line was great on spinning and baitcasters im sure the green color is just as good. great line.

From: Rob: South Carolina, USA