Vicious X.A.C.T. Copolymer Line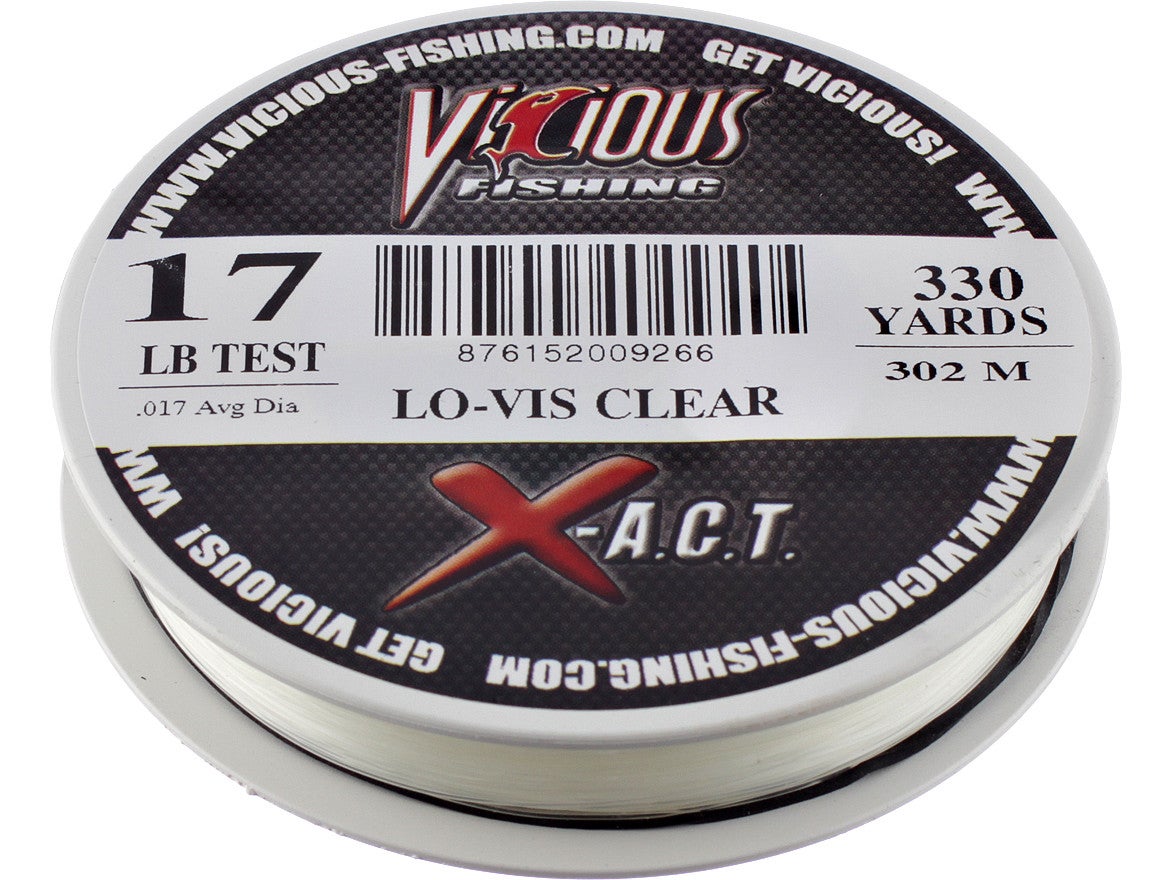 Designed to meet the needs of today's tournament angler, the Vicious X.A.C.T. Copolymer Line delivers the perfect blend of strength, handling, and sensitivity. Built with a double coating for the utmost in abrasion-resistance, the Vicious X.A.C.T. Copolymer Line is able to handle the toughest fishing environments. In order to make the Vicious X.A.C.T. Copolymer Line truly worthy of tournament use, it was also given an incredible knot strength and an amazing castability. Additionally, the Vicious X.A.C.T. Copolymer Line has a high-tensile strength and one of the lowest stretches on the market - for unbeatable sensitivity and hooksets. Get "X.A.C.T.-ly" what you want out of a tournament-grade copolymer with the Vicious X.A.C.T. Copolymer Line.

**Vicious will be donating a portion of the proceeds from every spool of Vicious X.A.C.T. fishing line sold to the Tackle The Storm Foundation – an organization that purchases rods and reels for children affected by natural disasters.**
Place Your Order
More From Vicious Fishing Line
Customer Reviews
Comments: I love this line I have been using it for about a month & a half an it is pretty good it does get a tiny bit of memory but nothing really major at all haven't had it break on a hook set or fish so if your thinking about trying this Line do it because it's great for the price
From: Justin: PA 8/20/16

Comments: For the price, this line is unbeatable! I have never been a really big fan of Vicious, but I picked up a spool of 20# test because 300 yards was only about 5 bucks. I was skeptical going into it, but it is unmatched.
Pros:
-strength
-low stretch
-abrasion resistance
-castability
Cons:
-little stiff*
-some memory*
**I picked the wrong pound test. If I would have gotten 12-15 like I had planned, these wouldn't have been that big of (if any) an issue.
From: Paul: Canfield, OH 2/6/15

Comments: Have a mixed review for this line. XACT in 14# is plenty tough and for the most part it has low memory and moderate stretch, less stretch than Sufix IMO. The strange part is that after being on a baitcaster for a few weeks it will begin to curl at the ends where a lure is tied, but on the cast & retrieve, it is still fairly limp. The curl makes retying an aggravation. Don't have that problem as much with Sufix and Spiderwire EZ mono; although, the EZ 17# is a little stiff and will curl in cold water. Don't know how XACT will react to the cold.
From: ED: Champaign, IL 7/1/14